The Big Four's dominance on the public company audit market remains despite a slight dip in numbers in the last year, according to the latest research.
Audit Analytics on Thursday released its 2021 look at audit firm client totals among public companies. The analysis, based on data as of April 9, revealed the number of Securities and Exchange Commission registrants climbed to 6,030—the second consecutive year of increase after three straight years of decline. Audit Analytics attributes the rise to record numbers of initial public offerings, which the research group recently linked to the special purpose acquisition company (SPAC) craze in a separate study.
The top 10 firms audited 66.9 percent of public companies in 2021, compared to 65.7 percent of the 5,985 public companies in 2020. Of this group, the Big Four accounted for 47 percent in 2021, a decrease from 49.2 percent in 2020. Each of the four firms—Deloitte, EY, PwC, and KPMG—lost less than 1 percent share year over year.
The analysis noted there has been a continued upward trend in market concentration for the top 10. In 2014, the group audited only 56.9 percent of public companies.
Other firms in the top 10 in 2021 include Marcum, Grant Thornton, BDO USA, Withum, RSM, and BF Borgers. They increased their combined share of public companies audited from 16.5 percent in 2020 to 19.9 percent.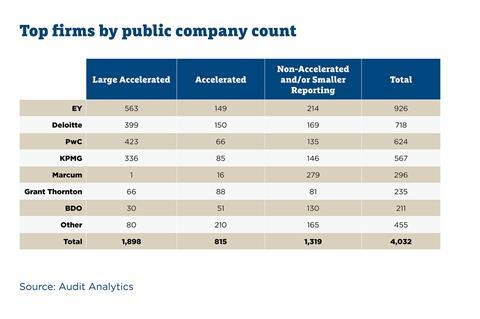 The Big Four audited almost 91 percent of large accelerated filers, with 28 firms sharing the rest of the market, according to Audit Analytics. For accelerated filers, the Big Four, along with Grant Thornton and BDO, audited more than 72 percent, with 50 other firms splitting the remaining 226 registrants.
There is more competition and diversity among firms auditing smaller public companies. According to the research, 75 percent of the market for smaller reporting companies is audited by 177 firms, many of which only audit one public company.