Top Stories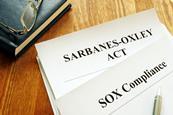 Twenty years ago, in the aftermath of the Enron and WorldCom financial reporting scandals, Congress acted and created the Sarbanes-Oxley Act of 2002. Such a milestone anniversary marks a good time for organizations to refresh, rethink, and modernize their SOX programs.

The Federal Trade Commission is seeking comment on potential rules that would penalize companies that suffer data breaches due to lax cybersecurity protocols and punish firms that engage in abusive commercial surveillance practices.

How can a company prove its compliance bona fides to a regulator, should one ever come knocking on its door? The Home Depot has prepared for such a scenario with detailed guidance pegged to the DOJ's "Evaluation of Corporate Compliance Programs."
CW Surveys

Take part in this 3-minute survey to help benchmark your mergers and acquisitions pain points against those of your peers. One lucky respondent will win a $200 Amazon gift card for completing the survey.
Partner Content

In light of the ongoing impacts of the pandemic on the global financial industry, CUBE looks at this year's regulatory data to analyze the global enforcement trends of 2021.
More from Compliance Week

Democratic senators are calling on U.S. Bank to answer questions before a Senate committee regarding an alleged fake accounts scandal the bank recently paid $37.5 million to settle.

Morgan Stanley has reached agreements in principle totaling $200 million with the SEC and CFTC to settle charges its employees used messaging platforms not approved by the financial services company.

PwC will pay a reduced fine of 1.75 million pounds (U.S. $2.1 million) as part of sanctions against the Big Four firm for failures in its fiscal year 2017 audit at BT Group after the U.K. telecommunications company adjusted its financials to reflect a fraud scandal in Italy.

Goldman Sachs Group, Citigroup, and Robinhood Markets each issued quarterly filings disclosing regulatory investigations they are respectively facing into varied business practices.