Top Stories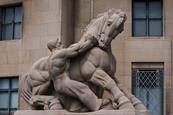 With a changing of the guard, the Federal Trade Commission is undergoing some major restructuring on the antitrust front. All told, it's not just Big Tech and pharmaceutical companies that should be on alert.

The collapse of Archegos Capital Management may go down as yet another episode that champions the importance of the voice of the compliance professional, writes Martin Woods.

There are plenty of unanswered questions following the recent meltdown of family office Archegos Capital Management—and plenty of compliance lessons to be learned, writes Aaron Nicodemus.

Compliance Week has revealed finalists for six Excellence in Compliance honors, including CCO of the Year, top compliance program, and more. Winners will be announced during our 2021 Virtual Conference from May 11-13.
Partner Content

Diligent is modernizing GRC to help businesses thrive in the new era of stakeholder capitalism and ethical business practices.

Congress has passed a defense bill that contains amendments with big ramifications for AML, including new requirements around beneficial ownership and a new Bank Secrecy Act whistleblower program at the Treasury.
More from Compliance Week

The Securities and Exchange Commission recently reinforced its focus on the importance of corporate governance and financial reporting by special purpose acquisition companies (SPACs).

The Irish Data Protection Commission has reached out to Facebook seeking to determine whether the social media giant's weekend data breach should receive scrutiny under the General Data Protection Regulation.

Cyber-breach disclosures in 2020 were down 19 percent from 2019—the first drop in the statistic in five years, according to a new report from Audit Analytics.

The Italian Data Protection Authority announced a fine of €4.5 million (U.S. $5.3 million) against telecommunications company Fastweb for misusing customer data for telemarketing purposes.