Top Stories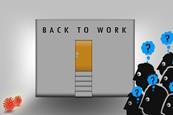 Executive coach Amii-Barnard Bahn offers some tips for when your compliance title morphs into "Chief Public Health Officer," plus ways to highlight the compliance function at your company and more.

The Office of the Comptroller of the Currency published a new report describing key issues facing the federal banking system and the effects of the coronavirus pandemic on the banking industry.

Reeling from a $2 billion accounting scandal, Wirecard has turned to its would-be chief compliance officer as its interim CEO. It's the first smart move the company has made in a while, writes Martin Woods.
Partner surveys

Take this benchmark survey to find out where you are on the AI maturity curve in comparison to peers.

Participate in this short survey and find out how your organization's crisis preparedness and response compares to your peers.

Take our survey asking accounting and real estate professionals how their leases have been impacted by the coronavirus pandemic.

This survey examines entity management procedures today as opposed to what you think they'll be in 5 years, invites you to share your confidence level on data integrity and reporting, and helps you benchmark best practices and pain points on all things related to managing entities.

Help to benchmark your program by participating in this survey that gets at the motivations, obstacles, tools, budget, and requirements for your data privacy program.
More from Compliance Week

Telegram Group will return more than $1.2 billion in ill-gotten gains to investors and pay an $18.5 million civil penalty to resolve SEC charges that its unregistered offering of digital tokens violated federal securities laws.

Companies doing business in Mexico face an uphill battle with their anti-corruption compliance efforts as the country's government struggles to control—and, in many cases, contributes to—its endemic corruption problem.

A bill with bipartisan Congressional support proposes to create a national cyber-security czar who would report directly to the president.

A risk alert issued recently by the SEC examines disclosure deficiencies by investment advisors managing private funds.