Event spotlight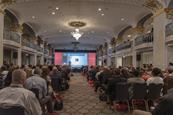 Due to the ongoing coronavirus pandemic, CW has decided to reimagine its National Conference: We will host our first-ever virtual conference online from May 18-20, with at least a dozen interactive sessions. In addition, we are working on plans to hold a smaller, more exclusive event in the fall.
Partner Content

The alarming worldwide spread of the coronavirus has not only sent financial markets crashing, it's created a cascade of risks that every compliance practitioner will need to proactively manage.

You do not have to be a lawyer to be a legal professional. Earn a master's degree in compliance and law, entirely online.

Groundbreaking research into the methodology and maturity of internal audit functions around the globe. Participate today.
More from Compliance Week

The DOJ unsealed indictments against Venezuelan President Nicolás Maduro and several high-ranking former and current members of his regime for alleged drug trafficking and money laundering crimes, as well as violations of the FCPA.

As infections stemming from the coronavirus pandemic continue to mount around the world, publicly traded companies face questions about when and where to disclose that their CEO or other key executives have contracted the virus.

Two regulatory chairs are battling over whether a delay is needed for financial institutions to implement the updated credit loss standard; also expressed are opposing views on how loan modifications should be viewed in terms of troubled debt restructurings.

With state attorneys general now fixated on "stay at home" directives amid the coronavirus pandemic, oversight of data privacy regulation may dip. But consumers—and the plaintiffs' bar—are still watching.