Top Stories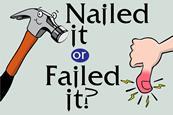 The National Rifle Association "Failed It" big time if a suit alleging a lack of compliance controls proves true. Meanwhile, we tip our caps to the stalwart CCOs who carry on despite a cut in pay and resources due to the pandemic.

Focus on LIBOR transition may have slipped during the coronavirus pandemic, but the recent conversation among regulators is once again looking toward life after the soon-expiring reference rate.

No one knows a customer better than the customer. As such, financial crime expert Martin Woods believes the onus should be on the customer to provide the required data to keep KYC logs up to date.

Central to the New York Attorney General's lawsuit seeking to dissolve the National Rifle Association are allegations that the nonprofit's "culture of noncompliance" allowed EVP Wayne LaPierre and three other NRA officers to steal $64 million from the organization over three years.
CW Surveys

Take 7 minutes out of your day to complete our totally anonymous, second annual "Inside the Mind" survey so we can find out what makes a CCO tick.

The IIA's revised Three Lines Model strives to enjoy more flexibility between the lines. Compliance Week and Workiva would like to hear from you regarding whether the updated version lives up to expectations or poses challenges.
Partner Content

A free guide from OnCourse Learning to creating a high-impact financial compliance program.
More from Compliance Week

The Canadian Securities Administrators has published guidance that effectively gives registered firms in Canada more flexibility in satisfying chief compliance officer staffing requirements through three optional models.

If you are an employer hoping Congress will pass a "coronavirus liability shield" bill to help your company deflect COVID-19 lawsuits, consider this: No such "shield" will do much good unless you've already taken action to create a safe workplace.

The United Kingdom has become just the second country to issue guidance for companies in the maritime shipping industry alerting them about common illicit and suspicious practices used to evade sanctions.

Twitter disclosed in a regulatory filing that it could face fines of up to $250 million by the Federal Trade Commission for misusing people's personal information for advertising purposes.