Top Stories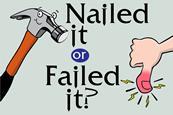 A fresh podcast from the Theranos whistleblower and a new compliance association for Black practitioners get a round of applause from us this week, while a complicated case involving McDonald's lands the company on both the "Nailed It" and "Failed It" lists.

The more internal audit plays a key role in the strategic management of fraud, the more effective and robust organization's fraud risk management processes seem to be, according to the results of a recent Kroll/IIA survey.

Despite a recent court ruling to scrap the EU-U.S. Privacy Shield, the program is apparently still alive and well in the United States. It's time to move on, writes Aaron Nicodemus.
CW Surveys

Take 7 minutes out of your day to complete our totally anonymous, second annual "Inside the Mind" survey so we can find out what makes a CCO tick.

The IIA's revised Three Lines Model strives to enjoy more flexibility between the lines. Compliance Week and Workiva would like to hear from you regarding whether the updated version lives up to expectations or poses challenges.
Partner Content

A free guide from OnCourse Learning to creating a high-impact financial compliance program.
More from Compliance Week

The coronavirus pandemic has wreaked havoc on companies' leasing function, according to results from a recent survey from Compliance Week and Visual Lease. The study reveals how companies are tackling leasing issues in the "new normal."

The U.S. Department of the Treasury announced sanctions against 11 individuals for "undermining Hong Kong's autonomy and restricting the freedom of expression or assembly of the citizens of Hong Kong."

Interactive Brokers has agreed to pay $38 million in settlements with three regulatory agencies related to anti-money laundering lapses, including repeated failures regarding the filing of suspicious activity reports.

An anonymous whistleblower's complaint alleging sexual misconduct by fired McDonald's CEO Steve Easterbrook prompted the company to file a lawsuit attempting to claw back some of the $41 million severance package it paid upon his ouster.