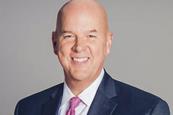 Compliance Week chats with Wells Fargo CCO Mike Roemer about the challenge of rebuilding trust at a company that's been the poster child of compliance and risk management gone wrong.

Compliance Week is thrilled to announce its Top Minds Class of 2019, a group of 12 of the brightest stars of the compliance community whose achievements are dwarfed only by their personal integrity and dedication to ethics.
Top Stories

Efforts to adopt CECL are generally underway in the banking sector, but companies outside financial services may still have plenty to do.

The 2019 Survey on Anti-Bribery & Corruption explores everything from the monitoring of third parties to the evaluation of training programs.

Newly appointed Department of Justice Principal Deputy Associate Attorney General Claire McCusker Murray will deliver a keynote at the upcoming CW annual conference at the Mayflower Hotel in Washington D.C.

Given the heightened risks associated with Argentina's "notebook" scandal, compliance officers might want to enhance their due diligence efforts in the country.
More from Compliance Week

The U.S. Senate has confirmed Jeffrey Rosen to be the next deputy attorney general, replacing Rod Rosenstein.

FASB has finalized a small change to CECL to help companies that were facing a conundrum based on a fair-value election elsewhere in GAAP.

New moves from the Commerce Department suggest a full domestic ban on products from the Chinese telecom giant Huawei are forthcoming.

In two separate settlements, the European Commission fined five banking giants for colluding in the trade of significant sums of foreign currency.