Top Stories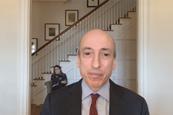 The Senate on Wednesday confirmed the nomination of Gary Gensler to replace Jay Clayton as chairman of the Securities and Exchange Commission. Aaron Nicodemus explores what it means for ESG, cryptocurrency, and more.

Daniel Trujillo, executive vice president and global chief ethics and compliance officer at Walmart, is leaving the company "to pursue other opportunities," according to an internal memo shared with employees.

With a changing of the guard, the Federal Trade Commission is undergoing some major restructuring on the antitrust front. All told, it's not just Big Tech and pharmaceutical companies that should be on alert.

The former chief risk officer of the PCAOB says she was subjected to a campaign of harassment and discrimination before she was unlawfully fired last year.
Partner Content

Diligent is modernizing GRC to help businesses thrive in the new era of stakeholder capitalism and ethical business practices.

Congress has passed a defense bill that contains amendments with big ramifications for AML, including new requirements around beneficial ownership and a new Bank Secrecy Act whistleblower program at the Treasury.
More from Compliance Week

A new law in New York provides contracts that reference LIBOR with a fallback provision and safe harbor once the benchmark interest rate permanently ceases to be published at the end of the year.

Old personal data of more than 533 million Facebook users was recently made publicly available on a hacker forum. Could the social media giant face a new investigation under the GDPR in response?

The Securities and Exchange Commission recently reinforced its focus on the importance of corporate governance and financial reporting by special purpose acquisition companies (SPACs).

The Irish Data Protection Commission has reached out to Facebook seeking to determine whether the social media giant's weekend data breach should receive scrutiny under the General Data Protection Regulation.