Top Stories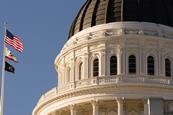 The California attorney general announced his office notified an unspecified number of businesses with mobile apps they are failing to comply with the California Consumer Privacy Act.

Scott Hulsey, partner at Barnes & Thornburg, former federal prosecutor, and a former chief compliance officer, discusses with Compliance Week how CCOs should respond to the Department of Justice's recent policy changes regarding corporate crime.

Morgan Stanley fined its employees up to $1 million for using unauthorized communication channels in violation of recordkeeping rules, according to multiple reports.
CW Surveys

The level of urgency around data privacy grows each year, with new laws being implemented across the globe and technologies offering enhanced means of data storage.
Partner Content

Strengthen your ability to monitor, create, and maintain a culture of trust where your team can thrive.
More from Compliance Week

The Securities and Exchange Commission resurrected an unfulfilled mandate of the Dodd-Frank Act that would prevent the sale of certain securities if there is a conflict of interest.

The Federal Reserve Board fined New York-based Popular Bank $2.3 million for processing Paycheck Protection Program loans despite finding significant indications of possible fraud in the loan applications.

Recent penalties against Big Four audit firms KPMG, PwC, and EY over allegations of widespread exam cheating have raised concerns prompting regulators to investigate the extent of the practice.

Brazilian meat processing company JBS faces accusations of issuing $3.2 billion worth of "misleading and fraudulent" sustainability bonds in a whistleblower complaint filed with the Securities and Exchange Commission.