Upcoming Events
Feb. 1-2, 2024 | Virtual
Compliance Week's Cyber Risk & Data Privacy Summit brings together legal, compliance, and risk professionals to benchmark best practices on managing cyber risks and provide insights into the latest data privacy trends. The summit features industry experts covering timely topics and the latest developments on regulatory issues and solutions to mitigate data breaches in today's fast-changing cybersecurity landscape.
April 2-4, 2024 | The Westin Washington - Washington, D.C.
Gain insights and make connections at the industry's premier cross-industry national compliance event offering knowledge-packed, accredited sessions and take-home advice from the most influential leaders in the compliance community. Compliance Week National brings together compliance, ethics, legal, and audit professionals to benchmark best practices and gain the latest tactics and strategies to enhance their compliance programs.
---
Other CW Annual Events
June 2024
The leading conference for compliance and procurement professionals to come together and share knowledge and experience within third-party risk management. Attendees will learn best practices to navigate the modern risk landscape, benchmarking information to ensure alignment, and the expertise needed to implement and foster compliant third-party relationships.
June 2024
Join women in compliance from across industries for dynamic networking, inspirational speakers, and idea sharing that will provide you with the tools you need to build your confidence, increase your skills, and advance your career. Connect with a pioneering and diverse speaking faculty as they address current challenges in compliance and share tools to propel your career forward.
September 2024
Identify how to overcome the challenges in setting up the building blocks of environmental, social, and governance to effectively reduce risks in reporting and ethically manage your supply chains.
October 2024
Compliance Week Europe is created for compliance, risk, and ethics officers to come together for two days dedicated to the sharing of knowledge and experiences from an international perspective.
Compliance Week National 2023 recap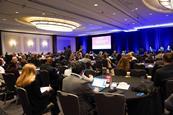 Significant changes in policy and technology, in addition to fresh perspectives on tried-and-true compliance topics, highlighted the discussion at Compliance Week's 2023 National Conference.

One of the ways the Department of Justice will assess a firm's compliance program is by judging how accessible and visible a company's data is to its compliance function, an agency official told attendees at Compliance Week's 2023 National Conference.
If compliance officers are good at their jobs, they can expect to eventually catch their employers breaking the law, whistleblower Edward Siedle told attendees during a fireside chat at Compliance Week's 2023 National Conference.