Compliance Week Europe 2020 will be held virtually on 11 November.
---
September 17-18 | Virtual
A two-day virtual event covering vendor due diligence and onboarding challenges; the impact of COVID-19 on fraud and anti-corruption in the supply chain; the regulatory response to change; automation in the new normal; and more.
---
Postponed: New dates coming soon
Due to the ongoing COVID-19 pandemic, Compliance Week has made the difficult but important decision to postpone Third-Party Risk Management & Oversight Summit New York.
---
11 November | Virtual
Due to the ongoing coronavirus pandemic, we will be holding the 8th Annual Compliance Week Europe conference virtually this year. We are developing an agenda focused on cutting-edge international topics, as well as new perspectives on the fundamental issues of regulatory compliance impacting our world today.
---
Save the date:
Compliance Week 2021: May 17-19, 2021, at the JW Marriott in Washington D.C.
Compliance Week 2022: May 16-18, 2022, at the JW Marriott in Washington D.C.
For more information on sponsorship for any of our events, please e-mail Doug Juenemann, or call us toll-free at (888) 519-9200.
---
Industry Events
The CCRS course equips students with the knowledge, skills, and confidence they require in order to protect the digital assets of their organization and support the efforts of or lead the implementation of a cyber risk framework.
Virtual Conference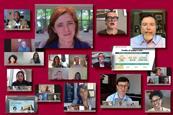 You can still experience our first-ever virtual conference, with sessions recorded May 18-19. Click the link to gain access to all sessions and resources, and check out our editorial coverage from the event below.

The themes of honesty and integrity defined the leadership best practices shared by more than 40 speakers across 15 sessions at Compliance Week's first-ever Virtual Conference.