Ten weeks before Compliance Week National 2023 kicks off May 15 at the JW Marriott in Washington, D.C, CW Editor in Chief Kyle Brasseur shares what he's looking forward to most at the annual event.
---
May 15-17 | JW Marriott - Washington, D.C.
Gain insights and make connections at the industry's premier cross-industry national compliance event offering knowledge-packed, accredited sessions and take-home advice from the most influential leaders in the compliance community. Back for its 18th year, Compliance Week National brings together compliance, ethics, legal, and audit professionals to benchmark best practices and gain the latest tactics and strategies to enhance their compliance programs.
June 27-28 | Grand Hyatt - Atlanta
Join women in compliance from across industries for dynamic networking, inspirational speakers, and idea sharing that will provide you with the tools you need to build your confidence, increase your skills, and advance your career. Connect with a pioneering and diverse speaking faculty as they address current challenges in compliance and share tools to propel your career forward.
June 27-28 | Grand Hyatt - Atlanta
The leading conference for compliance and procurement professionals to come together and share knowledge and experience within third-party risk management. Attendees will learn best practices to navigate the modern risk landscape, benchmarking information to ensure alignment, and the expertise needed to implement and foster compliant third-party relationships.
Highlights from Cyber Risk & Data Privacy Summit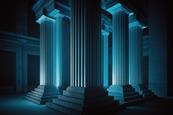 The former superintendent of the New York State Department of Financial Services explained how the structure of a cybersecurity program is like a compliance program and can be divided into four buckets during a panel discussion at CW's Cyber Risk & Data Privacy Summit.

There are downsides to every new technology, and artificial intelligence and machine learning are no exception. Experts discussed the importance for compliance professionals to understand the risks of such tools at CW's virtual Cyber Risk & Data Privacy Summit.

Cyberattacks on software are increasing, and the best chance organizations have of protecting themselves is to know about potential vulnerabilities through a software bill of materials, CISA Strategist Allan Friedman shared at CW's virtual Cyber Risk & Data Privacy Summit.

A panel of cyber experts and a chief compliance officer in financial services discussed the business risks, threat vectors, and vendor 'gotchas' associated with transitioning to a cloud provider at CW's virtual Cyber Risk & Data Privacy Summit.