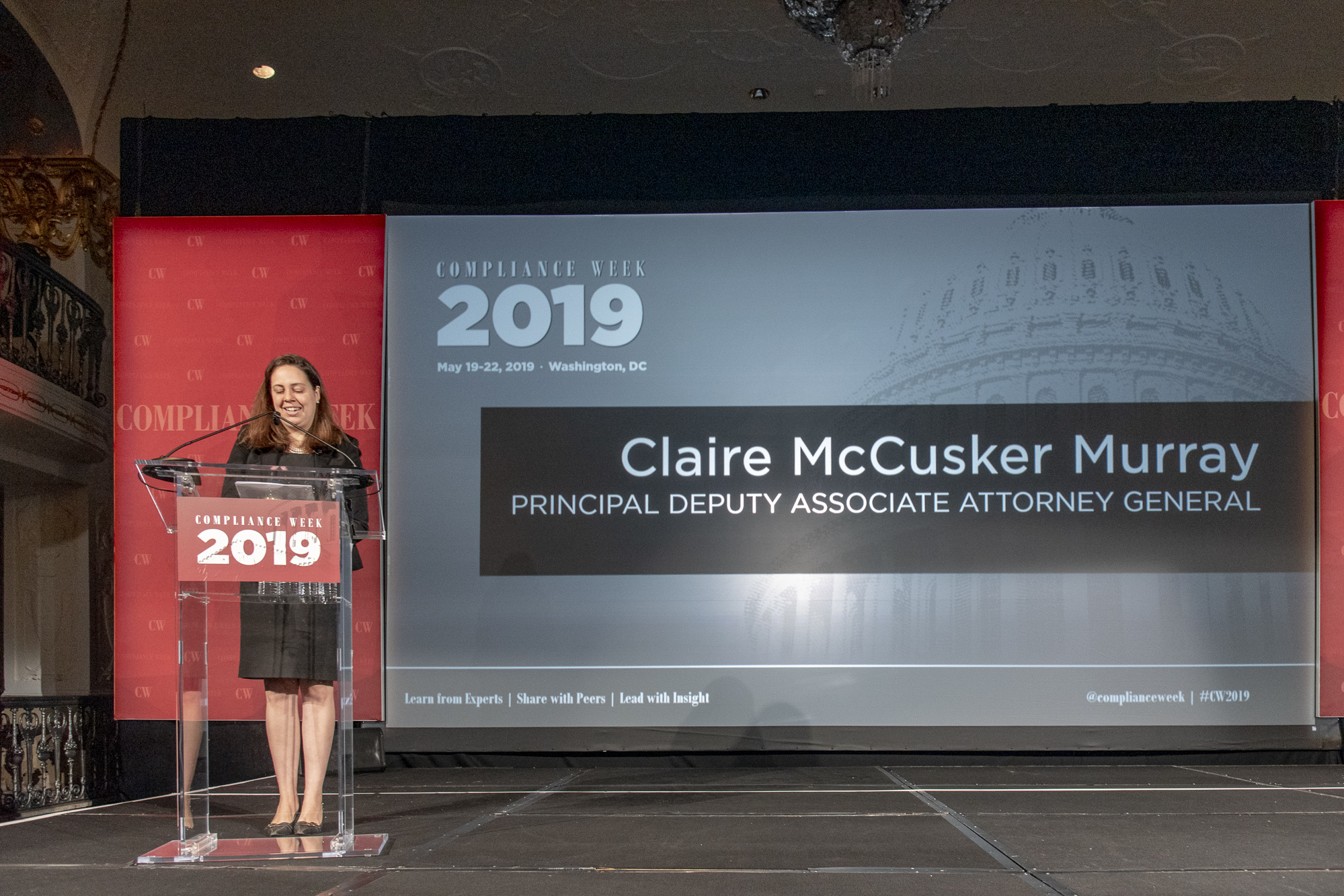 The Department of Justice's Claire McCusker Murray during her keynote at Compliance Week 2019

One of the most common pieces of feedback we heard from first-time attendees of the recently completed 14th national Compliance Week conference in Washington D.C. was that they wished they had discovered our three-day GRC-palooza sooner. Editor in Chief Dave Lefort explains why.
November 4-5, 2019 | Amsterdam
The annual European peer-to-peer event that spotlights compliance leaders and their programs.
December 9-10, 2019 | San Francisco
Risk-based due diligence protocols and practical guidance to effectively evaluate vendors and assess risk.
May 18-20, 2019 | Washington D.C.
Now in its 15th year, Compliance Week's national conference is the premier peer-to-peer event that spotlights chief compliance officers and industry leaders.
For more information on sponsorship for any of our events, please e-mail Doug Juenemann, or call us toll-free at (888) 519-9200.
---
Industry Events
September 15-18, 2019 | National Harbor, Md.
Join the Society of Corporate Compliance and Ethics for an educational and networking event for compliance professionals across all industries around the world. Each year more than 1,800 attendees from 40 countries learn from industry experts on real-world compliance issues, emerging trends, and practical applications.
October 16-17, 2019 | Singapore
The International Compliance Association's second APAC Conference will take place at Marina Bay Sands Expo & Convention Centre in Singapore. As the largest gathering of the ICA Community in the APAC region, the conference provides an ideal opportunity to network with senior industry leaders, learn from more than 20 subject matter experts and ICA Fellows, and gain invaluable access to global and regional perspectives. This year's edition includes a content-rich program cutting across bribery and corruption, anti-money laundering, technology, regulations, skills,and workplace diversity. Keynote speakers include Loo Siew Yee, AMD Policy, Payments & Financial Crime, Monetary Authority of Singapore (MAS); NG Nam Sin, CEO, The Institute of Banking and Finance; and Malcolm Wright, Chief Compliance Officer, Diginex.
November 3-6, 2019 | Washington D.C.
Stay up-to-date on the latest enforcement trends: attend Health Care Compliance Association's Healthcare Enforcement Compliance Conference. Learn about emerging issues in healthcare regulations, compliance, and enforcement directly from government officials and industry leaders. Make sure your compliance program is responsive to the ever-increasing emphasis on healthcare fraud prevention.