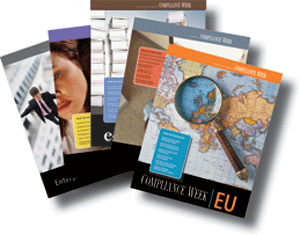 Compliance Week's electronic and print products reach more than 80,000 financial, legal, risk, audit, and compliance executives at public companies. And since our circulation is 100 percent paid, it means our members are committed to our content and dedicated to our brand. But don't take our word for it – read the dozens of testimonials we've received from corporate compliance and risk officers at Ford, Archer Daniels Midland, Unum, Tyco, Fannie Mae, and others.
In addition, our annual conferences, workshops, and Webcasts are among the most well-respected and well-attended events in the GRC industry. Attended by senior executives from hundreds of public companies, Compliance Week's interactive and in-person forums offer marketers unique opportunities to get their senior partners and thought leadership in front of key decision makers.
To advertise along with leading GRC firms, please e-mail Doug Juenemann, or call us toll-free at (888) 519-9200.