The regulatory priorities of the Securities and Exchange Commission, Public Company Accounting Oversight Board, and Financial Accounting Standards Board for 2020 and beyond impacting financial reporting and related governance should be top of mind for boards of directors and their committees as they perform their oversight, according to a recent publication of the National Association of Corporate Directors and Contributing Partners: "2020 Governance Outlook, Projections on Emerging Board Matters."
In the section on "Governing Through Regulatory Change: A Focus on Financial Reporting, Accounting, Auditing, and Related Governance Matters," boards are encouraged to remain vigilant to ensure management has policies and practices in place to keep directors informed of regulatory developments on a timely basis and to assess and report on the impact of regulatory changes.
Audit committees have a leading role in financial reporting oversight and compliance, which includes the implementation of new accounting standards. But all board members must be aware of these regulatory changes. What follows are highlights of some of the current priorities and focus areas of accounting and audit regulators that boards should be thinking about this year.
SEC
Capital formation: The SEC proposed amendments to the rules for which companies qualify as nonaccelerated filers, which would increase the number of them and would result in those companies no longer being required to have their auditors report on their internal control over financial reporting.
Disclosure effectiveness: Proposed rules to amend Regulation S-K are being finalized that would amend the required disclosures for description of business, legal proceedings, and risk factors to make them more modern and principles-based. There are also proposed new human-capital resource measures and objective disclosures going beyond the current requirement to disclose the number of employees. Additionally, there is a new proposed mandatory summary of risk factors if the risk factor disclosures exceed 15 pages.
The SEC is also finalizing proposed rules to improve investor information about acquired or disposed businesses, including simplified disclosure requirements for registered debt securities and amended financial reporting for significant acquisitions and dispositions to reduce the complexity and cost.
Risk disclosures: The SEC is continuing its focus on companies' risk disclosures and their boards' oversight of risks in the areas of cyber-security, transition from LIBOR, and Brexit.
Cyber-security includes both the prevention and detection of cyber-breaches and controls over identifying and escalating any incidents that do occur. Any material cyber-security risks should be disclosed to investors on a timely basis. The SEC has a resource page on its Website related to cyber-security.
As companies and markets transition away from LIBOR and alternate reference rates replace it, the SEC expects companies to disclose their risk exposure from contracts indexed to LIBOR. In July 2019, the SEC staff issued a statement advising companies to monitor matters such as their identification of LIBOR exposure, how they are analyzing their existing and alternative rates and working with counter parties, and any hedging implications. Companies should disclose material qualitative and quantitative information about where they are in their assessment process for the transition from LIBOR.
Management should be considering the uncertainties relating to the potential effects of Brexit. Chairman Jay Clayton included Brexit in a December 2018 speech about the SEC's 2019 agenda and initiatives. The SEC expects companies to review their risk disclosures about Brexit and update them to reflect their current risk assessment.
The SEC is also actively involved in potential rulemaking and requests for clarification of disclosure guidance relating to environmental matters, including climate change. Environmental, social, and governance (ESG) matters are a very hot topic now, and there could be additional required disclosures in this area in the near-term.
PCAOB
Reporting of Critical Audit Matters (CAMs): As audit reports in 2019 and 2020 begin to include the reporting of CAMs, the PCAOB intends to focus on this new reporting requirement. This will include both their inspections of auditors and post-implementation review of the new standard, to consider the need for additional guidance or changes to the requirements. The PCAOB has issued guidance on CAMs, including a July 2019 report for audit committees to use as they engage with their auditors.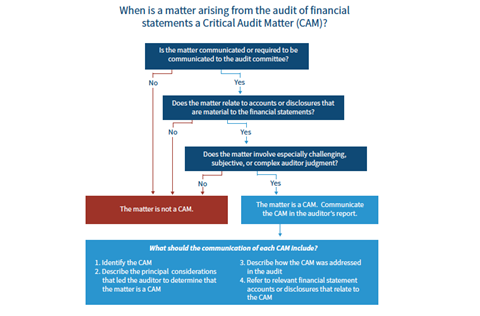 Quality-control (QC) standards: In December 2019, the PCAOB issued a concept release on quality-control standards. Responses to the release may result in potential changes in the QC standards that boards and audit committees need to be aware of as they work with and monitor their auditors. These include firm governance and organizational structure, assessing and monitoring quality-control risks, continuous improvement, and transparency.
Auditors' use of data and technology: As technology continues to change the way auditors conduct their audits, the PCAOB is actively looking at whether existing standards are adequate or need to be changed. They have a task force involved, and this is a topic on its current research agenda.
Auditors' supervision of other auditors: The PCAOB proposed amendments to audit standards in this area in 2016. It is concerned with how lead auditors evaluate and ensure quality work of other auditors involved in the issuance of their audit report. The PCAOB issued a request for additional comments on their proposal in 2017 and is in the process of determining next steps, which could happen in 2020.
FASB
New accounting standards—education and implementation assistance: FASB's focus includes continuing to monitor significant new accounting and amended standards, such as revenue, leases, credit losses, and hedge accounting. They are providing assistance and education on implementation issues. They are obtaining feedback through their post-effective-date review and monitoring program to identify areas in which preparers need guidance or where standards may need amendment in the future.
Future standard setting: Current FASB Chair Russ Golden will complete his term on June 30, 2020, and a new chair, Richard Jones of EY, will take over. FASB is continuing to work on the accounting for convertible instruments and contracts on an entity's own equity, along with potential changes from the transition from LIBOR. They are also looking at potential improvements to financial reporting, including segment reporting and income statement presentation. It has a number of other projects on its agenda that are narrower in scope, relating to both accounting and disclosures.

Maria L. Murphy, CPA, is a regular contributor to Compliance Week's accounting & auditing coverage. She is a senior content management analyst, accounting and auditing products, CCH tax and accounting North America for Wolters Kluwer and a freelance writer and editor.
View full Profile