"We are living in a very high-risk geopolitical area," says Fouad Khalifeh, well aware of what an understatement that is. "It is not business as usual."
Khalifeh is group chief compliance officer for Fransabank, a Beirut-based institution that provides retail, corporate, investment, and private banking services to individuals and businesses in Lebanon. It has roughly 3,400 employees.
Founded in 1921, the bank has survived, and prospered, as one of the top three banks in Lebanon. A challenge to that success—beyond the competitive forces that affect all banks—is its location, neighboring Iraq, Syria, and Turkey, and surrounded by war, refugees (nearly 1.5 million have fled to the country), and political unrest, not to mention a homegrown terrorist organization, as least as designated by the United States and others, Hezbollah.
There is no shortage of danger. On June 12, an explosion at the headquarters of the Lebanese Blom Bank in Beirut, caused significant damage but, fortunately, no fatalities. The bank was apparently targeted because it had closed accounts related to Hezbollah in response to the Lebanese Central Bank's adherence to a U.S. law passed in December. The Hezbollah International Financing Prevention Act threatens sanctions against those who facilitate financing for Hezbollah. Over time, the U.S. has placed more than 100 institutions on sanctions lists for reasons related to the group.
About Fouad Khalifeh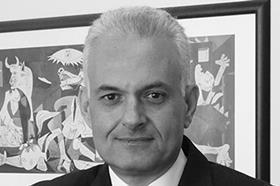 Title: Group Chief Compliance Officer, Fransabank
Years of experience: 20+
Areas of expertise: Risk management, international Basel accord, anti-money laundering
Quote: "You can say no to everyone and be fully compliant, but when you are the third largest bank in Lebanon, you don't want to do that. You will lose your job. Every day, you have the challenge of deciding on the fine line between being fully compliant and at the same time making the business work. That is the challenge of compliance today in Lebanon."
In conversation, however, Khalifeh doesn't dwell on controversies. His message: Beirut, despite its challenges, is home to a healthy banking system and one that faces very similar compliance challenges as its peers around the world.
Khalifeh has had a long career in the world of compliance and risk management. Owner of the website Risk-Review.com, he was a lecturer at Saint Joseph University, a private Catholic research university in Beirut, and Sagesse University, also in Beirut. He previously served as Chief Risk Officer at Ahli International Bank, a risk manager at Bank of Beirut, and held positions at Banque du Liban, the Lebanese central bank and overseer of bank supervision and regulation. He holds a Master's degree in International Economics from the University of Paris.
"My aim is to advance the compliance 'industry' in my country, and be one of the many pillars of compliance in the Lebanese banking sector," he says. "Surrounded by major geopolitical risks, we as compliance officers in Lebanon are facing major challenges to keep the business of banking growing, and supporting our economy, while spreading a culture of compliance with rules, regulations, and sanctions requirements."
A snapshot of Khalifeh's outlook on compliance, and the challenges he faces, can be gleaned with a quick scan of his Twitter account:
"The Hizbollah Financing Prevention Act: we need wisdom, caution, and a balanced approach. A policy of over-reacting is the wrong policy."
"In an area plagued by high geopolitical risk, we face growing concerns of de-risking by correspondent banks. We need increased vigilance."
"We race on a fine wire between compliance with international sanctions, and maintaining the bank's business growth. No room for mistakes…"
"Corruption and tax evasion are the new challenges. How to detect, prove, monitor and report something that is culturally embedded?
"In these troubled times, cash withdrawals of even limited amounts can finance the most dangerous of terrorists. Troubled times indeed!"
"RRR….the 3 R's of compliance: having the Right people, know the Right information, at the Right time."
"Ethics are the driving force of Compliance. Without it, banking transactions can be channeled, twisted around, to suit criminals."
Perhaps the most telling of his posts: "The compliance 'industry' is reshaping the Lebanese banking sector. Comply or Die."
Khalifeh's expertise, beyond risk management, includes the international Basel accord and anti-money laundering efforts, the latter being a subject he helped establish laws for while at the central bank. Another tool, created during his time there, was a special investigatory unit designed to undercut Lebanon's reputation for bank secrecy. "The central bank can monitor anyone," he says, "there is no bank secrecy, especially if there is an investigation."
Through Banque du Liban's efforts, AML was codified as a compliance issue, alongside legal compliance and handling non-compliance with rule and regulations, especially when there are correspondent banking relationships involved, Khalifeh says. "Compliance now handles AML and legal compliance at the same time."
Know-your-customer due diligence takes on particular importance when any customer could potentially be a terrorist. "Hezbollah is a major part of the political and social scene in Lebanon, so every day we are facing customers where we need to decide how we are going to adhere to the Hezbollah International Financing Prevention Act," Khalifeh says. These decisions can be far more nuanced than the cut-and-dry account closures that come with residing on a sanctions list.
"You need to do an assessment and monitor and investigate a customer to find out if they might be related to Hezbollah in any way," he explains. "You need to decide on whether to close the account or not. This is a grey area and is very subjective. I could be very risk averse and decide this account should be closed. Then I face problems, because I lose a customer [with a sizable account] that may be practically impossible to close immediately. We have major headaches choosing who fits into Hezbollah and how are we going to handle this account, whether we close it or not."
These decisions—and resolving similar challenges—take on an even greater importance in Lebanon where, Khalifeh says, "Lebanese banks are the backbone of the economy and the last man standing for a reliable open, free market economy."
"You can say no to everyone and be fully compliant, but when you are the third largest bank in Lebanon you don't want to do that," he adds of risk management efforts. "You will lose your job. Every day, you have the challenge of deciding on the fine line between being fully compliant and at the same time making the business work. That is the challenge of compliance today in Lebanon."
Dealing with refugees is another challenge, especially when good guys and bad guys are comingled. Khalifeh asks: "How do you know they are the common man and not related to the Bashar Hafez al-Assad regime?" The response was to clamp down on cross-border monetary flows and halt certain currency transactions. Money for basic necessities are permitted; large sum deposits and transfers are not.
"No transaction can pass without compliance knowing about it and stopping it as needed," Khalifeh says. "We need to double-check every transaction."
Similar insight into correspondent banking relationships is also stressed at his bank—"Anything compliance related, they need to be talking to me"—and he created the bank's internal sanctions program. "We are reviewing every inquiry and response that goes to the correspondent bank," he adds. "You need to be consistent; you need to be swift."
On top of the unique risks Khalifeh's bank faces, there are more mundane, but no less important industry challenges. In a May 2015 report, the International Monetary Fund detailed some of those issues: regional competition; increased exposure to sovereign debt: and a slowdown in economic activity. That report also injected a bit of optimism, remarking that the Lebanese banking sector had proven itself to be durable and resilient.
The good news for Khalifeh is that he has the ability to hire competent staff and is in the midst of a technology overhaul that will make his efforts even more effective. "We are sufficiently equipped and I can gladly say that I have the go-ahead to have any state of the art software I can get," he says.
"Risk management is not eliminating risk, it is managing risk," he adds. "You need to diversify and reduce the concentration of risk, not just eliminate it." By maintaining an effective compliance program his bank "is not an extreme risk, even if we are in an extreme risk area."

Joe Mont has been an award-winning journalist for nearly 25 years in the Greater Boston area.