The Securities and Exchange Commission (SEC) on Tuesday announced the appointment of New Jersey Attorney General Gurbir Grewal as director of its Enforcement Division.
Grewal is expected to take over the job on July 26. He is the second individual to be named to the position in three months after new Chair Gary Gensler's first pick resigned for personal reasons less than one full week on the job.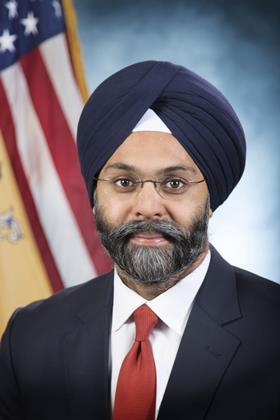 "I'm honored and delighted to welcome Attorney General Grewal to the SEC," said Gensler in a press release. "… He has the ideal combination of experience, values, and leadership ability to helm the Enforcement Division at this critical time. I look forward to working closely with him to protect investors and root out wrongdoing in our markets."
Gensler had initially appointed Alex Oh to lead the Enforcement Division on April 22. Oh, who was joining from law firm Paul Weiss, was a controversial choice among progressives, many of whom criticized her corporate defense attorney background. On April 28, Oh stepped down from the role after her conduct was called into question in a case in which she represented ExxonMobil.
Oh, in a resignation letter, said she didn't want the case to be a distraction for the SEC.
"I thank Alex for her willingness to serve the country at this important time," said Gensler.
Grewal has served as New Jersey's attorney general since January 2018. His prior experience includes time spent as assistant U.S. attorney in the Criminal Division of the U.S. Attorney's Office for the District of New Jersey, where he served as chief of the Economic Crimes Unit from 2014-16.
"The Enforcement Division has a critical role to play in finding and punishing violations of the law," Grewal stated. "I'm excited to get to work with the talented team of public servants to uncover and prosecute misconduct and protect investors."
Grewal will take over from Melissa Hodgman, who resumed her role as acting enforcement director after Oh resigned. Since December, four individuals have led the department, largely the result of turnover associated with the transition to the Biden administration.

Kyle Brasseur is Editor in Chief of Compliance Week. His background includes expertise in user personalization with ESPN.com.
View full Profile