The Consumer Financial Protection Bureau (CFPB) is likely to revert to its more aggressive, Obama-era version of itself under a Biden administration.
Joe Biden, fresh off his victory over Donald Trump to become the president-elect, faces enormous challenges upon taking office early next year. He'll have to wrestle with a health crisis caused by the coronavirus pandemic, an economic crisis caused by the health crisis, and a public deeply divided as to what to do about either one.
Biden's CFPB priorities will likely be guided in some manner by former director Richard Cordray, as well as Sen. Elizabeth Warren (Mass.), the former Democratic presidential candidate largely credited with dreaming up the agency. Both Cordray and Warren view the CFPB as an aggressive watchdog whose role is to protect and inform consumers as they interact with a financial industry offering products that defraud them.
Regulatory policy is likely to be far down on Biden's to-do list in his first 100 days. If Republicans maintain control of the Senate, which seems likely, Biden will find himself hamstrung on his ability to pass laws on banking and securities regulations, employment law, and more.
But there is one regulatory agency with the power to advance parts of Biden's agenda that he can control: the CFPB. Thanks to a Supreme Court decision this summer in the Selia Law case, upon assuming the presidency Biden will have the power to fire current CFPB Director Kathy Kraninger, who was appointed to a five-year term in December 2018.
Biden "will move fairly quickly to appoint a new CFPB director," predicted Nancy Thomas, a financial services litigation partner at Morrison & Foerster, perhaps by summer 2021. "I think he'll want someone who views the world the way he does."
One hiccup in that plan could occur in the Senate, where Republicans could block a controversial candidate, like the return of former CFPB Director Richard Cordray. The CFPB under Cordray was sharply criticized by Republicans like Sen. Pat Toomey (Penn.), who called it "an unaccountable, out-of-control agency." The Wall Street Journal called the CFPB under Cordray "a rogue progressive bureaucracy."
Cordray told Compliance Week the CFPB under the Trump administration has been reduced to a shell of its former self.
"I think they need to ramp up enforcement. It's dropped dramatically," he said.
When it was pointed out the CFPB has issued nearly as many enforcement actions in the last two years as were issued under the last two years of his term, Cordray said, "It's not just enforcement, it's what kind of enforcement."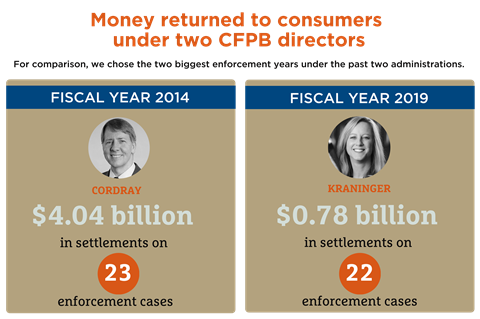 Under the Trump administration, money returned to consumers has dropped significantly. The agency paid out about $11.3 million to consumers from its civil penalty fund from April 2019 to March 2020, according to its third-quarter update.
In another sign of the CFPB's change of direction, it issued five fines of $1 and one fine of $7 in enforcement actions in fiscal year 2020, according to the third-quarter update.
"I think it's important to enforce the law so companies take it seriously," Cordray said. The agency under Kraninger "has retreated from where it could be in my view and the view of many," he said.
Thomas says the CFPB under Trump hit pause on rulemaking, guidance, and enforcement actions for nearly two years. When it did start up again, the agency concentrated on smaller entities preying on vulnerable consumers.
"These were more clear-cut violations. They're not pushing the envelope on new laws and new rules," she said.
Ashley Taylor, partner with the firm Troutman Pepper in Richmond, Va., said the CFPB's enforcement actions under Kraninger have targeted firms "that have clearly crossed the line and engaged in egregious behaviors." When companies are close to the line but not over it, the CFPB has proven more willing under Kraninger to offer guidance instead of punishment, he said.
This approach is not necessarily a bad thing, argued Scott Pearson, partner with Los Angeles-based firm Manatt, Phelps & Phillips.
"The tone under Cordray was very anti-industry. There was an assumption that these financial firms are all bad actors that deserved punishment," he said. The CFPB under Kraninger is much more willing to offer guidance and makes a concerted effort to understand the industries it regulates, he said.
"Under Cordray, success was measured in dollar volume of restitution and dollars recovered, irrespective of the situation involved," he said. Under Kraninger, he said, "the penalties are equivalent to the wrongdoing."
One area where the CFPB under Kraninger supported innovation in financial services was through no-action letters (NALs), through which the financial services industry and trade groups could ask for the CFPB's opinion on certain products without fear of triggering an enforcement action. The CFPB first proposed NALs in 2015 but through 2018 had issued only one. Under Kraninger, NALs became binding, meaning compliance professionals could view advice dispensed in an NAL on the same par as an enforcement action.
The agency has issued two NALs since the policy overhaul, and while they have been welcomed by the industry, they have been criticized by consumer groups and state regulators.
Thomas said she'd expect a new CPFB director "to tread lightly in this area, despite support on both sides of the aisle for spurring innovation as a way to expand access to credit."
Pearson was more blunt. "You're not going to get the same latitude" under a Biden appointee, he said. NALs would likely disappear, he said.
What will Biden's priorities be for the CFPB?
Biden's CFPB priorities will likely be guided in some manner by Cordray, as well as Sen. Elizabeth Warren (Mass.), the former Democratic presidential candidate largely credited with dreaming up the agency. Both Cordray and Warren view the CFPB as an aggressive watchdog whose role is to protect and inform consumers as they interact with a financial industry offering products that defraud them.
Cordray would not comment on whether he was being considered by Biden to retake the helm of the CFPB but did say he has been contacted by the former vice president's transition team.
So what are Warren's and Cordray's priorities for the CFPB, and how do they jibe with what Biden has said about regulating the financial industry?
Biden's campaign materials talk a lot about fair lending practices in the financial industry, particularly as it relates to race. A reinvigorated CFPB will likely place a spotlight on two kinds of racial discrimination that exist in the lending marketplace, said Radha Gopalan, professor of finance at Washington University in St. Louis.
Statistical discrimination happens when firms make loans to one kind of customer at a higher rate than another kind. The CFPB may employ some data analytics to study whether certain financial institutions are somehow sidelining a certain segment of the population, he said.
There's also active discrimination, like when a lender offers fewer loans in neighborhoods with higher populations of Black and Hispanic residents. This practice of "redlining" has gotten a lot of attention over the years but still occurs in certain neighborhoods by some lenders, Gopalan said.
"In some ways, redlining is easier to spot and easier to control," he said, while statistical discrimination is more insidious and more widespread.
Thomas said a Biden CFPB appointee may also "take up the banner for immigrants in fair lending as a racial justice issue."
Other enforcement priorities may include reviving "three big fights" that Cordray outlines in a chapter in his book, "Watchdog," which chronicles his time in charge of the CFPB. The big fights were to end exorbitant fees charged on prepaid cards; to stop allowing companies to steer customers into mandatory arbitration and preventing them from accessing the courts; and to cut down on the abusive practices in the payday lending industry. Cordray and the CFPB scored a relative victory on the prepaid card issue and were thwarted by the Senate on the arbitration issue. Payday lenders have received much less scrutiny under Kraninger than they did under Cordray.
Taylor said other priorities for the CFPB may include attempts to rein in debt collection agencies, as well as rolling back changes made to the Fair Credit Reporting Act by the Trump administration. The CFPB under Cordray made a point of working closely with state attorneys general, Taylor said. That cooperation would likely return, he said.
"If your firm is approached by one entity, you should prepare for a multi-front enforcement action" under a Biden administration CFPB, he said.

Aaron Nicodemus covers regulatory policy and compliance trends for Compliance Week. He previously worked as a reporter for Bloomberg Law and as business editor at the Telegram & Gazette in Worcester, Mass.
View full Profile