Sarah Bloom Raskin, President Joe Biden's pick to be the nation's top banking regulator, has formally withdrawn her nomination.
Raskin sent a letter to Biden on Tuesday with her decision to end her candidacy for the post of vice chair for supervision at the Federal Reserve, according to multiple reports. The New Yorker published Raskin's letter to Biden in full.
Biden nominated Raskin, who previously served as a Fed governor from 2010-14 before resigning to become deputy secretary of the Treasury Department from 2014-17, to the position in January.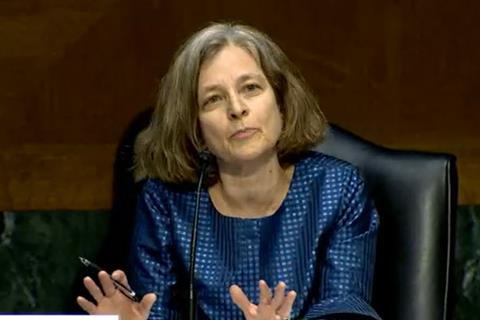 Her candidacy faced fierce opposition from Republicans, who refused to show up for a Senate Banking Committee vote that would have potentially moved her nomination forward to the full Senate. Their maneuvers also blocked the nominations of four other Federal Reserve candidates—including Jerome Powell, a Republican seeking reappointment as Federal Reserve chair—from moving forward.
The final blow to Raskin's nomination came Monday, when Sen. Joe Manchin (D-W.Va.) issued a statement saying he would not support her.
"Her previous public statements have failed to satisfactorily address my concerns about the critical importance of financing an all-of-the-above energy policy to meet our nation's critical energy needs," Manchin said. "I have come to the conclusion that I am unable to support her nomination to serve as a member of the Federal Reserve Board."
With the Senate deadlocked 50-50 between Democrats and Republicans (and Vice President Kamala Harris available to cast a tiebreaking vote), Democrats could not afford to lose even one vote on Raskin's nomination.
Sen. Pat Toomey (R-Pa.), ranking member of the Senate Banking Committee, signaled Monday in a press release that with Raskin's nomination out of the way, Republicans would agree to move the other four Fed nominees forward. Toomey and Republicans had blasted Raskin for her alleged lobbying efforts on behalf of Colorado-based fintech company Reserve Trust.
In her letter to Biden, Raskin said her nomination was subject to "relentless attacks by special interests, culminating weeks ago in a boycott of a routine Senate Banking Committee vote to advance your Federal Reserve Board nominees." She said her decision to withdraw her name from consideration came "with a heavy heart."
Raskin represents the second Biden nominee for a key banking regulator post to withdraw from consideration. His choice for comptroller of the currency, Saule Omarova, withdrew her nomination in December after losing key support. Biden has yet to nominate someone else for that position.

Aaron Nicodemus covers regulatory policy and compliance trends for Compliance Week. He previously worked as a reporter for Bloomberg Law and as business editor at the Telegram & Gazette in Worcester, Mass.