The coronavirus pandemic is not a "Get Out of Jail Free" card. It is not an excuse machine.
Don't fall into the trap that illegal or unethical behavior might be overlooked because of the chaos sowed by the coronavirus, said panelists during a Compliance Week 2020 Virtual Conference session entitled, "The Front Line of Business: Compliance Teams are Essential Workers."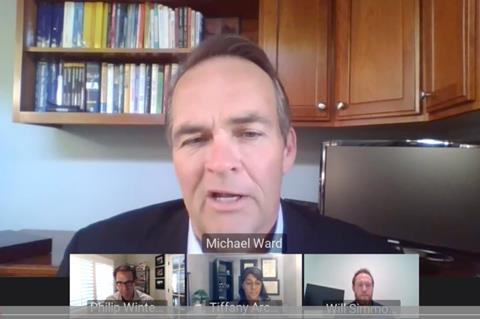 "The DOJ [Department of Justice] is not going to use coronavirus as an excuse for any malfeasance or misconduct," said Will Simmons, head of global investigations and associate director of compliance for the pharmaceutical firm Lonza. "It's not going to be a defensible position."
The pandemic may provide compliance officers a unique opportunity to uncover fraud within their organizations, said Michael Ward, partner at the law firm Vinson & Elkins. In the 2008-09 recession, the economic downturn exposed Bernie Madoff's huge Ponzi scheme because too many investors wanted their money at the same time.
Similarly, price-fixing and bid-rigging conspiracies will fall apart due to external financial and economic pressures caused by the pandemic, he said.
"You want to be the one who finds these frauds, not someone else," he said.
Another type of fraud to be aware of is sham charitable organizations, said Tiffany Archer, regional ethics & compliance officer, corporate counsel, Panasonic Avionics Corp.
Bad actors may pursue schemes that target lower-risk transactions, like charitable donations, in the hope that fraudulent transactions will go undetected. Similarly, an employee perpetrating a fraud could intentionally miscategorize a fraudulent transaction, keeping it in a lower classification that avoids additional scrutiny, she said.
Session moderator Philip Winterburn, chief strategy officer for compliance consultant Convercent, asked about whether organizations risk becoming "addicted to exceptions" during a pandemic, something Ward called the "diving catch" mentality.
The diving catch mentality, Ward said, is when companies continually bypass compliance controls on behalf of key clients. Some companies embrace the diving catch mentality as a way to keep clients happy and loyal, he said, "but a culture that relies on the diving catch mentality is not a recipe for success."
The pandemic will not excuse a corporate culture that becomes addicted to granting exceptions to its own policies, the panelists agreed. When the pandemic is over, regulators won't view exceptions kindly.
"I would urge that making exceptions is not the right move," said Ward, who worked for over a decade as a federal prosecutor. "The exceptions you grant today will be judged in the harsh light of hindsight."
There can be legitimate reasons for granting policy exceptions, during normal times and during a pandemic. Compliance officers should continue to be vigilant about documenting decisions, including exceptions, "so that when regulators look back, they can see your reasoning," Archer said.
"The reasoning cannot be that following the policy was inconvenient," Ward said. "What might work is that this situation was never imagined when this policy was established."
If a company comes under regulatory scrutiny, prosecutors will home in on those decisions that strayed from the company's own policies, Ward said. And they may focus their investigation on the individuals or groups that approved them.
Similarly, "adopting a policy you can't comply with is a recipe for disaster," he said. Companies should be able to take risks during this time, he said, "but a blurry implementation is a big problem."
Winterburn also asked panelists for advice about how to fend off corporate budget cutters.
"I view compliance as a revenue protection center," said Archer. The department's value is in discovering issues with the company's revenue stream, monitoring audit responsibilities, and ferreting out wrongdoing, "which could avoid penalties that could have a much bigger cost down the line," she said.
Ward said compliance officers need to have built relationships with company leaders before the pandemic hit, and to lean on those relationships now.
Those relationships you established "are built for this time, this period, to protect your program," he said.
But let's say a company pivots from making widgets to making ventilators.
"Those pivots can change the risks dramatically," Ward said. "You can't cut my budget, because we just entered the medical device business."

Aaron Nicodemus covers regulatory policy and compliance trends for Compliance Week. He previously worked as a reporter for Bloomberg Law and as business editor at the Telegram & Gazette in Worcester, Mass.
View full Profile
CW2020 wrap-up: Tips for CCOs on leading in a crisis
1

2

Currently reading

Advice for CCOs: Pandemic 'exceptions' will be judged in 'harsh light of hindsight'

3

4

5