The Securities and Exchange Commission (SEC) on Tuesday awarded more than $28 million to a whistleblower who provided "significant information" that led to an enforcement action.
The payout is the latest in an unprecedented stretch that has the Commission within reach of surpassing the record award total set in fiscal year 2020 just five weeks into FY2021.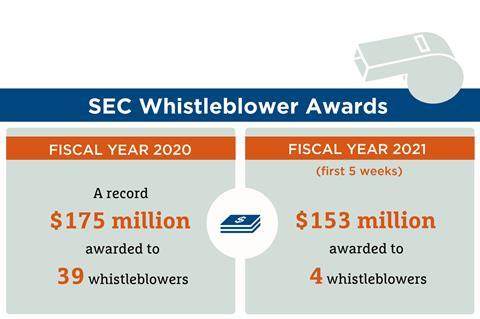 "In the past month alone, the Commission has awarded four whistleblowers over $150 million for their important contributions to the Commission's efforts to detect wrongdoing and protect investors and the marketplace," said Jane Norberg, chief of the SEC's Office of the Whistleblower, in a press release. "I hope our recent awards will continue to incentivize whistleblowers to come forward to report potential fraud or other wrongdoing."
The approximately $153 million distributed among the four whistleblowers is a stark difference from the $175 million that was split among 39 award recipients during FY2020's record run. The bulk of FY2021's total came in a $114 million award announced two weeks ago, and the SEC followed that up with a $10 million award last week.
Whistleblower advocates and the SEC itself credit the uptick in award frequency to the agency placing a priority on processing awards more quickly.
Tuesday's payout is the seventh largest issued under the SEC Whistleblower Program, which announced its first award in 2012. "The whistleblower internally reported information that prompted the company to initiate an internal investigation, and saved the staff time and resources by providing testimony and identifying a key witness," according to the SEC.
In the order authorizing the award, the SEC also noted the information provided by the whistleblower contained "important law enforcement interests" against a publicly traded company and its executives and bore "a close nexus to certain charges brought by the Commission."
In addition, the SEC uncovered additional misconduct at the publicly traded company that the agency said was unrelated to the whistleblower's information. The whistleblower did not receive a percentage of the penalties related to that additional misconduct, the SEC said in its order.
The SEC has awarded approximately $715 million to 110 individuals since 2012. Awards can range from 10 percent to 30 percent of the money collected when the penalties exceed $1 million; all award payments are made through an investor protection fund established by Congress and financed by monetary sanctions paid to the SEC by securities law violators.
The SEC neither identifies whistleblowers, nor discloses information that could reveal a whistleblower's identity.

Aaron Nicodemus covers regulatory policy and compliance trends for Compliance Week. He previously worked as a reporter for Bloomberg Law and as business editor at the Telegram & Gazette in Worcester, Mass.
View full Profile