Once the individuals featured in this series decided to blow the whistle, their lives were forever changed.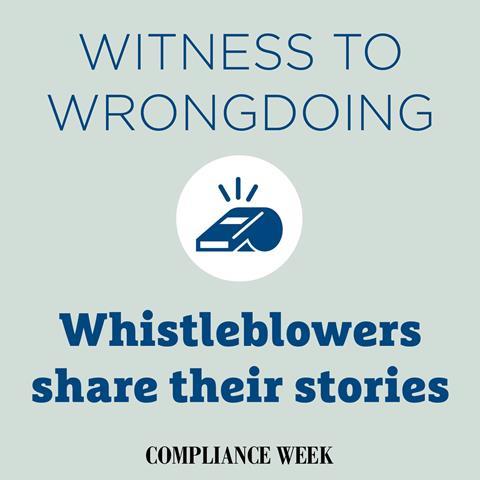 For Dee Dee Stone, a Texas CPA, the decision to blow the whistle in 2011 on a client who was operating a Ponzi scheme was a relatively easy one.
That client, fellow CPA David Ronald Allen, was the chief financial officer of an asset-backed investment scheme called China Voice Holding Corp. While Stone was processing tax returns for Allen's investment partnerships as a subcontractor, she saw China Voice bank statements and knew something was off. When confronted, Allen tried to explain away the fact the investment vehicle looked like it was using new investor money to pay off high returns promised to existing investors, she said. But as Stone had already copied bank statements and tax returns, she knew Allen's explanations did not measure up with the facts.
This was just a year after the Dodd-Frank Act passed, and the Securities and Exchange Commission (SEC) was ramping up the first-of-its-kind whistleblower program the law created. But Stone did not know about any of that. She contacted a former colleague who was an auditor for the Internal Revenue Service (IRS) and asked her to look at the documents.
"Real people were getting hurt. … I knew several of the investors personally, and they had converted all their retirement into self-directed funds to invest in that, which is very dangerous," Stone said. "I just wanted to stop it."
Stone contacted the SEC; spoke with an investigator; and the next day, she received a subpoena, which she remembered as being "quite frightening." She immediately mailed copies of all the documents related to the asset-based lending scheme, which included bank statements for China Voice showing it had received investor funds. Turns out the SEC had already launched an investigation into China Voice but lacked key evidence. The documents she provided sealed the case.
Just a year later, in August 2012, Stone would be the first person to receive a payout from the SEC's whistleblower program. For blowing the whistle on what the SEC said was an $8.6 million fraud, Stone received nearly $50,000.
Sean McKessy, who led the SEC's Office of the Whistleblower from its inception in 2012 until 2016, remembers the very first award was a straightforward fraud.
"We weren't as concerned about the amount (of the award) as we were about getting it out quickly," said McKessy, now a whistleblower attorney with the firm Phillips & Cohen. "We wanted to show the office had a purpose. There were quite a few people out there, I think, who would have liked to see us fail."
Most whistleblower cases are hardly that straightforward or quick.
Brendan Delaney, a software technician for the New York City Division of Health Care Access and Improvement, had uncovered systemic glitches in eClinicalWorks' medical records software that were potentially putting the health of prisoners in the New York City penal system at risk. Blowing the whistle would consume seven years of his life.
After being rebuffed by city officials within his division and the city's Department of Investigation, Delaney contacted Phillips & Cohen after finding the firm in a Google search. In March 2011, a False Claims Act lawsuit was filed in federal court in New York.
The claim was based on the premise that eClinicalWorks was defrauding the state by providing faulty medical records software. Delaney was able to remain anonymous, so he kept working for the city, rolling out the software he knew was problematic to all the city's prison facilities.
He was working three different shifts, at all kinds of crazy hours, to train medical personnel about how to use the eClinicalWorks software. Meanwhile, he was providing evidence to the Department of Justice (DOJ) about the system's many flaws.
Delaney finally departed the city job and took a position with a vendor, Arcadia Solutions. His new job gave him access to many more eClinicalWorks medical records systems, and he began systematically recording errors in the software used by other government agencies all over the country.
In the fall of 2013, the DOJ closed its investigation into eClinicalWorks for reasons never made clear to Delaney. The case was unsealed in November 2013, and Delaney was identified in court documents as the whistleblower. The effect on his life and career was immediate and dramatic.
"Work started to dry up, and I felt extremely vulnerable because at the time my wife was dealing with Stage 3 breast cancer," he said. "And I was like, 'Oh my God, it's like the perfect storm going on here.' The stress level was off the roof."
He was out of work for many months.
Two years later, in 2015, Delaney received a call from Phillips & Cohen. A woman died in Vermont, allegedly because the order for a diagnostic test that might have identified her brain cancer sooner was lost by eClinicalWorks medical records software. The DOJ revived its case against eClinicalWorks and wanted Delaney to help it understand the system and its flaws.
The DOJ initially gave Delaney a thumb drive with nearly 200,000 documents and asked him to review them. For months, he was holed up in his home office, scanning through the files for evidence.
Among the documents provided involved a case out of Massachusetts at Children's Hospital Boston (now Boston Children's Hospital). A child receiving cancer treatment almost received an adult dose. The error was caught just in the nick of time by medical staff and its origin traced back to a software glitch in the eClinicalWorks system.
Over two years, Delaney said he reviewed more than 5.5 million eClinicalWorks medical records, helping DOJ investigators understand what they had. He coached them to ask probing questions of company employees about the software flaws.
"I was able to document the likes of that, and that was pretty damaging over time. But there were still no expectations," he said. "I didn't know—who's to say the government wouldn't just pull out again?"
Jeffrey Smith and his California company, OnTheGo Wireless, settled on a way to move forward and right what he saw as a monumental wrong.
He was aware four major wireless carriers were not routinely providing rate plan optimization to government customers, even though that service was included in their wireless contracts. After consulting with lawyers, Smith eventually decided to file False Claims Act qui tam whistleblower lawsuits on behalf of state and local government entities that purchased wireless services from the four providers. The lawsuit alleged the wireless companies cost the government entities millions of dollars.
Smith expected a quick resolution. He wouldn't get one.
For Andrew Russo, blowing the whistle with the SEC was really the culmination of a series of steps he took to discover the fraud being perpetrated by childhood acquaintance Greg Gray and Archipel Capital against himself and 17 other fellow investors.
He found out one of the companies the partnership was investing in, a startup called Everloop, had not received all the money the partnership said it had invested. Russo then pursued Gray and the partnership's chief financial officer for answers. The CFO soon resigned, and Gray asked Russo to step in as temporary CFO.
"I agreed to do it thinking that with all the money people I knew had invested in this situation, it just felt like the right thing to do to try to get involved," Russo said. "There was clearly not just a lack of investment coming into the company, which was one concern, but the company, in my opinion at the time, was struggling financially. And that was not made clear to anybody where the money was taken. We were told quite the opposite.
"So, it was a little bit of, 'I need to understand this and get inside.' And by being inside, I can at least see the history, see the records, and understand what was going on when versus what we were told when."
Twitter went public in the fall of 2013, and investors in the partnerships were expecting their shares, supposedly bought ahead of the initial public offering, to be distributed to them. Gray and the partnerships kept coming up with excuses as to why the shares weren't being distributed, and the concerns of Russo and his fellow investors grew.
"There were more kind of delays and excuses and things not adding up than you would expect," Russo said. "This had persisted for long enough that it was clear there were some actual problems with at least one, if not all, of these partnerships in terms of whether they were following through."
Elsewhere, Second Chance Body Armor was launching a retaliation campaign against Aaron Westrick, its research director. Westrick had been sounding the alarm internally that the company was selling defective bulletproof vests and its customers were being put at risk.
"It sounds horrible, but they had me [wear] a wire. There were times where I had a camera in my buttonhole. It was like something out of a bad movie."

Aaron Westrick
In response, Second Chance limited Westrick's access to its research on problems that kept cropping up with bulletproof vests made with Zylon, a woven material that was lighter and more flexible than the traditional material, Kevlar, used. Research conducted by the company and the manufacturer of Zylon, Toyobo, found the material degraded over time in normal heat and humidity, making the vests less effective.
Westrick knew he was losing the fight within the company on what to do about the fatal flaw in the vests made with Zylon. It's a bad sign, Westrick said, when the director of research is barred from accessing the company's research. There were numerous top-level meetings in Los Angeles between Second Chance and Toyobo executives to discuss the issues with Zylon. Westrick wasn't invited to attend.
Unbeknownst to Second Chance, though, Westrick was already working with federal agencies to uncover evidence. Treasury Department agents, and later the DOJ, asked him to keep going to work, attend meetings, and continue to collect more evidence about what executives at Second Chance knew about the problem with Zylon and when.
He remembers the agents saying, "'Why don't you go back into your meetings and act like you're going along with them?'" he said. "It sounds horrible, but they had me [wear] a wire. There were times where I had a camera in my buttonhole. It was like something out of a bad movie."
Westrick was eventually fired from Second Chance. In 2004, after contacting the whistleblowing firm Kohn, Kohn & Colapinto, he filed a False Claims Act lawsuit against the company for manufacturing defective bulletproof vests, as well as against Toyobo for promoting the use of Zylon in the vests.

Aaron Nicodemus covers regulatory policy and compliance trends for Compliance Week. He previously worked as a reporter for Bloomberg Law and as business editor at the Telegram & Gazette in Worcester, Mass.
View full Profile