The "relentless" drive by U.K. supermarkets to cut costs and boost profits is fueling poverty, abuse, and gender discrimination in their supply chains in developing countries, says Oxfam in its latest report.
The British charity says poor pay and harsh working conditions are "common" on farms and plantations that supply tea or fruit to global supermarkets including Lidl, Aldi, Sainsbury's, Tesco, and Morrisons.
The research, set out in a series of reports, includes in-depth interviews with workers in India and Brazil and a survey of workers in five other countries. And they catalogue some awful details.
Interviews with workers on 50 tea plantations in Assam that supply Aldi, Morrisons, Tesco, and Sainsbury's (Walmart, which owns Asda, would neither confirm nor deny that it sourced from the region) revealed cholera and typhoid are prevalent because workers lack access to toilets and safe drinking water.
Half the workers questioned receive ration cards from the government because wages are so low. Women workers, who are often in the lowest paid—but most labor-intensive—jobs, regularly clocked up 13 hours of back-breaking work a day for little reward. Oxfam found that of the 79 pence (U.S. $1) paid by shoppers for a pack of 100g black Assam tea in the United Kingdom, supermarkets and tea brands receive 49 pence (U.S. $0.6) while workers collectively receive just three pence (U.S. $0.04).
"Despite some pockets of good practice, supermarkets' relentless pursuit of profits continues to fuel poverty and human rights abuses in their supply chains."

Rachel Wilshaw, Ethical Trade Manager, Oxfam
According to the charity, if workers on these tea estates received just five pence (U.S. $0.06) more of the retail price, they could be paid a living wage.
Meanwhile, women with children working on fruit farms in Northeast Brazil said they were forced to rely on relatives or government support to feed their families outside the harvest season because wages were so low. Workers also reported developing allergies and serious skin diseases as a result of using pesticides and other chemicals without adequate protection on grape, melon, and mango farms that supply supermarkets including Lidl and Sainsbury's (and previously Tesco and Morrisons).
A separate Oxfam survey of over 500 workers on farms and plantations in the Philippines, Ecuador, Costa Rica, Peru, and the United States found three quarters of workers said they were not paid enough to cover basic needs such as food and housing. Over a third said they were not protected from injury or harm at work and were not able to take a toilet break or have a drink of water when they needed it.
"Despite some pockets of good practice, supermarkets' relentless pursuit of profits continues to fuel poverty and human rights abuses in their supply chains," said Oxfam's ethical trade manager Rachel Wilshaw in a statement.
"Supermarkets must do more to end exploitation, pay all their workers a living wage, ensure women get a fair deal, and be more transparent about where they source their products," she added.
Oxfam's scrutiny of the U.K.'s top six supermarkets is part of its global Behind the Barcodes campaign, which tries to bring improvements to the working lives of unskilled laborers working in the food industry's supply chain through advocacy, engagement and—to some extent—"naming and shaming."
According to Oxfam's scorecard rating, based on an examination of supermarkets' policies, practices, and the behaviors in place to protect farm workers, Lidl is the U.K.'s worst-performing major supermarket. Tesco is top—though with a score of just 38 percent (up from 23 percent last year), the ranking is hardly a ringing endorsement.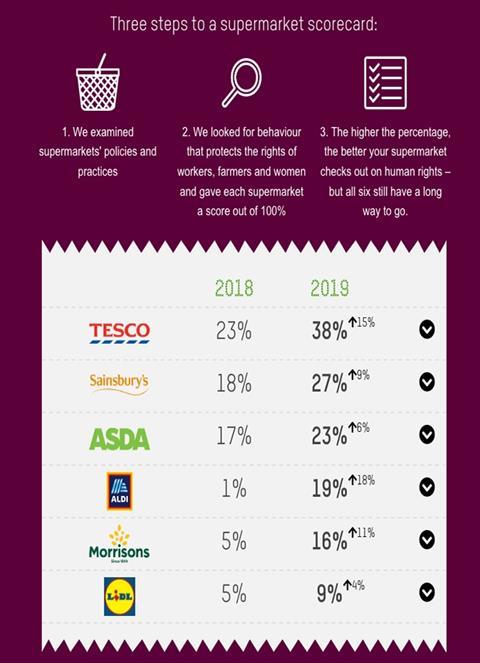 In response, Peter Andrews, head of sustainability at industry body the British Retail Consortium, which represents all the supermarkets mentioned in the Oxfam report except for Tesco, said: "Supermarkets in the United Kingdom are spearheading actions aimed at improving the lives of the millions of people across the globe who contribute to the retail supply chain. Our members are working hard to address existing injustices and continue to collaborate internationally with NGOs, business groups, and government on this vital issue."
A spokesperson for Tesco said in an emailed statement: "We know there is always more to do and we are working collaboratively with NGOs, trade unions and others to improve wages in the key produce, tea and clothing sectors and ensure working conditions are fair."
Chris Laws, head of product & strategy at ratings agency Dun & Bradstreet, says Oxfam's research has "shone a spotlight" on the problem of how business is conducted within the supply chains of the country's biggest supermarkets.
"The call for more supply chain transparency to identify and address risks has never been louder," said Laws. "Having robust compliance processes in place and a transparent view of business relationships can help to identify whether suppliers, customers, or other partners are involved in modern slavery, corruption, fraud, and other nefarious activities," he added.
The U.K.'s Modern Slavery Act, which requires large companies to make a statement about what steps, if any, they are taking to tackle slavery in the supply chain, has made organizations more conscience of the need to monitor violations of workers' rights (though not necessarily more effective in tackling such abuses).
The United States has been trying to tackle the problem for nearly 90 years. Section 307 of the Tariff Act of 1930, for instance, prohibits the importation of merchandise mined, produced, or manufactured, wholly or in part, in any foreign country by forced or indentured child labor. The U.S. Department of Labor also produces an annual publication to highlight goods that have been produced using forced and/or child labor and the countries where this takes place.
In its 2018 List of Goods Produced by Child Labor or Forced Labor, the Labor Department lists 148 goods from 76 countries as being produced with forced or child labor.
Editor's note: This story has been updated to reflect Tesco's response statement.
Downloads
PDF, Size 1.17 mb

PDF, Size 5.24 mb
Websites
We are not responsible for the content of external sites

Neil Hodge is a freelance business journalist and photographer based in Nottingham, United Kingdom. He writes on insurance and risk management, corporate governance, internal audit, compliance, and legal issues.