U.K.-based philanthropic organization Stronger Together has created a new hand signal to empower victims of modern slavery to get help. Though developed for the construction sector, the signal can be adopted by chief ethics and compliance officers in every company across every industry as a best practice.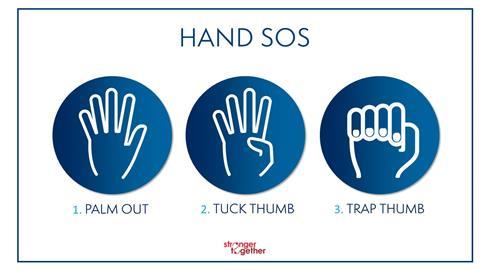 "Detecting victims, who are often 'hidden in plain sight,' is a particular challenge as victims are often unable to communicate easily for reasons including being under threat and intimidation in the workplace, and/or may not speak English as a first language," Stronger Together stated in a press release Monday. "It is important therefore that victims can use a non-verbal signal as necessary, enabling them to seek help discretely [sic] without raising suspicion or placing themselves or others in danger."
The hand signal is meant to be "simple and universal" and can easily be used by victims on any worksite. It originally was launched by the Canadian Women's Foundation as a simple, one-handed sign that someone can silently use to indicate they need help and want someone to check in with them in a safe way, Stronger Together stated.
To support the introduction of the signal, Stronger Together developed several free resources, including a downloadable poster to place around the workplace, brief training tutorial for ethics and compliance teams on what to do if you see the hand signal being used and how to respond, and a multi-language video.

Jaclyn Jaeger is a freelance contributor to Compliance Week after working for the company for 15 years. She writes on a wide variety of topics, including ethics and compliance, risk management, legal, enforcement, technology, and more.