A scathing report on Wells Fargo published Wednesday by the House Financial Services Committee majority staff tells the story of a recidivist megabank whose senior management and board of directors refuse to take compliance seriously and the unresponsive financial regulators who let it all slide. But it's the aftermath that should put all chief risk officers and chief compliance officers in the financial services industry on notice.
Congresswoman Maxine Waters (D-Calif.), chairwoman of the House Committee on Financial Services, and Congressman Al Green (D-Texas), chairman of the Subcommittee on Oversight and Investigations, released the report entitled, "The Real Wells Fargo: Board & Management Failures, Consumer Abuses, and Ineffective Regulatory Oversight." The publication of the report comes a week before Wells Fargo will be in front of the committee for the first and second of three hearings this month focused on holding the bank accountable for its transgressions.
Among the most damning findings of the 113-page document is how former Wells Fargo CEO Timothy Sloan gave "inaccurate and misleading" testimony to Congress during a March 2019 committee hearing; the potential for widespread consumer harm that still remains at Wells Fargo; and that financial regulators knew about serious, enterprise-wide deficiencies at the company for years without bringing an enforcement action.
The report also took shots at Wells Fargo's board of directors, alleging that board members failed to ensure management could competently address the company's risk management deficiencies; allowed management to repeatedly submit materially deficient plans to regulators in response to consent orders; and failed to hold senior management accountable for not meeting regulators' expectations.
The report comes after a committee investigation launched last year into Wells Fargo's compliance with five regulatory orders issued in response to the bank's widespread consumer abuses and compliance breakdowns. "This committee staff report shines a much-needed spotlight on the 'real' Wells Fargo, a reckless megabank with an ineffective board and management that has exhibited an egregious pattern of consumer abuses," said Waters.
Toxic culture
Below are just a few damning examples cited in the report, highlighting Wells Fargo's toxic corporate culture: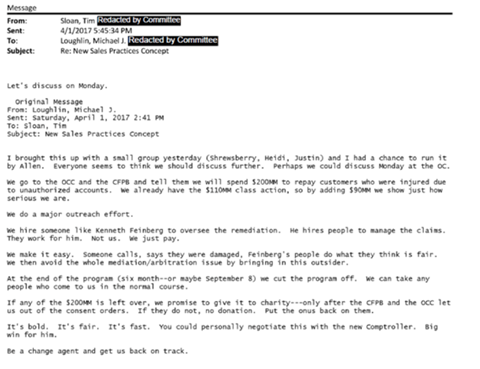 Executives scoffing at the consent orders: In one instance, the report shows an April 2017 email exchange between Chief Risk Officer Michael Loughlin and Chief Executive Officer Tim Sloan reflecting their unwillingness to take seriously the bank's obligations under the 2016 sales practices consent orders to fully compensate harmed consumers and fix internal controls. In the email, Loughlin wrote, "If any of the $200MM [in proposed customer remediation] is left over, we promise to give it to charity—only after the CFPB and the OCC let us out of the consent orders. If they do not, no donation. Put the onus back on them."
Board members expressing reluctancy to engage in oversight: In several meetings described in the report, members of the board exhibited a lack of urgency to engage with regulators and expressed a reluctance to oversee the bank's efforts to meet its obligations under the consent orders.
Wells Fargo executives continue to express doubts over Wells Fargo's ability to manage risks: "Since 2017, evidence of a toxic culture adversely affecting bank employees has persisted," the report states. "Last year, four bank employees met with senior Federal Reserve officials asserting that little had changed with the bank's culture since the bank's misconduct had first come to light." In one specific example, according to meeting notes produced by the Federal Reserve, a senior compliance executive at Wells Fargo in discussing the bank's challenges with putting compliance plans into action, expressed to Federal Reserve staff that, "If he were CEO, he would not allow the addition of any new customers to the company since the firm is operating in this environment."
Financial regulators blasted
In blasting financial regulators for their handling of the situation, the report "underscores federal regulators' repeated failure to hold Wells Fargo accountable for admitted wrongdoing that has harmed millions of Wells Fargo customers," said Congressman Green.
The report demonstrates not only that Wells Fargo continues to fail to comply with the terms of multiple settlement agreements dating back to 2016 and 2018, but also that federal regulators have "simply failed to enforce those agreements, despite having ample tools and authorities under existing law to do so," Green added. "Wells Fargo must be held to its obligations to restore those whom it has harmed, and it must end the abuses of consumers as well as the conditions of the bank that have allowed and promoted such abuses."
In one example, according to the report, the Office of the Comptroller of the Currency (OCC) "not only stood by as Wells Fargo Bank repeatedly ignored its directives to address its compliance deficiencies, but the agency also failed to act on significant warning signs of potential sales practice abuses at the bank." In 2009, even after Wells Fargo failed to fully address its deficient compliance monitoring for over seven years, "the OCC took no formal action against the bank until it incorporated the 2009 directive into the 2016 consent order. To the contrary, the OCC in its April 2015 supervisory letter concluded that the community bank's oversight of complaints was satisfactory."
What's next
In February, the Department of Justice and Securities and Exchange Commission assessed total civil and criminal penalties of $3 billion against Wells Fargo & Co. and its subsidiary, Wells Fargo Bank, in the aftermath of the bank's fake account scandal. Now, this month, three congressional hearings will take place "to scrutinize the megabank's harmful practices," Waters said. "Wells Fargo has clearly demonstrated an unwillingness and inability to stop harming its customers, so this committee is working overtime to make sure consumers are never subjected to the types of abuses and failures committed by this megabank again."
Recommendations made by the committee to Congress should put all chief risk officers and chief compliance officers in the financial services industry on notice. Those recommendations include "compel regulators to act against recidivist megabanks, like Wells Fargo, that engage in widespread consumer abuses; strengthen the regulators' authorities and enhance bank management and board accountability; require greater transparency regarding bank supervision and how banks treat consumers; and enhance bank compensation practices."

Jaclyn Jaeger is a freelance contributor to Compliance Week after working for the company for 15 years. She writes on a wide variety of topics, including ethics and compliance, risk management, legal, enforcement, technology, and more.
View full Profile