Indrani Franchini will gladly tell you that she didn't imagine a career in compliance when she was in law school. But after a few years practicing law at a firm that specialized in project finance work, she was looking for an opportunity that would place her in more of an adviser role as in-house counsel.
As luck would have it, one of the world's top pharmaceutical companies, Pfizer, was looking for someone to join their newly formed compliance function. And so, in 2003, her compliance career began. By 2009, she would become the chief compliance counsel, overseeing Pfizer's $40 billion global pharmaceutical business.
"This was right at the time of WorldCom and Enron," Franchini says. "Nobody really knew what the compliance function was or what it did." She took the job thinking it would be a terrific opportunity for her to spend a few years getting to know the company before transitioning into handling the legal side of business transaction. What she didn't expect was "falling in love" with compliance work and making her career out of it.
At the time, Pfizer had a bit of what Franchini describes as a "burning platform," with a large FCPA settlement, another large False Claims Act settlement, and three corporate integrity agreements to contend with. "We were building a compliance program inventing it as we went along," she says. "The compliance group grew from four people to 120 by the time I left. We were like the pioneers in compliance [at Pfizer]."
About Indrani Franchini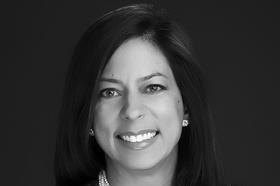 Title: Executive Vice President and Chief Compliance Officer, Alexion Pharmaceuticals, Inc.
About Alexion: Global pharmaceutical company specializing in medications for rare diseases.
Location: New Haven, Conn.
Years of experience: 19
Areas of expertise: Pharmaceuticals, biotechnology, oil & gas extraction, anti-corruption, anti-bribery
Quote: "The most effective compliance programs are the ones that are tailored to the company and the industry that you are in."
Franchini enjoyed her role as an adviser and understanding risk, as well as the challenge of figuring out solutions to complex compliance situations. For her, it was not dissimilar to private financing, where one begins by figuring out an end goal and what the key risks and potential might be, and then designing a risk management process for that journey.
In 2012, Franchini moved from Pfizer to Hess—a global energy company that specializes in oil and gas extraction—as the company's first-ever chief compliance officer. Unlike Pfizer, Hess was not building a compliance function in light of numerous regulatory enforcement actions. Its CEO and general counsel had decided that given its risk profile, it needed to create a standalone compliance department. Franchini spent her first 90 days at Hess "doing her homework," getting to know the business, its key value propositions, and its key risks.
"I had to go back to basics, since I was building the program from scratch," she says. "Frankly, whenever managing anti-corruption and anti-bribery, it's all about following the money. But that is very different in oil and gas than it is in pharma. So, I did a 30,000-foot view with a third party to review what was in place already, based off of the key elements for effective compliance. We decided the key risks were corruption and bribery and focused on that."
Franchini spent a few years building an anti-corruption and anti-bribery program for markets outside of the United States using a risk-based approach. It wasn't easy, though. "When you're doing business in undeveloped markets with high corruption indices, where you are pulling resources from the ground, it is common to give back to the community," Franchini explains. "It's common to make government-style investment in countries where you are producing oil or gas. So, you have to make sure it's at fair market value, what is the purpose of the investment, and it is separate from commercial deal decision-making."
For all the differences between the pharma and oil and gas sectors, Franchini noticed they were both high-risk, high-reward industries that, when it came to corruption risk, were more similar than different. They both had long product development runways—whether it was going from block licensing to resource extraction, or from discovery of a molecule chain to marketing a pharmaceutical product—that could drive similarly off-limits behavior. "If the pressure is put here, where is the release valve?" she says. "Where does it drive behavior? What would it make people want to do?"
Being able to see compliance from that kind of risk perspective not only helped her shift between industries, it also helped her develop a strategic view of compliance itself as she shifted once more in 2017 to her current role as the EVP and chief compliance officer for Alexion Pharmaceuticals, a global biopharma company that specializes in treating rare diseases. In her current position, she reports directly to Alexion's CEO, with a dotted line to the audit committee. She manages a team of about 20 compliance professionals worldwide, covering the U.S. and regional markets.
When Franchini joined Alexion, the company was going through a lot of other senior management changes. It was facing an FCPA investigation into practices outside of the United States, and it was part of a U.S. investigation. The company was reinventing itself as an enterprise, and it wanted to take its compliance program "to the next level," as Franchini describes it. This suited her just fine, as it presented her with the kind of opportunity where compliance can add a lot of value. That would prove to be a guiding principle as Franchini relaunched Alexion's global compliance function. "I came here because this was a company that was taking a turn and growing into Alexion 2.0," Franchini says. "So it was similar to when I was at Pfizer, though now we have the benefit of a lot more knowledge in this space. Compliance has become an area with a lot of people thinking about doing it well. They want compliance to be real, to be part of your business, and I think that's what we're doing here."
Challenge, compliance, and culture
Alexion's focus on rare diseases means it serves a relatively small number of patients, so the company has different kinds of interactions with healthcare providers and professionals. There is also a different patient journey for those who take Alexion medications. For Franchini, that means having to come up with creative compliance solutions that take those factors into consideration.
As she relaunches the compliance program, Franchini is focusing on operations outside of the United States, with day-long anti-corruption and anti-bribery workshops around the world in Alexion's top markets over 2Q 2018. The training will be conducted live and in-language, in-country. "When you're resetting things, it's important to look at how to make the personal connection to make sure that you understand the business on the ground and how the compliance program interacts with it," Franchini says.
To that end, Franchini has members of her team dedicated to business units around the world. It is one thing to have a compliance department back at headquarters that drives core policies and procedures, she explains. But for compliance to be really effective and sustainable, it has to build partnerships on the front lines, where the compliance officers can understand the company's business objectives in action.
"Then we become a true partner," Franchini says. "We aren't there to just to investigate. We want to be partners that help the business achieve its short-term and long-term goals. Once people understand that, then the business comes to us."
That's important, considering the special conditions under which Franchini's group operates, within a rare disease company with a very specialized market, business model, and mission that requires more than simple regulatory compliance. It requires integrity.
"We at Alexion want others to see us as a good actor, as doing things the right way. And that's about being transparent and being honest about why we are interacting with a physician in a certain way, why we are collecting data, and what we are doing with it," Franchini says. "Now, we have to be honest about the lens through which people look at pharma and make generalizations. So, some of what we do is about perception risk. That is why we ask ourselves: How would people think about what we are doing? How do they feel? Is what we're doing the right thing to do? Is it ethical?"
This integrity component is a key element for Franchini, since she acknowledges that Alexion is still in flux—with a headquarters move to Boston underway, and a lot of cultural change within the company, much of which is being driven with the compliance program's objectives in mind.
"First and foremost, you have to recognize that you're not going to change culture overnight. It's not a program, it's not a one-hit thing. It's a constant," Franchini says, explaining that her group is partnering with human resources, communications, commercial, and other departments to drive the change toward an integrity-based culture, and that it is not simply a compliance initiative. The culture piece, she says, is tied with those groups as part of a larger effort to redefine the company's overall mission, and for a core value to "Act with Integrity."
"When we do this culture shift, I'm not talking about compliance. I'm talking about how we interact with each other," Franchini says. "So, one of the big pieces of acting with integrity means knowing to make the right choices, asking the right questions, speaking up, and saying something. Asking if we are using the right solutions, or if the way we are doing something is the way we should be doing something."
Building a true speak-up culture is a major point for Franchini. Sure, there will always be policies and processes that need compliance to make them happen but if there are not people raising questions and concerns, then there cannot be a genuine culture of ethics and compliance.
"If people are not comfortable with asking questions or speaking up, then we can never get up to acting with full integrity," she says. That is why she spends so much time on creating a speak-up culture and driving conversation within teams, among peers, and between managers and those who work for them.
"There will be individuals who knowingly break the rules," Franchini says. "But where things really get off track is when things are unclear or people misunderstand the application of a guardrail or a policy. You prevent against that by getting people to talk about it. Compliance should have other points to get information out there to see if things are being executed in the way that they should. But you have to have the culture to be a really high-performing company that acts with integrity."
Franchini is pleased to report that Alexion's CEO, Ludwig Hanston, talks about integrity often and sets the right tone from the top. She says that Hanston stresses that voice matters, that there are no wrong questions, and that the best solutions always involve making the right choices both personally and for the company.
Franchini recently conducted a culture survey to see where the company's staff felt in terms of integrity, comfort in speaking up, how open managers were to discussion, and how to raise issues. She created a benchmark from that survey and is now creating tools and techniques to help managers and team members address those issues, especially when it comes to feeling comfortable about speaking up.
"In a year, we will conduct another pulse check on those questions and see if people feel better about those things," Franchini says. "That is the culture shift. It's not easy to execute, and it is sometimes hard to measure. But it is such an important step to a good, effective compliance program."