If there is anything we have learned from the parade of lawsuits filed against former President Donald Trump over the years, it is that they hardly ever stick. But those around him often pay a price.
The latest example might be the 214-page complaint filed Wednesday by New York Attorney General Letitia James, which accuses Trump and his real estate company of overvaluing his assets for more than a decade to earn at least $250 million worth of ill-gotten financial benefits from banks and insurers.
The complaint accuses Trump of undervaluing assets to avoid paying his fair share of taxes. The complaint only makes civil claims; James referred her findings to both the U.S. Attorney's Office for the Southern District of New York and the Internal Revenue Service (IRS) for criminal charges.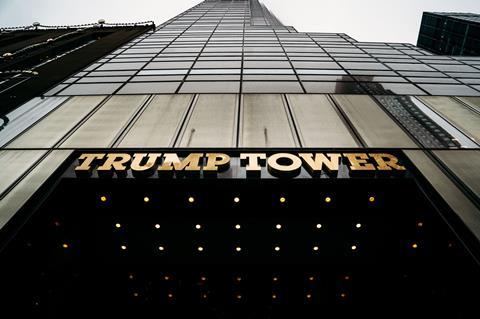 "From 2011-2021, Mr. Trump and the Trump Organization knowingly and intentionally created more than 200 false and misleading valuations of assets on his annual statements of financial condition to defraud financial institutions," James said in a press release.
For his part, Trump continued calling James's legal pursuit of him a "witch hunt" and claimed the charges were politically motivated. He will defend himself like he always does: Delay; obfuscate; and if cornered, pay a financial penalty. Using his finely honed sense of grievance, the former president will likely spin James's lawsuit into fundraising gold. He never loses. Or he never admits he does.
You know who often does pay the price for Trump's misdeeds? His enablers and associates. The Trump Organization's longtime Chief Financial Officer Allen Weisselberg pleaded guilty in August to 15 felonies for failing to pay taxes on perks he earned during his tenure there, one name on a lengthy list of Trump associates to be charged with crimes.
James's lawsuit lists a handful of companies that enabled Trump's alleged fraud, recognizable names in financial services like Deutsche Bank, Capital One, and Zurich North American. Trump is also accused of misleading the accounting firm Mazars for 10 years' worth of financial statements.
Throughout the complaint, Mazars, Deutsche Bank, and others appear to have taken the financial documents Trump presented at face value, without making any real effort to understand whether the assumptions and calculations underpinning them had merit.
Mazars said it based its compilation reports that accompanied each statement of financial condition on the financial information it was provided by Trump. In the boilerplate language that accompanied those compilations, Mazars said it did not "audit or review the statements to verify the accuracy or completeness of the information provided by Mr. Trump or the Trump Organization," the lawsuit said. Instead, Mazars "confirmed that their clients were responsible for preparing the statements in accordance with generally accepted accounting principles in the United States."
In one case highlighted in the lawsuit, the Trump Organization property at 40 Wall Street was assessed at $220 million in 2012 by an independent and professional appraiser hired by a bank. Yet, the statement of financial condition for the Trump Organization for that same year assessed 40 Wall Street at $527 million. This inflation of asset value happened with numerous properties, year after year, the lawsuit said.
Earlier this year, Mazars withdrew from representing the Trump Organization and said the financial statements for the years ending 2011-20 "should no longer be relied upon."
Those same financial statements were used, time and time again, to receive favorable loan conditions from several banks, including Deutsche Bank. In 2011, Trump had only one loan with Deutsche Bank, worth $140 million, for the Trump Chicago hotel that he obtained through the bank's commercial real estate division. In 2012, he would begin obtaining loans from the bank's private wealth management division.
Loans were underwritten by Trump's personal guarantee, rather than being based on independent assessments of a particular property's value, allowing him to gain more favorable lending rates, the lawsuit said. Trump personally guaranteed several loans using his business's financial statements to obtain lower rates.
Deutsche Bank would eventually become the single biggest lender to the Trump Organization, with $340 million in outstanding loans in May 2022, the lawsuit said.
The bank would not learn about the misrepresentations until 2020, when it was informed by the New York Office of the Attorney General through subpoenas for the investigation. Deutsche Bank asked the Trump Organization a series of questions that it refused to answer, the lawsuit said.
"Deutsche Bank decided, given the Trump Organization's failure even to answer simple questions concerning the statements, to exit its relationship with the company," the lawsuit said. The Trump Organization has repaid $295 million of the debt as of May 2022, the lawsuit said.
Though Trump alone is the target of James's lawsuit, Mazars and Deutsche Bank deserve criticism for being caught up in his alleged fraud for so long. Claiming to be misled is a poor defense. Where was the due diligence on any of Trump's representations?
The lawsuit seeks to recover $250 million from Trump, permanently bar him and his adult children from serving as officers at any New York business, and impose a five-year compliance monitorship upon the Trump Organization, among other injunctions.

Aaron Nicodemus covers regulatory policy and compliance trends for Compliance Week. He previously worked as a reporter for Bloomberg Law and as business editor at the Telegram & Gazette in Worcester, Mass.