President Joe Biden on Monday announced the nomination of three individuals to serve as commissioners at the Commodity Futures Trading Commission (CFTC), including the naming of Rostin Behnam as the agency's full-time chair.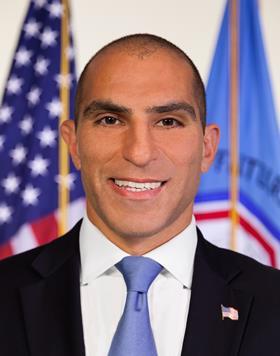 The nominees, if approved by the Senate, would help beef up leadership at a regulator that was soon to be down to two commissioners, including Behnam, whose term expired in June. Biden also announced a commissioner nominee to the Federal Trade Commission (FTC) that might help clear a bureaucratic logjam blocking Rohit Chopra from being named head of the Consumer Financial Protection Bureau (CFPB).
Behnam, a Democrat, was named acting CFTC chair in January, replacing outgoing Republican Chair Heath Tarbert. Though Behnam's term has expired, he has remained on the Commission until either being reappointed or replaced.
Biden also nominated Kristin Johnson and Christy Goldsmith Romero to be CFTC commissioners. All three nominees will fill Democratic seats on the CFTC, according to Bloomberg News.
The five-member CFTC is soon set to have only two active commissioners in Behnam and Dawn DeBerry Stump, a Republican. Dan Berkovitz, a Democrat, announced last week he will be stepping down on Oct. 15, despite his term extending through April 2023.
Even with Monday's announcement, Biden still has to nominate a Republican to fill the seat vacated by Commissioner Brian Quintenz in August. Quintenz has since joined venture capital firm Andreessen Horowitz as a cryptocurrency advisor.
Behnam has been a CFTC commissioner since 2017 and during his tenure spearheaded the establishment of a subcommittee to examine climate-related market risk. He requested the report "Managing Climate Risk in the U.S. Financial System" released in September 2020 and laid out systemic risks posed by climate change to the U.S. financial system.
Johnson is currently a law professor at Emory University in Atlanta, where she specializes in financial markets risk management law and policy. Before joining Emory, she was a law professor and associate dean for faculty research at Tulane University School of Law in New Orleans, according to her bio on Emory's Website. She also practiced law in New York City.
Romero is currently special inspector general for the Office of the Special Inspector General for the Troubled Asset Relief Program (SIGTARP), a role for which she was nominated by former President Barack Obama in 2012. SIGTARP is an independent office that conducts investigations and audits of federal programs created in response to the financial crisis. She is also an adjunct professor of law at Georgetown University Law Center and University of Virginia Law School, teaching courses in securities regulation, cryptocurrency regulation, and federal oversight.
At the FTC, Biden announced Alvaro Bedoya, founding director of the Center on Privacy & Technology at Georgetown Law, to serve as commissioner replacing Chopra. Bedoya, a naturalized U.S. citizen who was born in Peru, previously served as the first chief counsel to the U.S. Senate Judiciary Subcommittee on Privacy, Technology and the Law upon its creation in 2011.
Current FTC Chair Lina Khan said in a statement Bedoya's "expertise on surveillance and data security and his longstanding commitment to public service would be enormously valuable to the Commission as we work to meet this moment of tremendous need and opportunity."
Chopra, who was nominated by Biden in January to serve as CFPB director, would resign from the FTC upon Bedoya's confirmation. To this point, Biden risked having a 2-2 deadlock on the FTC with two Democrats and two Republicans.
Chopra's nomination to lead the CFPB has been in limbo since he appeared before the Senate Committee on Banking, Housing, and Urban Affairs in March. The committee deadlocked on his nomination with a 12-12 vote, but under the rules of the Senate, Majority Leader Chuck Schumer (D-N.Y.) can move for a vote to the full Senate.
The CFPB is currently led by Acting Director Dave Uejio.

Aaron Nicodemus covers regulatory policy and compliance trends for Compliance Week. He previously worked as a reporter for Bloomberg Law and as business editor at the Telegram & Gazette in Worcester, Mass.
View full Profile