Dawn DeBerry Stump, one of only two active commissioners at the Commodity Futures Trading Commission (CFTC), announced Thursday she will not seek another five-year appointment when her current term ends in April 2022.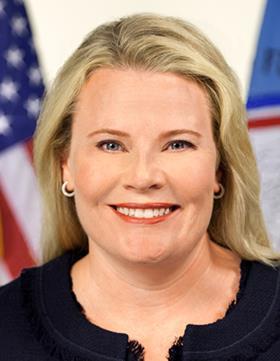 "It is the honor of my career to count myself among those who serve as commissioners at the CFTC—those whom I have had the privilege to work alongside, those who came before me, and those who will lead the agency in the future," Stump wrote in a statement posted on the agency's website. "I am humbled to have been tasked with such responsibility."
Stump, a Republican, was nominated to serve as a CFTC commissioner by former President Donald Trump and sworn in September 2018. Previously, she operated her own consulting firm, Stump Strategic, since 2016, according to her CFTC bio page. She also served as executive director and senior vice president of U.S. policy for the Futures Industry Association and as a vice president at the New York Stock Exchange.
Currently, the CFTC has only two commissioners on what is supposed to be a five-member governing body: Stump and Acting Chairman Rostin Behnam.
In September, President Joe Biden nominated Behnam, a Democrat, to become permanent chair of the CFTC, as well as Democrats Kristin Johnson and Christy Goldsmith Romero as commissioners. Biden has not yet nominated a Republican commissioner to fill a vacancy on the board.
Behnam has been a CFTC commissioner since 2017 and during his tenure spearheaded the establishment of a subcommittee to examine climate-related market risk. He requested the report "Managing Climate Risk in the U.S. Financial System" released in September 2020 and laid out systemic risks posed by climate change to the U.S. financial system.
Johnson is currently a law professor at Emory University in Atlanta, where she specializes in financial markets risk management law and policy. Before joining Emory, she was a law professor and associate dean for faculty research at Tulane University School of Law in New Orleans, according to her bio on Emory's Website. She also practiced law in New York City.
Romero is currently special inspector general for the Office of the Special Inspector General for the Troubled Asset Relief Program (SIGTARP), a role for which she was nominated by former President Barack Obama in 2012. SIGTARP is an independent office that conducts investigations and audits of federal programs created in response to the financial crisis. She is also an adjunct professor of law at Georgetown University Law Center and University of Virginia Law School, teaching courses in securities regulation, cryptocurrency regulation, and federal oversight.
Behnam's candidacy is currently awaiting action before the U.S. Senate, which has had his nomination on its executive agenda since Nov. 4. Neither Johnson's nor Romero's nominations are currently included on the Senate's executive agenda.
The Senate, currently split 50-50 between Democrats and Republicans, confirms all the president's nominees.

Aaron Nicodemus covers regulatory policy and compliance trends for Compliance Week. He previously worked as a reporter for Bloomberg Law and as business editor at the Telegram & Gazette in Worcester, Mass.
View full Profile