Allison Herren Lee announced Tuesday she will not seek a second term as a commissioner at the Securities and Exchange Commission (SEC) once her current term expires in June.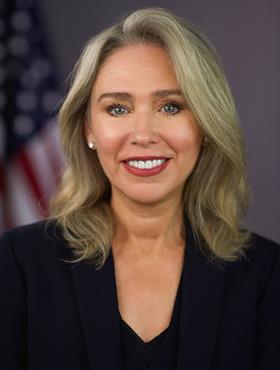 Lee, a Democrat, said she notified President Joe Biden she will step down as soon as her successor is confirmed. She has served as a commissioner since July 2019.
"Serving investors and the public as a commissioner and as acting chair has been an extraordinary honor," Lee said in a statement.
SEC Chair Gary Gensler called Lee "an extraordinary public servant" in a statement and said he looks forward to continuing to work with her in the coming months.
"She always maintains a clear sense of purpose on behalf of the American public, and we have benefited greatly from her service," he said.
Lee has worked at the SEC since 2005, including as counsel to former Commissioner Kara Stein and as senior counsel in the Division of Enforcement's Complex Financial Instruments Unit, according to her biography on the agency's website. She served as acting chair of the SEC from January 2021 until Gensler was confirmed in April.
Lee is one of two commissioners, along with Republican Hester Peirce, scheduled to speak at Compliance Week's 2022 National Conference in Washington, D.C. on May 17.
Lee has been a vocal proponent of the SEC mandating climate-related disclosures for public companies as well as investment advisers, broker-dealers, and investment firms. She has argued in favor of enhanced disclosures regarding other environmental, social, and governance (ESG) matters and political contributions.
Lee recently encouraged the SEC to create a better system to hold securities lawyers accountable for providing bad advice to their public company clients and supported a proposed rule for enhanced disclosures for private equity and hedge funds.
Replacing Lee might be a lengthy process. Biden has struggled to get some of his nominees through the Senate; his choice for comptroller of the currency, Saule Omarova, withdrew her nomination in December after losing key support, and his nomination of Sarah Bloom Raskin as the Federal Reserve's vice chair for supervision came undone Tuesday after Sen. Joe Manchin (D-W.Va.) announced his planned opposition. The Senate is evenly split, 50-50, with Vice President Kamala Harris casting the tiebreaking vote.
Biden still has not nominated a candidate to replace Republican SEC Commissioner Elad Roisman, who left the agency in January.

Aaron Nicodemus covers regulatory policy and compliance trends for Compliance Week. He previously worked as a reporter for Bloomberg Law and as business editor at the Telegram & Gazette in Worcester, Mass.
View full Profile