On "National Whistleblower Appreciation Day," it's important to take stock of how far whistleblowing has advanced over the last few years.
Since the idea to designate a day (July 30) recognizing the importance of whistleblowers was unanimously approved by the Senate in 2018, the term has received more mainstream attention than ever before. Late 2019 saw a whistleblower feature prominently at the center of impeachment proceedings for former President Donald Trump. Efforts to bring down high-profile individuals like Harvey Weinstein who were abusing their stature to harm others has no doubt been fueled by individuals willing to speak out against injustice.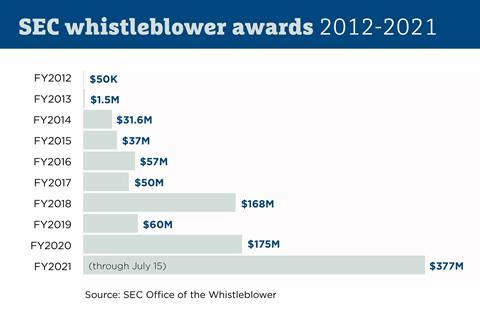 Then you have the regulators, who are rewarding whistleblowers at an eye-opening pace. The Securities and Exchange Commission (SEC) has already paid out twice as much in total awards to whistleblowers this fiscal year—$377 million through July 15—than any other year in the program's nine-year history.
The Department of Justice (DOJ) recovered $1.6 billion in FY2020 through False Claims Act (FCA) lawsuits filed under its qui tam provision, in which whistleblowers allege false claims on behalf of the government. Qui tam cases typically reward whistleblowers 15 to 30 percent of the penalties imposed. Last year, the DOJ paid $309 million to qui tam whistleblowers.
Jane Norberg, chief of the SEC's Office of the Whistleblower from 2016-21, said the monetary reward is only part of the story. The payout to the whistleblower is the final chapter of what is usually a really, really long book.
"When you think about the SEC's whistleblower program, there are three main components. There is the confidentiality, anti-retaliation protections, and the monetary awards," she said. "And I'm sure you've heard me say before that I think each one is just as important as the other. Take any one of those three away, and the program is just simply not as strong. So, I think the monetary incentive is definitely a motivator for someone who might be undecided about reporting out."
Sherron Watkins, the whistleblower who took down Enron in 2001, believes programs like the SEC's are a "game changer." She said she wishes she had something similar to turn to when she needed it.
"The beauty of (the SEC whistleblower program) is I think that [had it existed and I had been able to report the aggressive accounting to the SEC, then a 1996 investigation] would have scared Enron straight, and they would have stopped [committing fraud]. So, they'd still be alive today," Watkins said. "It's kind of like if you start taking a gateway drug but you stop early: You don't envision you would have died in five years because you would have gotten hooked on worse drugs, so no one would be grateful or thankful because you just can't envision the worst. That's why I try to tell people the tiny little things the SEC is stopping actually could have been very big and very bad."
Whistleblowing is necessary, in part, because companies fail to act on internal reports. At Enron, any report from a disgruntled employee was immediately dismissed, Watkins said. Even legitimate issues pointed out by an employee who had been fired or laid off were tossed in the trash, she said, never investigated or even forwarded to senior management.
Companies have advanced a great deal in the two decades since the Enron meltdown, but a lot of work remains. Many businesses still treat whistleblowers as stool pigeons or corporate traitors, not as brave employees willing to point out wrongdoing and speak truth to power.
Sean McKessy, who led the SEC's Office of the Whistleblower from 2012-16 and is now a whistleblower attorney with Phillips & Cohen, said whistleblowers are initially motivated by a sense of injustice.
"Somehow, they imagine they will be treated like the employee of the month, but they're not. They're usually marginalized and discriminated against," he said.
The three pillars of whistleblower protections—confidentiality, anti-retaliation, and compensation—help level the playing field. But there is room for improvement. Here are three suggestions:
Protect confidentiality for False Claims Act whistleblowers
Whistleblowers must be confident their initial report on fraud or wrongdoing will be kept anonymous. In our series, the whistleblowers each described serious retaliation taken against them by their own companies, their industry, their colleagues, and their peers. Brendan Delaney, who blew the whistle on flaws in electronic medical records systems from eClinicalWorks, had his identity exposed when an FCA qui tam case he filed was dropped by the DOJ without explanation.
Delaney soon found himself without a job, blacklisted from the industry in which he spent his career, isolated, and alone.
Allowing for the unsealing of qui tam cases that have not been settled is a significant flaw in the FCA process. Pulling back the veil of anonymity at any time puts the whistleblower at risk of suffering all the retaliation Delaney endured—or worse.
This issue can be addressed by changing the rules in federal court to keep unresolved qui tam cases sealed or redact the name of the whistleblower, as well as any identifying information, before unsealing the case.
The SEC never reveals the name of the whistleblower, even after the settlement and payout. Once again, it is a model to emulate.
Provide anti-retaliation protections for employees of private companies
The anti-retaliation provisions of the SEC's whistleblower statute are important for internal whistleblowers like Aaron Westrick.
As research director at Second Chance Body Armor, Westrick blew the whistle that the company's bulletproof vests made with a material called Zylon were defective. The company knew it was selling defective bulletproof vests for at least two years without taking any serious action. Its unwillingness to act cost at least one law enforcement officer his life and another his ability to ever walk again.
Second Chance, which was then a private company, took many actions against Westrick the SEC would classify as retaliation. Second Chance barred Westrick from accessing company-sponsored research, even though that was his core function as research director. The company excluded him from strategizing sessions about the research and problems with Zylon, which, again, was part of his job. He was ostracized, isolated, and eventually fired.
Private firms aren't held to the same anti-retaliation standards as public companies, although some states have anti-retaliation laws. A national whistleblower anti-retaliation law would help this situation immensely. That, of course, would require an act of Congress. Perhaps some of the lawmakers speaking Friday at National Whistleblower Appreciation Day ceremonies should consider sponsoring such legislation.
Shorten the wait for whistleblower awards
The process for receiving a whistleblower award drags on way too long. Westrick received his payment 14 years after filing his qui tam lawsuit against Toyobo Co., the Japanese manufacturer of Zylon.
"Everyone understands that investigations take time, but the decision to make an award should be as efficient as possible."

Michael Ronickher, Whistleblower Attorney, Constantine Cannon
Andrew Russo, a whistleblower who provided important and useful information to the SEC about a $5.3 million fraud perpetrated by a childhood acquaintance in 2015, still hasn't received his payout, despite the investigation being long over.
Of the five whistleblowers interviewed for this series, only one, Dee Dee Stone of Texas, received a payout within a year. The other four waited five years or longer.
Whistleblowers and their advocates understand some investigations are complex and difficult to prosecute. What is particularly galling is the amount of time that passes—years in many cases—from when the investigation is concluded to the time the award is finally made to the whistleblower.
"Everyone understands that investigations take time, but the decision to make an award should be as efficient as possible," said whistleblower attorney Michael Ronickher of the firm Constantine Cannon, who represented Russo. He noted the SEC has made enormous strides recently to speed things up.
Norberg said under her direction, the SEC whistleblower office made it a priority to hasten payouts to whistleblowers once the investigations concluded.
This trend is encouraging to hear. It's entirely possible the prioritization is the reason the SEC has had two consecutive record-breaking years of payouts. Now that's how you show appreciation.

Aaron Nicodemus covers regulatory policy and compliance trends for Compliance Week. He previously worked as a reporter for Bloomberg Law and as business editor at the Telegram & Gazette in Worcester, Mass.
View full Profile