The storm of sexual harassment allegations that have dominated headlines over the past year have brought to light the extensive risks companies face when a culture of respect and transparency is not fostered.
During a keynote panel on Wednesday at the Compliance Week 2018 conference in Washington, D.C., EEOC Commissioner Chai Feldblum and other experts shared best practices on how to address expectations concerning employee behavior, how to properly respond when allegations of sexual harassment arise, and how to communicate with senior leaders and the board on the importance of preemptive action.
One key theme was how important it is for compliance and human resources to work together in this area. In response to the #MeToo movement in late 2017, human resources came under a lot of fire for not doing enough, with many victims of sexual harassment asking one key question: Where was HR?
"As a profession, we've been taking a good, hard look at ourselves and asking, 'What more could we be doing?' " said Elizabeth Owens Bille, general counsel for the Society for Human Resource Management (SHRM). At the same time, however, "HR can't do it alone," she added.
"In an investigation, you need to have a rapid response system. You need to have a liaison who is appointed to the complainant. You need to show the complainant that you really do care about them, and you need to mean it."

Stephen Pearlman, Partner, Proskauer
Creating a culture that is hostile to sexual harassment is an area where compliance can lend its expertise and work collaboratively with HR. One thing companies have been reviewing in the #MeToo era is their reporting mechanisms, asking questions like, "'Do we have enough? Are the reporting mechanisms feeding into the appropriate people? What is happening after a complaint is filed?' " Bille said. Compliance and HR should work together to ensure that reporting mechanisms and processes that flow from reporting are in sync, she said.
Compliance and HR can also work together in assessing these risks. Compliance houses the code of conduct, whereas HR fields incoming allegations, for example. "The right hand needs to know what the left hand is doing," said Stephen Pearlman, a partner in the labor and employment law department and co-head of the whistleblowing and retaliation group at law firm Proskauer.
Moreover, compliance and HR can collaborate in conducting internal investigations. "In an investigation, you need to have a rapid response system. You need to have a liaison who is appointed to the complainant. You need to show the complainant that you really do care about them, and you need to mean it," Pearlman said. While HR can play the role of appointing a liaison, tracking the complaint, and facilitating interviews, compliance should keep a database that shows the number of complaints and the amount of the settlements paid out on these complaints, he said.
Another aspect of sexual harassment prevention concerns corporate governance. "I've seen a significant uptick and interest from boards of directors with respect to sexual harassment risks," Pearlman said. In this respect, compliance can play a role by working with the board to facilitate risk assessments. "Getting the board involved has a trickle-down effect," he said.
Best practices
Citing the EEOC's "Study of Harassment in the Workplace" report," Commissioner Feldblum provided the following three key elements for preventing sexual harassment in the workplace:
Trends in sexual harassment

The audience at Compliance Week's 2018 "Decreasing Harassment in the Workplace" discussion was polled on their companies' reporting and response to sexual harassment allegations. The results are below.

In your company, have you seen an increase in sexual harassment complaints since 2017?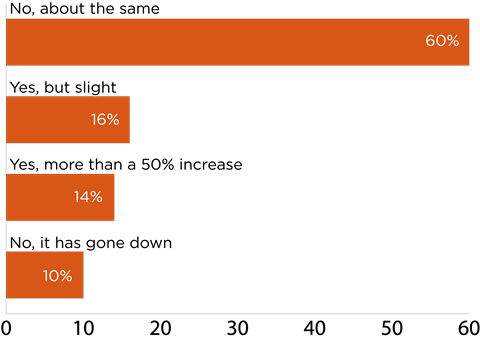 What new harassment prevention initiatives will you deploy in 2018? (Choose all that apply)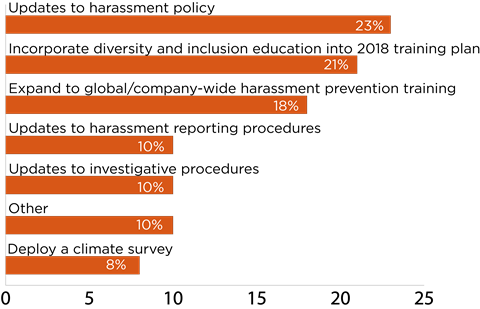 Change workplace culture. Leaders must do three key things: "One, they actually have to believe that harassment is wrong. Two, they have to articulate that; do not underestimate the power of words, and they have to articulate it in a way that workers feel that leaders are being authentic," Feldblum said. "Workers have to believe leaders are authentic."
Hold people accountable to the values they have articulated. Three distinct groups of people need to be held accountable, Feldblum said. The first group is those who have been found—after a fair and thorough investigation—to have engaged in harassment. Those who have engaged in harassment must be subject to "timely and proportionate discipline," Feldblum stressed. "You don't want employees to think that any act of misconduct they report could result in a firing. Many people don't want their coworkers to be fired, they just want the misconduct to stop. But a slap on the wrist for egregious conduct sends the wrong message."
The second group that should be held accountable are those responsible for responding to complaints of harassment, including managers, supervisors, and HR personnel. These folks should be explicitly told by leadership that, "'If you get a complaint, we don't want you to dismiss it or trivialize it or blame the victim. We want you to say to the person, 'Thank you for coming forward. If what you say is happening is wrong, we're going to stop it, and here is what's going to happen next.' Managers and supervisors who don't do that have to be held accountable," Feldblum said.
The third group that should be held accountable, Feldblum noted, is anybody who has engaged in retaliation for someone who reported harassment or corroborated in harassment. "You've got to create a positive feedback loop, in which people are thanked, people are protected from retaliation," she said. "The only way to do that is to hold accountable those who have engaged in retaliation."
Have the right policies, procedures, and training. Policies should be simple, easy to understand, and not filled with legalese. "Employees don't need to know the law," Feldblum said. "They need to know what is not acceptable."
Concluded Feldblum: "It's really important to focus on stopping unwelcome conduct before it turns into illegal conduct. The EEOC will not be at your door if you have really nipped the unwelcome conduct in the bud."

Jaclyn Jaeger is a freelance contributor to Compliance Week after working for the company for 15 years. She writes on a wide variety of topics, including ethics and compliance, risk management, legal, enforcement, technology, and more.
View full Profile