No one at the Department of Justice (DOJ) is better suited to speak directly to an audience of compliance practitioners than Kenneth Polite Jr.
Check out the full agenda
The National Conference agenda features a new format on Day 1, nine keynote-type sessions, 21 smaller room panels, more than a dozen intimate boardroom-style "conversations," four interactive workshops, a VIP think tank, a women's brunch, and plenty of time for networking. Use code CWKN200 at registration for $200 off.
Download agenda
Register
As head of the agency's Criminal Division, Polite oversees the development and enforcement of federal criminal laws. He and his staff maintain the DOJ's "Evaluation of Corporate Compliance Programs" guidance, which is regarded as a must-read for chief compliance officers and business leaders looking to benchmark their programs to meet the agency's expectations.
But perhaps the biggest reason Polite is an ideal communicator to compliance practitioners is that he himself was a former CCO. The assistant attorney general held the title at Fortune 500 electric power company Entergy from April 2017 to July 2018.
Compliance Week is excited to announce Polite will deliver a morning keynote at Day 2 of our 2022 National Conference in Washington, D.C. The premier event for compliance practitioners will take place May 16-18.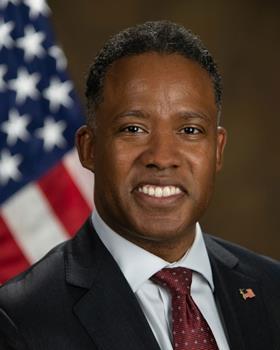 Polite was confirmed to lead the Justice Department's Criminal Division in July. During his time in the position, he has delivered a speech on enhanced efforts by the DOJ to ensure victim issues are paid proper attention by businesses during the agency's investigation process and spoke recently on new considerations to have chief compliance officers sign off certifying their programs are reasonably designed as part of guilty pleas and deferred/nonprosecution agreements (h/t Bloomberg Law).
Polite won't be the only regulator representative speaking at our event. Day 2 will kick off with a fireside chat with Securities and Exchange Commission members Allison Herren Lee and Hester Peirce. The two commissioners will discuss the agency's priorities for 2022 and beyond.
Lawrence Scheinert, associate director of compliance and enforcement at the Treasury Department's Office of Foreign Assets Control, is also scheduled to speak as part of a Day 3 panel on navigating international sanctions.
Compliance Week's 17th annual National Conference will take place at the JW Marriott Hotel, just blocks from the White House and the National Mall. The event is our first in-person gathering in nearly three years.
All attendees will be required to provide proof of Covid-19 vaccination.

Kyle Brasseur is Editor in Chief of Compliance Week. His background includes expertise in user personalization with ESPN.com.
View full Profile