The Commodity Futures Trading Commission (CFTC) will soon be down to three active commissioners, as Brian Quintenz announced Thursday he will depart the regulator at the end of the month.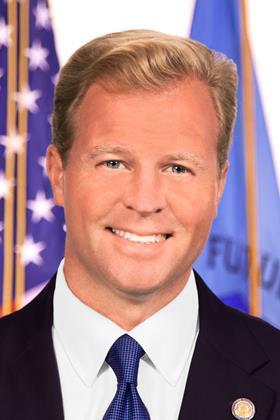 Quintenz, who has served as a Republican commissioner since being appointed by President Donald Trump in 2017, had his term initially expire in April 2020. He said then he would not seek another five-year term but would continue to serve until a replacement commissioner was named.
Only able to stay on in that capacity until the end of this year, Quintenz said Thursday he is stepping down now in order to "pursue new challenges and opportunities."
"I am proud of the regulatory philosophy I articulated, the policy agenda I promoted, and the relationships I built over the last four years," he said, noting in particular his work on the agency's Technological Advisory Committee, which had a hand in shaping policy for emerging areas of the financial markets like cryptocurrency and decentralized finance.
When Quintenz departs, the typically five-member CFTC will be comprised of Democrats Rostin Behnam (named acting chairman in January) and Dan Berkovitz and Republican Dawn DeBerry Stump. Behnam's term expired in June, but in keeping with past practice at the CFTC, he will remain in his post until he is either reappointed or replaced.
Former Chairman Heath Tarbert, a Republican, stepped down from his post at the CFTC earlier this year.
The CFTC issued a record-breaking 113 enforcement actions in fiscal year 2020, including a $920 million settlement related to spoofing charges against JPMorgan Chase. The agency has been relatively quiet this summer, though it recently played part in a $100 million enforcement action against cryptocurrency platform BitMEX for multiple violations of the Bank Secrecy Act and other anti-money laundering laws.
President Joe Biden has not yet named his choice to become the permanent head of the CFTC, although it has been reported Georgetown University professor Chris Brummer is the leading choice. Now, Biden is tasked with naming a new chair, a new Republican commissioner, and deciding whether to reappoint or replace Behnam.

Aaron Nicodemus covers regulatory policy and compliance trends for Compliance Week. He previously worked as a reporter for Bloomberg Law and as business editor at the Telegram & Gazette in Worcester, Mass.
View full Profile