Brian Quintenz, one of five commissioners at the Commodity Futures Trading Commission, announced Tuesday he won't seek renomination to a second five-year term and will depart the agency by the end of October.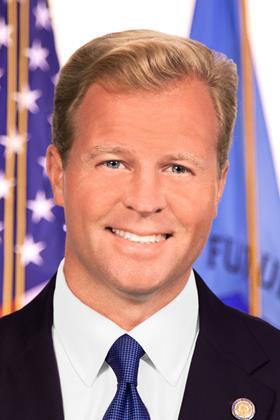 Quintenz, sworn into his post in August 2017, said the decision was made to "pursue new challenges and opportunities." The Republican was initially nominated for a commissioner role by President Barack Obama in 2016 before a delay caused by switchover in Congress session led to his renomination by President Donald Trump in May 2017. Quintenz's term expires this month.
"I recognize that the departure of a Commissioner, especially if it impacts the political and philosophical weighting of the Commission, may create uncertainty among market participants, increase the unpredictability of policy direction, and stymie important work," Quintenz said in a statement. "In particular, there are several critical rulemakings before the Commission about which I care deeply, have had a strong hand in developing, and wish to see finalized. As such, I plan to stay in my role until the earlier of the confirmation of my successor or October 31, 2020."
Quintenz said his commissionership was focused on three themes: ensuring the Commission is focused on risks, with rules appropriately tailored to those risks; embracing the rapid advancement of technology and innovation in finance; and working for enhanced coordination and deference among domestic and international regulators. He is a known cryptocurrency advocate, among other endeavors.
"I am incredibly proud of the regulatory philosophy I articulated, the policy agenda I promoted, and the relationships I built over the last two and a half years," Quintenz stated.
Brian has been a tremendous colleague and a steadfast advocate for sound derivatives regulation during his tenure. I will miss having him at the @CFTC. I look forward to working with him over his last months in office to finalize key elements of our shared agenda. https://t.co/CtIjbBFI9D

— Heath Tarbert (@ChairmanHeath) April 28, 2020
CFTC Chairman Heath Tarbert described Quintenz as a "tremendous colleague and a steadfast advocate for sound derivatives regulation during his tenure" in a tweet. Securities and Exchange Commission Chairman Jay Clayton similarly praised Quintenz's work, particularly in standing up the Title VII regime, in a public statement.
The CFTC is comprised of a chairman and four other commissioners that each serve staggered five-year terms. No more than three commissioners at any one time may be from the same political party.
Prior to his appointment to the CFTC, Quintenz founded and served as the managing principal and chief investment officer at registered commodity pool operator Saeculum Capital Management.
"I am deeply honored to have served as a Commissioner at the Commodity Futures Trading Commission over the last two and half years," Quintenz stated. "… It has been a privilege to serve my country in this role, easily the most rewarding experience of my professional career."

Kyle Brasseur is Editor in Chief of Compliance Week. His background includes expertise in user personalization with ESPN.com.
View full Profile