Leo S. Mackay Jr. got his first taste of compliance when, as a midshipman at the U.S. Naval Academy, he was asked if he would serve as an honor representative.
"That's essentially the ethics system for the Academy," says Mackay. It was his duty, on top of his studies and his training to become a fighter pilot, to serve as an advocate for fellow midshipmen who lapsed in conforming with the code of conduct.
"Just about everything I learned about leadership and organizational dynamics, in one way or another, I learned in the U.S. Navy," says Mackay. People tend to think of the military culture as being dominated by discipline, he says. Instead, it's the sense of teamwork and collaboration that really defines how the military works.
In a small infantry unit, for example, someone's in charge of taking a tactical lead, everyone is watching everyone's back, communication flows freely, and people flex as necessary to get the mission accomplished. "Talk about teamwork," says Mackay. "Maybe it's masked by the uniforms and the haircuts, but the qualities that make it an effective fighting force are the same qualities you want in a business organization."
About Leo Mackay, Jr.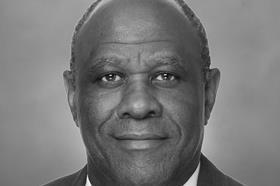 Title: Senior Vice President, Ethics and Enterprise Assurance, Lockheed Martin
About Lockheed Martin: A global security and aerospace company, Lockheed Martin is focused on the research, design, development, manufacture, integration, and sustainment of advanced technology systems, products, and services.
Location: Bethesda, Md.
Years of experience: 36
Areas of expertise: Ethics; assurance; compliance; enterprise risk management; sustainability
Quote: "If I have a pet peeve, it's when people misunderstand what the real strength of military culture and leadership rudiments are. If you look at the chief executives of Fortune 500 companies, many of them come from service academies. I don't think that's an accident."
That view of organization and teamwork would serve Mackay well in his journey to becoming senior vice president of ethics and enterprise assurance at defense contractor Lockheed Martin Corp.
Mackay's current role covers a great deal of space. He's the chief compliance and ethics officer, the chief audit executive, and the chief sustainability officer. He's responsible for far more than regulatory compliance, which in itself is a significant responsibility in a highly regulated defense contracting business.
Mackay oversees all audit functions, all aspects of ethics, including procurement integrity, anti-corruption protections, and compliance training. He's also in charge of environmental/health/safety issues, governance, social partnering, charitable activities, and product innovation, to name a few.
Lockheed Martin is among the large companies that want to integrate multiple functions tied to compliance and assurance under a single reporting structure, says Mackay. Functions like audit, compliance, ethics, risk management, health and safety, privacy trade controls, and more are often managed as separate functions in many organizations. The movement to bring them more comprehensively under a single leader is evolving.
"There's a reason to organize them with a common reporting structure, to pull some threads, mainly the risk management thread, through the organization," says Mackay. "It's also to look for synergies, better data flow, collaboration, so you're not going through departmental boundaries."
After graduating from the Naval Academy as a fighter pilot, Mackay served in deployments to the Mediterranean, North Atlantic/Norwegian Sea, and Indian Ocean. He is a veteran of Operation Earnest Will, the late 1980s U.S. campaign to protect Kuwaiti oil tankers from attack.
Mackay advanced to lieutenant commander, where he served as military assistant to the assistant secretary of defense, coordinating an organization of 200 people responsible for the U.S. defense policy with respect to nuclear forces, export licensing, counterproliferation, defense conversion, and arms control policy. He also earned his master's degree in international security and his Ph.D. in public policy at Harvard while in the Navy.
After 12 years in the Navy, Mackay accepted a position as vice president and general manager at Bell Helicopter. He soon returned to government service, however, when he received a presidential appointment in 2001 to deputy secretary of Veterans Affairs, where he initiated a governance process and oversaw reorganization and leadership changes.
Ultimately, Mackay made his way to Lockheed Martin, where he first served as president of a joint venture with Northrop Grumman to oversee a modernization of the U.S. Coast Guard. He moved into business development and then into ethics and sustainability when invited by then-CEO Robert Stevens to take up a new area of responsibility.
Stevens had some specific ideas in mind for how he wanted Mackay to lead ethics and sustainability, said Mackay. "The conventional career dynamic is when the chief executive asks you to do a job, you should do that job," he says.
It wasn't an area that Mackay necessarily aspired to, but he assumed he would institute some organizational changes Stevens envisioned and then rotate back into another area of the business after a few years. "Then life intervened," says Mackay.
In 2012, while Mackay was head of ethics, the company got a tip that its intended successor to the CEO position was involved in an extramarital relationship with a subordinate employee. Working with the general counsel's office, Mackay was responsible for addressing the situation, which ultimately led to the senior leader's departure rather than his installment as the company's highest executive.
That, combined with Mackay's achievement in establishing what would become a model sustainability program, cemented him in his role. "I create an image or a reputation for myself as an ethics professional," he said.
After the dust settled on the CEO transition crisis, the new CEO, Marillyn Hewson, asked Mackay to expand his role to include internal audit. Then in 2018, he gained further responsibility as the company sought to bring all of its risk and compliance activities under one structure.
Today, Mackay says, he's overseeing four distinct work streams that are generally organized as internal audit, ethics, ERM and sustainability, and safety. He linked ERM and sustainability because, "sustainability ought to be the first order reducer of enterprise risk, so I wanted a close collaboration of what ERM was finding and the shape of sustainability," he said. "The tools are pretty similar. That's been a successful collaboration."
According to the company's latest sustainability report, the more coordinated approach to ERM and sustainability assures that risk assessments probe specifically for sustainability factors, not just profitability factors that often dominate corporate ERM approaches. That means sustainability goal tracking feeds back into risk mitigation planning. The company's risk assessments and sustainability performance enable management teams to better perform scenario planning, enhancing strategy elements like personnel and manufacturing.
The benefits extend throughout the business, the company reports, to everything from talent recruitment and development to supplier engagements, security, efficiency, and more. The sustainability program is a particular point of pride for Mackay.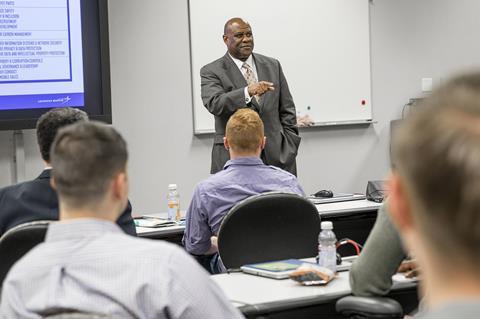 "It was built on my watch, and it's garnered a lot of awards," he says. The company wrote a supplier code of conduct that has become a model for the defense industry, Mackay said. The company's ethics awareness training has become licensed.
While he's proud of what's been accomplished, he's also looking ahead. The next challenge Mackay is determined to tackle is navigating a path forward in leveraging technology. Especially with respect to internal audit, technology is becoming a significant disrupter of traditional business activities, he says.
"Around internal audit, it calls into question things like how does the three-lines-of-defense system work when some of the tools let you do real-time or continuous monitoring?" Mackay says. "Is that a compliance function or an internal audit function?"
It's just that kind of visionary thinking that makes Mackay a standout leader, says Blair Marks, vice president of ethics and business conduct at Lockheed Martin. "Leo's mind never stops," she says. "He's always thinking about where do we go next? What do we do next?"
In bringing so many functions under an enterprise assurance organization, Mackay is constantly challenging his people to pursue the next challenge on the horizon, says Marks, without dictating answers at the front end. "Leo will paint a broad vision and challenge us to figure out how to do it," she says. "He engages everyone on the team and other stakeholders in that thought process. It's very much a conversation."
Perhaps the most significant attribute Mackay brings from his military experience into his leadership approach is accountability. He developed a strong sense of accountability in his earliest days at the Naval Academy, where plebes, or first-year students, learn early in their training how they are permitted to respond to questions.
"You're limited to four answers," explains Mackay. Those are: yes, sir or ma'am; no, sir or ma'am; no excuse, sir or ma'am; and I'll find out, sir or ma'am. "You learn excuses are interesting, but they don't really matter."
The idea is to focus new recruits on getting the job done without having to make excuses, he says. As an example, when sailors are expected to have the landing deck of an aircraft carrier ready for a plane to land, there are no acceptable reasons for failing to have that deck ready as a plane is landing. "If you have to push an aircraft overboard to make the deck ready, that's what you have to do," he says.
Business in general, especially from a compliance mindset, could benefit from a greater sense of that kind of accountability, says Mackay. Business leaders who are simply not effective should recognize that in themselves and voluntarily step aside, he believes, especially amid evidence of plain failures.
"An excuse doesn't exculpate responsibility," he says. "If you can't understand accountability and hold yourself accountable, excuses are like armpits. Everyone has them and they all stink. Senior executives get paid an awful lot of money, and I think there ought to be more of a willingness to understand things from that perspective."
In addition to his role at Lockheed Martin, Mackay serves as an independent director for USAA Federal Savings Bank and Cognizant Technology Solutions. He's also a strategic advisor for Pegasus Capital Advisors. Outside of business, he's active in his church and its school, taking on leadership and governance roles at both the local and denomination levels.
While Mackay may not have aspired to a compliance role at Lockheed Martin initially, he's come to appreciate what ethics and compliance has to offer for people in all areas and at all levels of business. Compliance may not yet rank among firefighters and police officers as the kind of hero jobs that young school children hope to do one day, but that shouldn't discourage compliance officers from toeing the line, he says.
"The stuff we do in ethics and sustainability—trying to provide for responsible growth, be a good neighbor, develop responsible corporate systems—that's all aspirational work," he says.

Tammy Whitehouse is a veteran business writer who has been a regular contributor to Compliance Week since 2005, with a focus on covering accounting and audit.
View full Profile