Editor's note: Seton Hall Law student Hannah Levine was named CW's first-ever Top Mind of Tomorrow, and with it earned an invitation to attend our recently concluded annual conference at Washington, D.C.'s Mayflower Hotel. In her own words, Hannah describes her experience at the event.
Upon arriving at the Mayflower Hotel, I was greeted by the Compliance Week staff and issued a badge with the words "Top Minds" along the bottom. Over the next few days, I would come to understand the significance of that designation through my interactions with others at the conference and the many congratulations they bestowed upon me. As Compliance Week's inaugural Top Mind of Tomorrow award recipient, I am so grateful for both the recognition and the opportunity to attend the 2019 conference.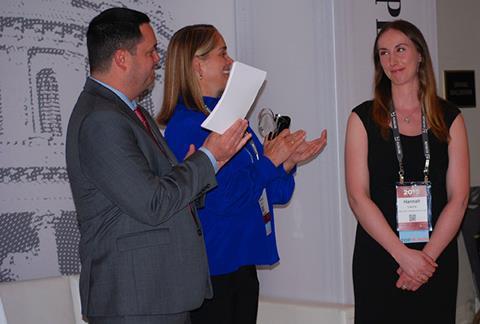 Having never attended a professional conference before, I was unsure of what to expect. I surveyed the agenda and identified sessions that piqued my interest, focusing on topics I had been exposed to as a Corporate Compliance Fellow at Johnson & Johnson last summer. As a rising 3L at Seton Hall University School of Law, I continually seek out opportunities to further my understanding of industry trends so that I may more fully appreciate the concerns of future clients and better advocate on their behalf.
Despite being the youngest and least professionally experienced conference attendee, I felt included in the dialogue and excited by the prospect of applying much of the content from the sessions to future endeavors, whether academic or professional.
In my current role as a summer associate at Debevoise & Plimpton in New York, I am staffed on a number of healthcare-related matters with salient compliance aspects. Looking ahead to my future career, I am confident that the receipt of the Top Mind of Tomorrow award will continue to both facilitate and foster the development of professional relationships. During the span of the Compliance Week conference itself, I was able to arrange a meeting with a partner at Debevoise's Washington D.C. office. This experience has helped instill in me the importance of networking and alerted me to the abundance of opportunities to utilize different platforms to do so.
When I return to school in the fall, I am excited to capitalize on my role as president of the Health Law Forum to encourage more students to pursue compliance opportunities. Notably, Seton Hall offers concentrations in both Health Law and Compliance. As a student who will complete both of these concentrations upon graduation, I believe that there are a multitude of opportunities to reinforce learning in both disciplines through common pursuits, such as conferences like Compliance Week's.
During my final semester of law school, I will complete a full-time externship at the U.S. Food & Drug Administration. While in this capacity, I anticipate drawing upon many of the topics and themes espoused by the CW presenters to ensure compliance in such a heavily regulated industry.
Through the amalgam of all of my experiences, which Compliance Week's Top Mind of Tomorrow award has recognized and celebrated, I have come to appreciate the vital importance of compliance. Whether in an academic, industry, or legal setting, compliance-related concerns are ubiquitous and must be accorded due deference.
I want to extend my sincerest gratitude and thanks to Compliance Week for its unrelenting and unparalleled commitment to exploring both high-level and nuanced compliance-related issues as well as encouraging those in the field to think critically about them. I left the conference with a renewed interest in compliance and hope to pay it forward by encouraging others to consider and prioritize compliance in their day-to-day work. I am excited by the future and the many ways in which I anticipate meaningfully integrating all I learned at Compliance Week's annual conference.