Imagine you've just been recruited by a global company to take on the formidable task of establishing a compliance department for its North American operations.
Now imagine also having to do that under the watchful eye of an independent monitor.
Stephanie Davis doesn't have to imagine it. She's living it.
Formerly a director in the national forensic practice at KPMG and a compliance leader at two previous companies, Davis joined Volkswagen Group of America as its first chief compliance officer in May 2017. She came on board one month after Volkswagen pleaded guilty and agreed to a $2.8 billion penalty following the company's decade-long scheme to sell diesel vehicles containing software designed to cheat U.S. emissions tests. In total, Volkswagen has paid more than $30 billion in fines and settlements.
About Stephanie Davis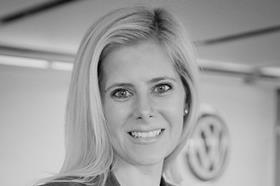 Title: Chief Ethics and Compliance Officer, Volkswagen Group of America
About Volkswagen Group of America: VW is a wholly owned subsidiary of global automobile manufacturer Volkswagen. The company has approximately 8,000 employees in the United States.
Location: Herndon, Va.
Years of experience: 10+
Areas of expertise: Ethics and compliance development
Quote: "I find many times that decisions are not malicious, just uninformed, and so I always advocate a strong message of training and open, safe environments for raising concerns."
The U.S. Department of Justice appointed an independent corporate compliance monitor and auditor to Volkswagen until June 2020, assuming the monitorship is not extended. The majority of changes the monitor wants to see fall within the compliance, risk, and integrity space—the mission and day-to-day activities of Davis' department.
"They are there to ensure that we've put cultural changes, policies, and procedural changes in place to ensure that this doesn't happen again," Davis says.
Among Volkswagen's four companies named as co-defendants in the emissions-cheating scandal—Volkswagen; Audi; Volkswagen Chattanooga; and Volkswagen Group of America—Davis is responsible for two of them: Volkswagen Chattanooga and Volkswagen Group of America.
"Many changes are being implemented that will affect our approximately 640,000 people worldwide," Davis says. "But we're a much smaller team and company in the United States, so it's quite a bit of work. I truly appreciate the partnership the monitor has been willing to give to us and believe they're here to make the company better. I've really seen some major change since I got here, and I'm very gratified by it. We hope to satisfy the monitor's requirements and continue our evolution of change in the organization after the monitor has left."
Davis is also responsible for directing a compliance strategy that empowers group-wide objectives.
"Across all levels of the organization, we've found that the same behaviors and values that enable outstanding performance also drive the principles of our culture, and compliance is but one critical outcome," she says. "Tactics of our strategy include empowering people from across different areas of the organization to work together, communicate honestly, and experience our leadership being involved and listening. In turn, we're seeing more effective root cause analyses and a more diverse array of ideas."
At the same time, in many positive ways the scandal also marked a turning point for Volkswagen. "It forced the company to change," she adds.
A team effort
The diesel scandal has played a crucial role in reshaping Volkswagen's culture of ethics and compliance, as well, serving as a harsh lesson—not just for Volkswagen but for all companies—as to why compliance is everyone's job.
For any ethics and compliance officer to truly be able to fix an issue at its source before it becomes an enormous problem requires employees trusting that they can speak up, not being afraid to raise their hands—even when they suspect something might be wrong but can't pinpoint what it is, exactly. Davis says she tries to instill in employees that "they are the lynchpin of compliance."
Having candid conversations with employees about what integrity means and why acting with integrity should be the foundation for everything they do is an important part of that message. "If your company operates on a culture of fear, you're asking for trouble," Davis says. "Bad things happen when people are afraid to come forward for fear of retribution. I find many times that decisions are not malicious, just uninformed, and so I always advocate a strong message of training and open, safe environments for raising concerns."
Davis' philosophy is that compliance is there to protect employees by giving them guidelines and guardrails. Compliance is not intended to make employees' jobs harder but in fact much easier.
"If you know the company is behind you and wants you … to act with integrity in making business decisions, it should make business decisions easier for employees, because they don't have to agonize over having to make unethical ones," she says.
Fostering relationships with the business units and understanding their strategic goals, so that compliance can help them achieve those goals in an ethical manner, is a crucial part of that strategy. That is why, within the first month of becoming chief compliance officer of Volkswagen Group of America, Davis made it a point to meet or call every key executive.
"If I did not already know them, I would introduce myself, explain what I was trying to accomplish and ask for their support and assistance. Not only did this help establish or strengthen my relationship with them, it helped me get their buy-in," she says. "It all goes back to understanding the business. If I understand the business, I can help identify the risks and potential pain points. Instead of compliance being perceived as the Department of No, we can diplomatically say that can't do it the way they proposed but we know what their end goal is. So let's try to work together and come up with a solution. We have to be incredibly close to the business units, or that philosophy doesn't really work."
Business unit heads who work closely with Davis vouch for her leadership style. "Steph works hard to balance the serious root causes of breaches in compliance with an accessibility that makes the broader team comfortable in engaging with her at all levels," says Cian O'Brien, executive vice president and chief operating officer of Audi of America, who interacts with Davis as part of the leadership team.
"The journey that is required means a level of cultural change, and this is only deliverable with the right approach. Steph handles this perfectly," O'Brien says. "She is dynamic, empathetic, and constantly wants to make the organization a better place to be."
Davis says this support trickles down from the top. "We are really lucky in that Scott Keogh, our CEO at Volkswagen Group of America, really understands that culture, compliance, and integrity are all tied together," she says. "If we don't have a good culture, then it doesn't matter how good our strategy is."
Ultimately, it's really the managers and senior managers who are responsible for the culture of an organization, because that's who the employees see on a day-to-day basis. "If they're not living a culture of compliance and integrity, we're going to have a much harder time changing that culture," Davis says. "Our company has some great partners throughout the business and senior leadership."
Training and education
As with any robust ethics and compliance program, communication is another big part of trust-building. For her part, Davis sends out to the entire company each month a personal e-mail, what she calls "The Compliance Chronicles," that provides a fictionalized scenario—but inspired by real-life events— describing misconduct that was uncovered, how the investigation was conducted, what the outcome was, and the lessons learned.
"We started in January 2019, and they are, by far, the best received thing we've done," Davis says. "About a week after I send them out, I get emails from all levels of the company asking questions, saying they're enjoying them, or 'Keep it up.' "
"We've also seen a spike in compliance consulting questions after each 'Chronicle' is sent," she says. "For example, if we send out a gifts 'Chronicle'—which we do around December when the holidays are coming and that's when vendor gifts spike—we tend to see a spike in questions and clarifications around the gifts policy, so it serves as a helpful reminder to people."
"I believe there's also a bit of the gossip factor," Davis adds. "Because the scenarios are fictionalized, they're not harmful, but it also helps employees understand what's happening inside the compliance space when they do report an issue. Since we can't follow up on every report, especially since most are anonymous, it is helpful for employees to read about real cases that happen so they understand our process better."
Additionally, Volkswagen Group of America now produces four mandatory, Web-based compliance trainings annually. These 30-minute training sessions alternate every year between training on the Code of Conduct and training on matters of ethics and integrity.
Volkswagen now also coordinates a series of integrity workshops on an annual basis. Though voluntary, the workshops were attended by 80 percent of Volkswagen's managers last year. "They give people the opportunity to discuss what needs to change in the organization, what is working, and what isn't," she says.

Jaclyn Jaeger is a freelance contributor to Compliance Week after working for the company for 15 years. She writes on a wide variety of topics, including ethics and compliance, risk management, legal, enforcement, technology, and more.
View full Profile