U.S. Steel is a pillar of American manufacturing.
With nearly 30,000 employees working at two dozen facilities and subsidiaries throughout the United States, Canada, and Europe, U.S. Steel produces products for the automotive, appliance, container, industrial machinery, construction, and oil and gas industries.
Since its founding in 1901, U.S. Steel has been guided by a set of nine ethical statements made by its first chairman, Judge Elbert H. Gary. The statements were sound and authoritative—but also wordy and hard to remember. It was impossible to find an employee who could recite even a few of them from memory, said Victoria McKenney, U.S. Steel's deputy general counsel for regulatory and compliance, as well as its deputy chief compliance officer.
When he arrived at U.S. Steel in April 2018, Duane Holloway, now the company's Senior Vice President, General Counsel and Chief Ethics & Compliance Officer, proposed creating a new set of ethical principles to guide U.S. Steel that were meaningful, actionable, and memorable.
It was a bold move.
"At a well-established company, it is tempting to walk only well-trodden paths, and the risk-averse nature of compliance means a sea change seldom occurs absent some significant event, like an enforcement action," McKenney wrote in her nomination for Holloway for Compliance Week's Chief Compliance Officer of the Year Award, one of the top honors at the first annual Excellence in Compliance Awards.
Led by Holloway, the company's compliance team forged the S.T.E.E.L. Principles—Safety First, Trust and Respect, Environmentally Friendly Activities, Ethical Behavior, and Lawful Business Conduct. It was an effort that earned him the distinction of becoming CW's first-ever CCO of the Year.
More Excellence in Compliance Awards
Creating a lasting legacy
The S.T.E.E.L. Principles formed the new foundation of the company's Code of Ethical Business Conduct. The principles were distributed through the usual channels: emails, the company's annual policy certification process, and training. But it would take a bit more effort to win over the entire company, McKenney said.
"One can have a Hall of Fame-worthy ethics and compliance program" and procedures that are ironclad, Holloway told Compliance Week. "But without buy-in from the broader employee population, it's just worthless."
With a marketing budget of less than $10,000, the compliance team created two symbols: an iconic silhouette of a U.S. Steel employee with the S.T.E.E.L. Principles embedded within the silhouette and a five-sided shield ringed by the S.T.E.E.L. Principles.
The images were placed on posters, table tents, post-it notes, magnets, and stickers. In addition, Holloway led a global employee town hall meeting that discussed how the S.T.E.E.L. Principles connected the company's past, present, and future.
U.S. Steel President and Chief Executive Officer David B. Burritt started using the principles in communications and at conferences. From the corporate level down to employee safety meetings, discussions would begin and end by asking, "Is this in line with our S.T.E.E.L. Principles?" Employees even asked to use the logo on T-shirts worn during charitable events.
"The S.T.E.E.L. Principles became part of the fabric of a 119-year-old company almost overnight," McKenney said.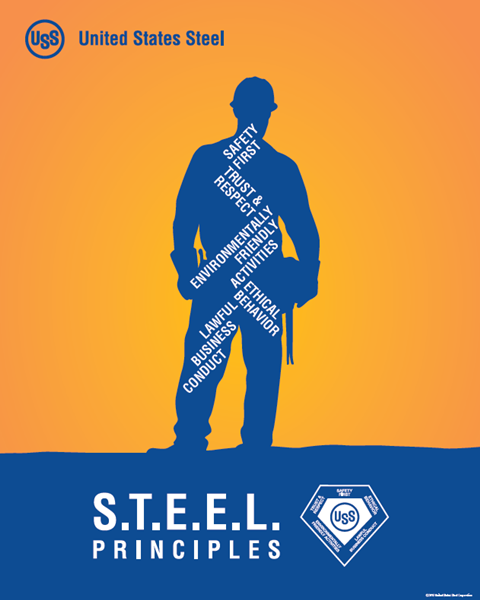 Winding path to U.S. Steel
Holloway's path to leading compliance efforts at U.S. Steel was slightly unorthodox. Compliance has been woven into his responsibilities but hasn't always been his primary focus.
Armed with a bachelor's degree in psychology from the University of Virginia and a law degree from the University of Pennsylvania Law School, Holloway practiced law at the Washington, D.C. firm now known as Hogan Lovells.
In 2005, he was hired by Harrah's Entertainment, a huge casino company that had just purchased a competitor, Caesars Entertainment. The company would reorganize under the Caesars name and would become the world's largest gaming company at the time.
During his nine years at Caesars, Holloway progressed through increasingly important roles in the legal department before being named senior vice president and chief counsel, operations and litigation. In this role, he functioned as general counsel for the company's global operations division, which included all casinos, resorts, hotels, and other related holdings around the world, and helped lead the department's continuous improvements to its operating model and strategy, according to his biography on the U.S. Steel website.
Mark Dunn, executive vice president and general counsel at Baha Mar Nassau, a luxury resort and casino in the Bahamas, said he hired Holloway at Harrah's Entertainment as general counsel to manage a block of casinos. They would work together for six years.
Gaming is one the of most regulated industries in the world, and Dunn said Holloway took to his new assignment—which included maintaining adherence to numerous gaming regulations from multiple jurisdictions—with enthusiasm.
"If you're going to be thrown into the ocean and told to swim, that's about as deep of water as you'll be in terms of compliance," Dunn said. "He had to effectively handle a lot of complex issues, just about anything you could envision from a compliance perspective."
Holloway has a great ability to think on his feet, Dunn said, and he convinced grizzled casino veterans to buy into his initiatives.
"He's not the type of guy who talks about how smart he is," Dunn said. "He's very understated, he has a good manner about him, he's very easy to like and engages people on their own terms. To me, that's where he excels."
Holloway would later serve as vice president and deputy general counsel for CoreLogic, a global residential property information, analytics, and data-enabled solutions provider. He oversaw members of the U.S. legal department advising on transactional, litigation, intellectual property, regulation, employment, antitrust, and governance matters.
Before joining U.S. Steel, Holloway was the executive vice president and general counsel at Ascena Retail Group, the largest women's specialty retail and fashion company in the United States. During his time at Ascena, he served as global chief legal, compliance, sustainability, and diversity officer.
Changing perceptions of compliance
Since joining U.S. Steel in April 2018, Holloway has instituted innovative solutions like deploying tools for analyzing legal spend, embracing internal client satisfaction surveys, and streamlining corporate procedures, McKenney said.
"Duane rejects the idea of compliance as an apparatus for administering complex procedures, instead emphasizing compliance as an agile business partner that can respond to a changing business environment and support strategy execution."

Victoria McKenney, Deputy Chief Compliance Officer, U.S. Steel
He's also changed the way the company views compliance.
"Duane rejects the idea of compliance as an apparatus for administering complex procedures, instead emphasizing compliance as an agile business partner that can respond to a changing business environment and support strategy execution," she wrote in her nomination. "That means stripping out jargon and distilling policies and procedures into core principles simple enough to keep front of mind, but meaningful enough to help employees navigate complex ethical issues."
Many U.S. Steel facilities have operated continuously throughout the coronavirus pandemic, and the company's compliance department has had to be nimble and agile in response, Holloway said.
"We've had to do things differently than we normally do, and that applies to compliance practices," he said. "What worked yesterday is not necessarily working today and may not work tomorrow."
For example, the company has had to use video conferencing and telephone calls to conduct investigations that were previously done in person.
"The way that we're operating as a business and the way we're operating as a compliance function are different than normal, but I think, no less effective," he said.
Holloway has a unique ability to connect with colleagues. As a Baltimore native and fan of the NFL's Ravens, Holloway gets more than his share of ribbing from members of Steeler Nation within U.S. Steel, McKenney said. He hands out jars of delicious jam made by his mother-in-law. He uses rivalry and jam to build bonds with his colleagues.
More important is the time Holloway sets aside to meet individually every year with every member of the legal department. He really listens in those sessions, McKenney said.
"He builds bridges, and I really think it's a big reason why he's had the impact he's had," she said.

Aaron Nicodemus covers regulatory policy and compliance trends for Compliance Week. He previously worked as a reporter for Bloomberg Law and as business editor at the Telegram & Gazette in Worcester, Mass.
View full Profile