Carrie Penman, who was recently named the first-ever winner of Compliance Week's Lifetime Achievement Award, has always been a trailblazer.
She launched, developed, and directed the first corporate-wide global ethics program at Westinghouse Electric Corp. from 1994-1999, years before ethics and compliance programs became mandated for all public companies.
She remembers accepting the brand-new position leading a brand-new department with a sense of excitement, as she pivoted away from her expertise as a scientist and engineer into something totally and completely new.
"I really felt like I'd found something I was meant to do," she says. While she had some experience in compliance at the time, "I did some volunteer work that put me in front of the executives. It really was a happy accident."
Despite the fact that the pioneering ethics program she launched at Westinghouse was shuttered after five years, when the company folded, Penman knew she had found her true calling. For the next four years, she served as deputy director of the Ethics & Compliance Officer Association (ECOA), now the Ethics & Compliance Initiative (ECI).
Pat Harned, ECI's chief executive officer, says one reason Penman is so highly regarded in the ethics and compliance industry is that she was among its first practitioners. But the respect the industry has for her has also been earned over time, she adds.
More Excellence in Compliance Awards
Penman's guidance, mentorship, and thought leadership has "improved the work of a lot of people in the industry," she says.
In 2017, Penman was awarded ECI's Carol R. Marshall Award for Innovation in Corporate Ethics, an award that recognizes "the outstanding accomplishments of a business executive in the ethics and compliance field."
"She has been a big advocate during the rise of #MeToo, advocating for respectful workplaces and addressing sexual harassment," Harned says. And Penman's roots in ethics has helped her to keep attention on them, despite the industry's current emphasis on compliance. "We can be so driven by enforcement practices that we can lose sight of the importance of the tone at the top and of encouraging people to speak up," Harned says.
At NAVEX Global, where she has worked since 2003, Penman has held a variety of roles. Currently the company's chief risk and compliance officer, Penman oversees the company's internal ethics and compliance activities, employing many of the best practices that NAVEX recommends to its clients.
NAVEX Global is a provider of integrated risk and compliance management software and services that help organizations manage risk, address complex regulatory compliance requirements, and foster an ethical, highly productive workplace culture, according to the company's Website.
In addition to her CCO duties, Penman conducts program, risk, and culture assessments for corporate clients and regularly works with and trains boards of directors and executive teams. She also serves as a corporate monitor and independent consultant for companies with government settlement agreements, including deferred prosecution agreements.
"She sees ethics and compliance as fundamental in all organizations," says Bob Conlin, NAVEX Global's president and CEO. "I've never failed to be impressed about how she's never stopped moving forward, never stopped learning."
Allen Stewart, director of the ethics office at Duke Energy Corp. in Charlotte, N.C., has known Penman for years. They first met through the ECOA. Duke Energy has been a client of NAVEX Global for many years.
"Carrie is viewed as a practical purveyor of information and ethics programs," he says. "I've always found that all our conversations quickly get to the 'how.' "
Stewart says Penman attacks issues and problems in ethics and compliance by applying her vast experience, as well as tapping her background as a scientist, to probe for solutions and answers.
An ally to whistleblowers (even if she doesn't like the term)
One area where Penman helped break new ground is in corporate whistleblowing.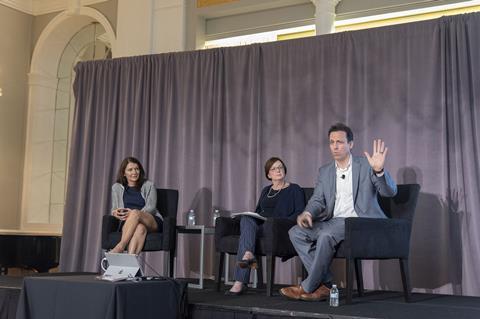 NAVEX Global maintains a proprietary dataset of internal whistleblowing systems comprised of nearly 2 million internal whistleblower reports that were submitted to more than 1,000 publicly traded U.S. firms. Under Penman's direction, NAVEX anonymized the data and provided it to researchers at the University of Utah and George Washington University. Penman vetted the research by reviewing the methodology and credentials but did not influence or participate in the research herself.
Among the resulting study's many findings was that anonymous whistleblower complaints are substantiated at much the same rate as complaints by named whistleblowers.
"She attacked this urban myth that anonymous complaints have less merit," Stewart says.
The study's conclusions have repercussions for businesses and for whistleblowers, says Gregory Keating, a partner with Choate, Hall & Stewart and practice group leader of the firm's labor, employments & benefits division.
Keating, who also wrote a 2005 book on whistleblowers entitled "Whistleblowing & Retaliation," says the whistleblower research Penman facilitated revealed companies with high incident reporting rates have better returns on their whistleblower program investment and are less likely to violate laws and regulations.
"It's good to be hearing from your people. And it's bad if you hear nothing," he says. Penman has been a "great advisor to companies" on their whistleblower programs, he adds.
Penman is "at the forefront of trying to ensure transparency in the workplace. She has assisted employers with cutting-edge advice and assistance on a whole host of initiatives," he says. "She has committed her entire life to compliance."
For someone who has dedicated so much of her professional life to promoting and protecting whistleblowers, Penman hates the term. She says whistleblower is pejorative, carrying negative connotations about criminals snitching on each other.
"We've told employees it is their duty and obligation to speak up, to say something," she says.
The term she'd prefer? Reporter. Perhaps she will eventually convince her colleagues in ethics and compliance to come around to her way of thinking.
Ethics and values making a comeback
In more than 25 years in ethics and compliance, Penman has watched the industry morph and change. The biggest inflection points, she says, were the Enron and WorldCom scandals of the 1990s, which moved the industry's pendulum hard toward compliance.
"It totally changed the landscape, and it changed our programs, from being about self-regulation to more about government regulation," she tells Compliance Week.
"People who do this for a living are such wonderful people. I hope to be known as a friend to those folks, and to the industry."

Carrie Penman, Chief Risk and Compliance Officer, NAVEX Global
But she says the industry's pendulum is swinging back toward ethics, as businesses have recognized that a strong, ethical corporate culture and tone at the top are essential parts of their success.
"It's swinging back more toward values and understanding that we're doing the right things for the right reasons," she says. "You can have all the rules and regulations and policies and procedures, but it really comes down to values and culture that really drive human behavior."
Penman is also hopeful to continue influencing the next generation of ethics and compliance executives. She's doing this as an executive fellow with the Ernest A. Kallman Executive Fellows Program at the W. Michael Hoffman Center for Business Ethics (HCBE) at Bentley University, and she also teaches several courses. She speaks regularly at conferences and seminars, bringing together some of the brightest minds in the field to discuss new developments and plot new strategies.
In its optimal form, a company's ethics and compliance department should be a strategic partner, one that helps assess and mitigate risks while also developing strategies to make the business more successful, she says.
The key, she says, is delivering information that is "meaningful, factual, timely, and relevant to management."
It's also important to get buy-in from company leadership for compliance and ethics initiatives, says Conlin, something he says Penman does exceedingly well.
"I don't know anyone who doesn't love Carrie," he says. She can deliver the hardest assessment and not alienate anyone in the room. She does this by understanding what motivates people, he says.
"You can't force people to be ethical; you have to change the culture (in organizations)," he says. "She is a very strong partner to human resources and to CEOs about cultural initiatives."
Penman says it's the people she's worked with, counseled, and collaborated with that have kept her in the industry all these years.
"People who do this for a living are such wonderful people," she says. "I hope to be known as a friend to those folks, and to the industry."

Aaron Nicodemus covers regulatory policy and compliance trends for Compliance Week. He previously worked as a reporter for Bloomberg Law and as business editor at the Telegram & Gazette in Worcester, Mass.