From corporate training films to gamification to employee avatars and more, the variety of innovative training content available to chief compliance officers today is limited only by the imagination (and, yes, maybe a bit by budget, as well).
No matter what training solutions compliance officers choose, the underlying message remains the same: Compliance training should be engaging, memorable, and personally connect to people's day-to-day jobs, focused on real-life scenarios.
"Too many times, compliance training ends up being a check-the-box activity," says Karl Schneider, a manager in the retail and wholesale service center at Altria Group Distribution Company (AGDC), an Altria subsidiary. "Having people get excited and interested and just being able to relate it back to what they do on a day-to-day basis is key."
Ripped from the headlines filmmaking
Schneider, who is responsible for delivering the training for AGDC's field sales team, has seen and experienced first-hand the impact corporate training can have on a person. Eight years ago, when he was a field manager with AGDC, Altria had just launched a Hollywood-inspired corporate training film called "Breathing Underwater."
Taking a page from Altria's own history book—inspired by years of antitrust litigation felt across every part of its business—"Breathing Underwater" tells the story of a sales manager whose personal life is upended when she becomes the focus of a company-wide, billion-dollar tobacco litigation lawsuit for her activities in sales. The emotion it was intended to elicit in people was: "I do not want to court this kind of activity in my life," says Gaye Montgomery, former head of the Law Department Global Compliance Practice Group at Altria who, together with the field sales team and Resonate Pictures, produced the film (watch a clip below).
Regarding compliance training, generally, "You want to have maximum impact and durable impact—and you only have that if you get into people's heads," says Montgomery, who now runs her own compliance consulting firm. "It's seizing on the opportunity to trigger a visceral connection."
Schneider, who says "Breathing Underwater" was "a wake-up call," continues to use it to train the next generation of Altria's field sales team. "Even though it was made now almost eight years ago, it still has a very strong connection to what they experience on a day-to-day basis," he says.
The timing of compliance training is also critical. At AGDC, the movie is shown to employees who have spent 3-6 months in the field. Schneider, along with a current representative of the law department, then go over it with employees the next day. "We talk over the antitrust policy, what they saw in the film, and connect it back to what they see in the field on a day-to-day-basis," he says.
Making a corporate training movie, however, is not cheap. Montgomery, who had her own budget at Altria at the time, says, "I figured out how to make it work, because I knew it would be worth it in the end." It's the kind of thing that you can budget for, she says, and it's still going to be relevant years later.
Outside of the United States, global organizations that have produced Hollywood-inspired training films—and have won awards for them—include Danish shoe manufacturer and retailer Ecco; pharmaceutical company GSK; financial institution HSBC; and global conglomerate Philips.
Gamification
Other companies are turning to gamification to get, and keep, employees engaged. Tire and rubber company Bridgestone, for example, puts on an interactive training event, called the "Bridgestone Compliance Battle Royale," during the company's annual Compliance Week.
During the event, 16 internal departments go head-to-head in daily "battles" that take the form of multiple-choice questions using Kahoot!, an interactive testing solution provider. Throughout the battle, employees are quizzed on between 75 to 100 questions covering a wide variety of topics, says Adam Balfour, general counsel at Bridgestone Americas.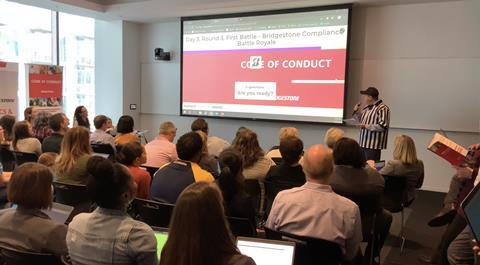 For example, Bridgestone launched its first global code of conduct about 18 months ago, and so about half the questions related to the new code, Balfour says. "Our theme this year for Compliance Week was about encouraging employees to speak up, so we had a few questions relating to our hotline and about the speak-up process," he says.
The winning department is crowned the Compliance Battle Royale Champions and receives a trophy. Individual gift-bag prizes are also given to those who get the high score each day. Balfour says he also sends an e-mail to the winning employee, copying his boss and the CFO. "It's a great way for us to engage leadership in that way and get people some recognition," he says.
The upfront cost is minimal, requiring only a license to use Kahoot! and the cost of the trophy (about $150), Balfour says. While the event is voluntary, many of the battles are standing room only, he says. "Our employees shared that they learned a lot from this innovative approach and found it fun."
Bridgestone has also begun to pull various data—including its hotline data, data from its e-learning training, and risk assessment—to identify wider trends and opportunities. "We are becoming more and more metric- and data-driven to measure what is working or, if they're not working, why are they not working and what do we have to do to change that?" Balfour says.
Compliance training through gamification is a hot choice these days. According to Kahoot!, 97 percent of Fortune 500 companies use its training platform, including Walmart, Best Buy, 3M, Mondelez International, Whirlpool, and many more.
Training and analytics
Other solutions on the market today combine training with analytics to help compliance officers enhance their ethics and compliance program in the areas where it's needed most. Emtrain, for example, provides not only cinematic compliance training clips on workplace issues, but further embeds diagnostic polling questions into its online training content.
Topics that Emtrain focuses on through its online training include sexual harassment, unconscious bias, diversity and inclusion, workplace culture, code of conduct, and anti-bribery. For all these topics, Emtrain is designing content that gets to the foundation of "why" bad outcomes—such as ethical lapses, harassment, and bias—occur by encoding them into 3-4 situational dynamics using employee polling to measure the health of the company's culture. "That engagement generates data that the enterprise can then use to inform further efforts," says Janine Yancey, founder and CEO of Emtrain. (Video example below)
This year, for example, Emtrain launched a new code of conduct training program, in which it is measuring the following four situational dynamics: the company's system for decision making; trust; accountability; and cultural norms and practices. Last year, Emtrain launched its anti-harassment program, "which generated 2.5 million employee responses on six core situational dynamics that we think are indicators of bad outcomes on harassment," Yancey says. That report will be published in January 2020.
Many training solution providers additionally offer mobile learning solutions, also called "mLearning," which is employee learning designed for mobile devices, so that employees can receive training when they need it, where they need it. Many offer micro-lessons, formal training sessions that last no more than 10 minutes. BizMobile, Mindflash, Skill Pill, and Udemy are just a few vendors that offer mobile learning solutions.
Virtual reality
Other companies are turning to virtual reality for employee training. Mursion, a provider of virtual reality training simulation software, offers a virtual environment for practicing interpersonal skills across five core areas: leadership development, human resources, diversity and inclusion, sales, and customer-service training.
Content can be customized, however, to create scenarios tailored to each company's specific needs and industry, including financial services, hospitality, healthcare, retail, and the defense sector. "The visuals of the simulation are controlled by artificial intelligence, which allow the live human operator—the simulation specialist—to parachute into different characters and different environments with ease," says Christina Yu, vice president of marketing at Mursion. Thus, the employee's experience exactly mimics a real-life conversation in the environment where the exchange would occur—whether that's on a factory floor, in a hotel lobby, a workplace office, or a hospital setting (example below).
Best Western Hotels & Resorts, Comerica, Coca-Cola, eBay, LinkedIn, and Nationwide are just a few companies that have used Mursion's virtual reality platform. Immediately after the simulated conversations take place, employees receive feedback on their performance. They're also offered the option to receive a video clip, which allows learners to dissect their performance in an analytical way.
Practicing these situations in virtual reality enables employees to take risks, to make mistakes, and to learn from them in a safe space, Yu says. "It's not like taking a multiple-choice test or consuming information or passively getting information transferred to you," she says. "You have to actively engage in the moment."
If your boss asks you to cook the books to meet performance goals, what do you do? If you see a workplace conflict, how do you intervene? To know how to navigate those real-life scenarios in a way that employees can master cognitively and emotionally and do the right thing at the moment it's occurring, Yu says, "is a totally different story than knowing the correct answer on a test."

Jaclyn Jaeger is a freelance contributor to Compliance Week after working for the company for 15 years. She writes on a wide variety of topics, including ethics and compliance, risk management, legal, enforcement, technology, and more.
View full Profile