Compliance Week is proud to announce Joshua Drew as the winner of its inaugural Compliance Comeback of the Year award after he successfully navigated VEON through to the recent conclusion of its three-year compliance monitorship and deferred prosecution agreement.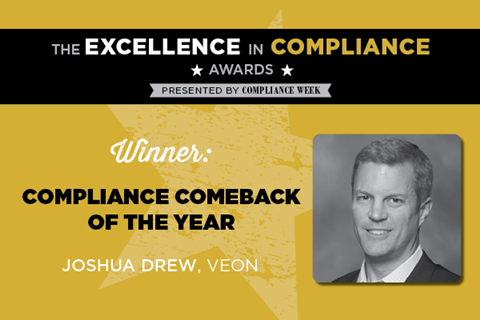 The Comeback of the Year Award was created to spotlight a standout performance in helping navigate a compliance program out of trouble. It is one of 15 honors in Compliance Week's first annual Excellence in Compliance Awards.
VEON, an Amsterdam-based global telecommunications company formerly known as VimpleCom, resolved a Foreign Corrupt Practices Act (FCPA) enforcement action in 2016 regarding misconduct in Uzbekistan. The $795 million foreign bribery settlement was called "one of the most significant global resolutions in the history of the Foreign Corrupt Practices Act" by the Department of Justice's former criminal division chief Leslie Caldwell and came with a deferred prosecution agreement and three-year compliance monitorship.
Enter Drew, who was appointed VEON's Group chief ethics & compliance officer in October 2017, when the company was still in the early stages of its DPA and monitorship. He was inheriting a department under heavy scrutiny and having undergone many changes as he took the helm.
"The task presented to Josh was to create and implement an effective compliance program nearly from the ground up, and to do so, if possible, within the time constraints presented by the DPA," wrote a colleague in the nomination of Drew for this award. "Josh immediately rolled up his sleeves, built a team, and devised short- and long-term plans for developing and implementing an effective compliance program and related internal controls.
"Even without the significant obligations that arise out of a DPA and the presence of a monitor, the Group CECO role at VEON … is a challenging one. Josh masterfully coordinated with the Board, senior management, and other control functions … to drive foundational changes in the company's corporate governance, compliance systems, and internal controls. [He also] managed the company's relationship with the monitor and the agencies, and oversaw complex compliance investigations and due diligence in M&A and divestment transactions."
The Virtual Conference: May 18-19
The winners of the Excellence in Compliance Awards will be announced live over the course of Compliance Week's Virtual Conference, held May 18-19. Click below to find out more.
REGISTER
At the time of the conclusion of the monitorship and DPA in late 2019, VEON Chairman and CEO Ursula Burns said the appointment of Drew—along with Group General Counsel Scott Dresser—was key to the company strengthening its internal controls and compliance culture.
"Their leadership and the diligence of their teams have been essential in leading the company successfully through the entire process and monitorship," she said. "We remain committed to ensuring ethics and compliance underscores everything we do, and I am proud of the hard work by our employees to ensure we, as a group, are working at the highest standards."
Before joining VEON, Drew was previously VP & associate general counsel at Hewlett-Packard and Hewlett-Packard Enterprise, responsible for investigations and anti-corruption compliance. He began his legal career in the U.S. Department of Justice, working for four years as a trial attorney in the Fraud Section of the Criminal Division and for six years as an assistant U.S. attorney in the District of New Jersey.
Drew will be further honored during Compliance Week's upcoming Virtual Conference (May 18-19) and will receive his award at CW's upcoming live event in Washington, D.C., currently scheduled for late October.

Dave Lefort was Managing Director of Compliance Week. Before joining CW, he spent nearly two decades in digital leadership roles with ESPN and The Boston Globe.
View full Profile