We're thrilled to host this community of thoughtful and inspiring compliance leaders face-to-face once again for what we're confident will be an unforgettable—and safe—experience. Our 17th annual National Conference will take place May 16-18 at a new venue, the prestigious and expansive JW Marriott Hotel, just blocks from the White House and the National Mall. The CW team visited the hotel a few weeks ago and came away energized with the myriad opportunities it presents for an engaging, best-in-class event.
Register now for 'CW Ambassador' pricing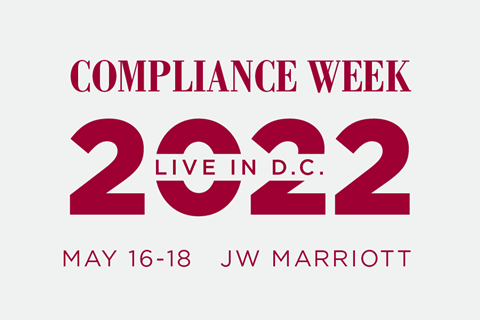 Buy a delegate pass for CW2022 (May 16-18) before Dec. 20, and in addition to our lowest price in more than a decade, you'll get special recognition at the event and be entered in a raffle for a free one-bedroom suite at the JW Marriott in Washington, D.C. for the 3 nights of the conference.
The pandemic forced us to go virtual in 2020 and 2021, but with vaccines widely available and a sense of normalcy slowly returning, we decided to go back in person for the 2022 event. We will require all attendees provide proof of COVID-19 vaccination upon arrival, in order to offer the safest environment possible.
It's too early to say whether we will take additional measures, like requiring masks and social distancing, but rest assured we will base those decisions on local and federal guidance at the time of the event. In short, we will make every effort to maintain a safe environment and give attendees the peace of mind necessary to focus on learning and connecting with peers.
Your invitation to become a CW2022 Ambassador
Delegate passes are available now for the lowest price we've offered in more than a decade. Additionally, we are going to recognize the first 100 delegates who sign up before Dec. 20 with a CW Ambassador designation. It's our way to reward those who are willing to commit to our cause of bringing the compliance community together, to join us in safely returning to the truly unique in-person experience that is our National Conference.
As an Ambassador, you'll get a special badge that allows access to the Ambassadors Lounge, where you can work, enjoy complimentary snacks, or just unwind.
We'll also be holding a raffle on Dec. 20 to give away free one-bedroom suites at the JW Marriott for all three nights of the conference to two of the first 100 delegates to register for the event.
Compliance Week members who attend will also get the VIP treatment.
What you can look forward to
Since its inception in 2005, the CW National Conference has been held at the historic and cozy (read "cramped") Mayflower Hotel. The spacious JW Marriott will allow us to stretch our legs a bit and offer a more diverse agenda. A large ballroom will serve as the center stage for our keynotes and plenary sessions, while plenty of smaller rooms allow more intimate conversations among practitioners.
Our agenda is still coming together, but we can confirm one speaker: Pulitzer Prize-winning journalist and best-selling author John Carreyrou, who famously exposed widespread fraud at now-defunct blood testing company Theranos and later wrote "Bad Blood: Secrets and Lies in a Silicon Valley Startup." Carreyrou is currently covering the trial of Theranos Founder Elizabeth Holmes and will have plenty to share with attendees in May.
We're also looking to book senior regulators from the Department of Justice, the Securities and Exchange Commission, the Federal Bureau of Investigations, and other government agencies for the type of straight-from-the-source guidance you've come to expect at our National Conference.
The event will feature panel sessions on the increased importance of cybersecurity, the intersection of compliance and ESG, the evolving regulatory environment under the Biden administration, and much more.
The topics on our National Conference agenda, generally, are less technical and more philosophical, less specialty-focused and more industry-agnostic. They're designed to spark thinking at a high level in ways you probably don't have the opportunity to do in your everyday interactions.
I've had the privilege of attending our National Conference twice in person, in 2018 and 2019. What struck me most wasn't the top-notch quality of the speakers or the talented behind-the-scenes crew that put the event together; it was the pervasive spirit of collaboration among the attendees. And that's very difficult to replicate in a virtual environment.
We plan on recapturing that spirit in Washington, D.C. in May. We hope you'll be a part of it.

Dave Lefort was Managing Director of Compliance Week. Before joining CW, he spent nearly two decades in digital leadership roles with ESPN and The Boston Globe.
View full Profile