The Financial Accounting Standards Board on Nov. 15 finalized long anticipated delays in effective dates to several accounting standards, including the controversial rule on credit losses.
Affected are Accounting Standards Codification Topic 326 (credit losses, or CECL), Topic 815 (derivatives and hedging), and Topic 842 (leases). Also finalized was a delay to Topic 944 (insurance) for all insurance companies that issue long-duration contracts.
The new effective dates for the standards are as follows: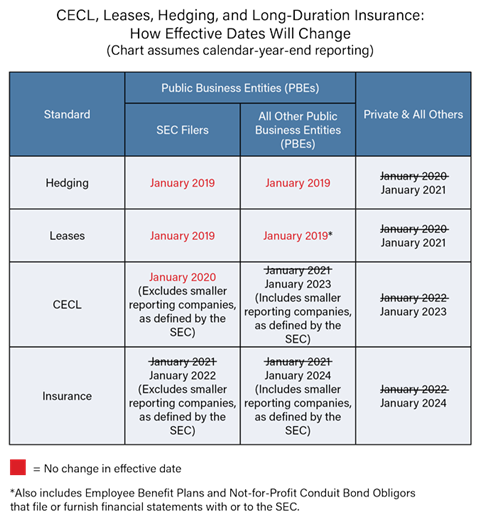 FASB's CECL delay notably does not let large SEC filers off the hook despite a universal plea from banks of all sizes to delay the standard so its effects on the economy can be further studied. The controversial standard has even been a target for lawmakers, with Sen. Thom Tillis (R-N.C.) and Rep. Blaine Luetkemeyer (R-Mo.) each referencing CECL in legislation proposed to subject FASB standards to additional scrutiny before being implemented.
FASB Chairman Russ Golden has acknowledged private companies, not-for-profit organizations, and smaller public companies would benefit from having more time to implement major changes in accounting, with availability of resources, the timing and sources of education in new standards, and the development or acquisition of technology among factors providing hardship.

Kyle Brasseur is Editor in Chief of Compliance Week. His background includes expertise in user personalization with ESPN.com.
View full Profile