The U.K. Financial Reporting Council (FRC) on Friday released the results of its 2020/21 audit quality inspections, in which it singled out KPMG for "unacceptable" deficiencies regarding the firm's audits of banks and similar entities.
The FRC publicly reports the findings of its audit reviews each year. During the 2020/21 inspection period, 103 audits were reviewed across the Big Four firms (Deloitte, EY, KPMG, and PwC); BDO; Grant Thornton UK; and Mazars. Of the audit total, 47 took place at FTSE 350 companies.
Overall, 29 percent of audits reviewed required improvement or significant improvement—progress from 33 percent last year. Only three of the audits reviewed were found to require significant improvement, down from seven in 2019/20.
"While these results show some improvement on last year's results, this improvement is marginal and significant change still needs to happen to meaningfully improve audit quality," FRC CEO Sir John Thompson said in a press release. "High quality audit is essential to maintaining trust and confidence in the U.K.'s financial markets."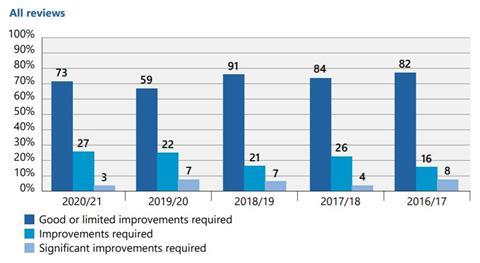 KPMG is no stranger to finding itself in the regulator's crosshairs, having been placed under "increased scrutiny" during the 2018/19 inspection cycle. After three consecutive years finding need for improvement, the FRC "will be closely monitoring KPMG's actions to ensure findings are addressed in a timely manner. KPMG has agreed additional improvement activities to be delivered this year over and above its existing audit quality improvement plan."
Specifically, the FRC examined 22 KPMG audits, assessing only 13 (59 percent) to require no more than limited improvement. One audit was cited as needing significant improvement.
"In our view, [KPMG] does not currently provide its banking audit teams with sufficiently clear expectations and guidance as to the minimum procedures to be performed and this is likely to have contributed to our findings on the individual audits we reviewed," the regulator stated. "We acknowledge that KPMG has already invested significantly in its banking practice and considers that, based on steps it has already taken, it will be able to demonstrate improvements in its 2020 year-end audits."
For its part, KPMG noted its analysis of the FRC's findings determined "we have the right tools, methodology and guidance in place, but the challenge remains achieving consistent application." The firm specifically determined lack of clarity as an area needing attention. KPMG also promoted having the right culture in place as key to its quality goals.
Among other Big Four firms, PwC fared best with 16 of 20 audits inspected (80 percent) requiring no more than limited improvement. Deloitte and EY each had 15 of 19 audits (79 percent) meet the same standard. None of the three firms had any of their audits singled out as needing significant improvement.
BDO and Mazars each had one audit found to need significant improvement and will also be monitored by the FRC regarding the implementation of additional measures to support audit quality. BDO (44 percent) fared the worst among all firms inspected in terms of audits requiring no more than limited improvement, while Grant Thornton (86 percent) fared best.
In its inspections, the FRC noted popular problematic areas included audit of revenue, impairment of assets, and group audit oversight. The regulator complemented the firms' overall approach to going concerns during the pandemic.

Kyle Brasseur is Editor in Chief of Compliance Week. His background includes expertise in user personalization with ESPN.com.
View full Profile