With nearly six months to go until the end of the London Interbank Offered Rate (LIBOR), the chair of the Securities and Exchange Commission (SEC) shared his views on two of the leading candidates to replace the expiring benchmark interest rate.
Gary Gensler in virtual remarks delivered before the Financial Stability Oversight Council on Friday expressed his support for the Fed-backed Secured Overnight Financing Rate (SOFR) over the Bloomberg Short-Term Bank Yield Index (BSBY). Gensler detailed why he feels the BSBY would be susceptible to the same kind of manipulation that doomed LIBOR in the first place, alluding to the folktale "The Emperor's New Clothes."
"At first glance, BSBY might seem like an improvement over LIBOR—a more resilient benchmark," he said. "But make no mistake: it might look a bit different, but it's still the same emperor. It presents similar risks to financial stability and market resiliency."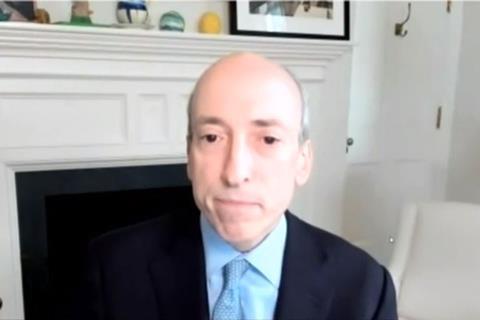 LIBOR is a daily rate in multiple terms referencing multiple currencies that establishes an average interest rate used by banks as they borrow from one another. It is used extensively as a benchmark to determine lending terms on products ubiquitous to U.S. markets, such as corporate and municipal bonds, variable-rate loans, asset-backed securities, and many derivatives.
After discoveries of manipulation, U.K. authorities ultimately determined they would no longer require banks to provide the reporting necessary to support LIBOR after 2021.
"LIBOR was easy to game," noted Gensler, who was part of the crackdown on manipulation of the rate during his time as chair of the Commodity Futures Trading Commission. Gensler added he believes the BSBY "has many of the same flaws as LIBOR."
"Like with LIBOR, we're seeing a modest market, shouldering the weight of hundreds of trillions of dollars in transactions. When a benchmark is mismatched like that, there's a heck of an economic incentive to manipulate it," he said. "That's why I believe [SOFR], which is based on a nearly trillion-dollar market, is a preferable alternative rate."
For its part, Bloomberg in a white paper has described the BSBY's similarity to LIBOR as a positive.
"BSBY has proven robust to a range of historical back-tests and hypothetical scenario analysis, including potential data manipulation from market participants," the white paper said. "In addition, each tenor has shown strong historical correlation with the corresponding U.S. LIBOR rate, supporting the role of BSBY as an appropriate representation of the US wholesale-unsecured funding market."
SOFR has long been stumped for by U.S. regulators as the preferred alternative for LIBOR. The SEC has notably not backed any particular alternative rate, though it has been preaching for companies to prioritize their transition efforts for years now.
Ahead of the same body Friday, Treasury Secretary Janet Yellen and Acting Comptroller of the Currency Michael Hsu each delivered statements similarly underscoring this point.
"We have reached a critical juncture, and more must be done to facilitate an orderly transition," Yellen said. "With U.S. dollar LIBOR's cessation dates fully known, many market participants are actively evaluating their options and undertaking the work to transition contracts. While important progress is being made in some segments of the market, other segments, including business loans, are well behind where they should be at this stage in the transition."
Yellen addressed a popular criticism of SOFR—that a forward-looking term rate may not be available this year—by encouraging market participants to trust the system.
"It is important for term SOFR to be grounded in a deep SOFR derivatives market and to be used in a way that does not diminish that activity," she said. "Action by market participants now will allow the [Alternative Reference Rates Committee] to recommend a term SOFR rate quite soon."

Kyle Brasseur is Editor in Chief of Compliance Week. His background includes expertise in user personalization with ESPN.com.