Implementation and testing of risk-based processes and the data analysis that sits behind them are among the biggest weaknesses laid out in a review of anti-money laundering (AML) efforts in the accounting and legal sectors conducted by a division of the U.K.'s financial watchdog.
The Office for Professional Body Anti-Money Laundering Supervision (OPBAS) was established as part of the Financial Conduct Authority in 2018. The new regulator oversees the AML efforts of the 22 Professional Body Supervisors (PBSs) responsible for AML supervision for the accounting and legal sectors in the United Kingdom.
OPBAS released its 2020 report this month, which covers progress and themes from 2019. The report highlights how AML supervision evolved in 2019 relative to 2018.
"PBSs have responded differently to the challenges they face," the report states. "Some have responded positively and implemented changes quickly. Others have been less proactive in their approach. We have delivered tough messages and used our regulatory powers where necessary."
One of OPBAS's focus areas in 2019 was on the implementation of a risk-based approach to AML supervision. According to OPBAS, a risk-based approach should:
Focus efforts and resources on the highest risks;
Ensure measures to reduce money laundering are proportionate to the risks;
Regularly review the risks to their sector; and
Support their members' adoption of a risk-based approach.
In the report covering 2018, 91 percent of the relevant PBSs were not fully applying the risk-based approach. That number is now down to 14 percent as of the end of 2019, though OPBAS intends to have the stragglers in line early this year.
"Of this 14%, all have plans to implement risk-based supervision in early 2020, although in some cases this has required us to issue directions under the OPBAS regulations to achieve this," the report states.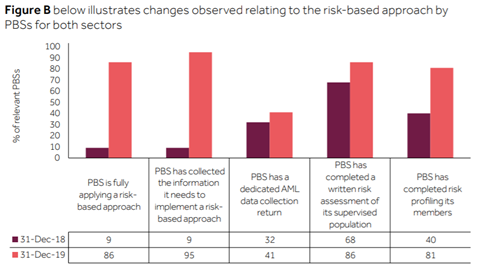 OPBAS notes testing the effectiveness of PBSs' risk-based approaches will be its focus this year.
Further, OPBAS found only 41 percent of relevant PBSs had a dedicated AML data collection return in order to glean quality data to inform their risk-based approaches. The number is an improvement on the 32 percent noted at the end of 2018, though OPBAS has held workshops in an effort to preach the benefits of greater attention to this practice.
An area to see significant improvement is governance. "At the end of 2018, 44% of PBSs lacked clear accountability for AML supervisory activity. By the end of 2019, all PBSs had clear accountability and oversight for AML supervision at a senior level," OPBAS states.
Further, all accountancy PBSs had adequate conflict of interest policies in place by the end of 2019, compared to only 23 percent meeting the criteria the year prior.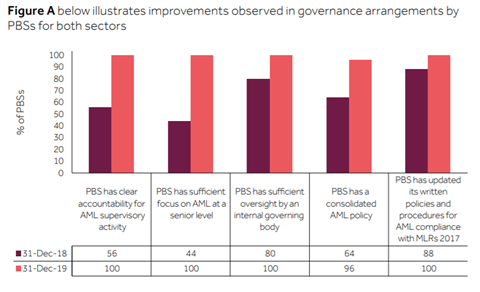 Other areas covered in the report include the following:
Intelligence and information sharing. Sixteen percent of PBSs continue to question the value of intelligence-sharing systems, according to OPBAS; separately, 16 percent either continue to lack a whistleblowing policy or their current whistleblowing policy does not provide adequate protection for anonymity.
Enforcement. In the reporting period May to April 2018/19, 41 percent of relevant PBSs did not take any kind of enforcement action for AML non-compliance, OPBAS reports, adding the legal sector has only issued 11 fines compared to 226 in the accounting sector.
Internal staff training. Eight percent of PBSs continue to struggle with training, OPBAS notes.
Record keeping. Thirty-six percent of PBSs lacked sufficient record keeping policies and procedures at the end of 2018; the number is down to 8 percent as of 2019's end, according to OPBAS.
Websites
We are not responsible for the content of external sites

Kyle Brasseur is Editor in Chief of Compliance Week. His background includes expertise in user personalization with ESPN.com.