The International Compliance Association's BIG Compliance Festival concluded on a high note last week as financial crime expert and Compliance Week columnist Martin Woods sat down with Dr. Marcus Pleyer, president of the Financial Action Task Force (FATF), for an exclusive interview.
In a wide-ranging and forward-looking discussion, Pleyer emphasized his commitment to stopping money laundering, telling delegates he is "deeply convinced" doing so will save lives. Pleyer underlined the importance of public/private sector cooperation, information sharing, technological development, and anti-money laundering (AML) training in achieving this vision.
The International Compliance Association (ICA) is a professional membership and awarding body. ICA is the leading global provider of professional, certificated qualifications in anti-money laundering; governance, risk, and compliance; and financial crime prevention. ICA members are recognized globally for their commitment to best compliance practice and an enhanced professional reputation. To find out more, visit the ICA website.
"The AML system puts responsibility not only on law enforcement and supervisors but also on obliged entities," he said, "because you are the first line of defense. This is why it is important that we all work together to stop money laundering."
Pleyer further highlighted the FATF's desire to engage with compliance practitioners, saying, "We need to understand how you work in practice. We cannot make reasonable standards without engaging with you."
The FATF is a global money laundering and terrorist financing watchdog. Pleyer was named president of the organization in July.
Data sharing and cooperation
Data sharing represents a significant component of Pleyer's vision of a more cooperative and collaborative future. "We could make a really big jump in becoming better [at fighting money laundering] if we could pool data together," he suggested. "But we need to look at ways to reconcile our wish to become better in our AML work while also preserving the right to privacy and data protection."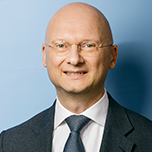 Pleyer added his vision of information exchange includes cooperation not only between regulated entities but between the public and private sector, involving engagement between regulated entities, financial intelligence units (FIUs), law enforcement, and supervisors. This is particularly important in the context of COVID-19.
He pointed to countries such as the United Kingdom, which he said has developed "efficient information sharing mechanisms," but added that the question of whether data sharing is restricted to the exchange of strategic information or whether it also includes an exchange of operational data remains a significant consideration.
Technology and effective AML
Pleyer suggested the key to balancing data sharing against privacy requirements, as well as meeting many other current AML challenges, lies in the development and deployment of new technology.
Technology, he suggested, plays a fundamental role in the evolution of AML from a reporting and intelligence gathering exercise toward a more proactive endeavor aimed at stopping money laundering. "Years ago, we all worked with a tick-box approach," he reminded delegates. "Eight years ago, we introduced the risk-based approach. The next step is to use more digital tools to become more effective in our mission to save lives, as that is what AML is all about."
Pleyer noted new technology "can help us to be smarter and more effective" in the fight against financial crime, with technological solutions supporting improvements in know your customer/customer due diligence (KYC/CDD) checks, transaction monitoring, risk identification, communication, and data pooling.
With this in mind, he explained he has "initiated a new project on the opportunities that new technology offers to strengthen AML systems." He intends to bring together people from FIUs, law enforcement, supervisors, regulators, the tech world, and from data protection backgrounds to "work together to find solutions to how we can become more efficient."
At today's "Big Compliance Festival", I urged the audience to help stopping money laundering. By stopping it you take away the proceeds that enable crime. By stopping it you save lifes. By stopping it you make this planet a better place.

— Marcus Pleyer (@MarcusPleyer) October 29, 2020
Priority areas
Elsewhere in the discussion, Pleyer explained the rationale behind extending the FATF presidency from one year to two. "It was clear that ministers wanted to strengthen the FATF and its capacity to respond to new and emerging risks," he said. The extension, he said, aims to add stability and continuity to the FATF's work.
He provided valuable detail on the FATF's priority list for his presidency. Key areas of focus include:
Addressing the financial flows connected with environmental crime;
Countering the financing of far-right wing (ethnically or racially motivated) terrorism;
Migrant smuggling;
Illicit arms trafficking;
Developing a more efficient system on confiscation and asset recovery;
Beneficial ownership;
Proliferation financing; and
Guidance for the real estate sector.
Underpinning this broad remit, Pleyer made clear his commitment to the FATF's core mission of implementing FATF standards at a global level and his resolve to continue this mission in spite of the challenges presented by the global pandemic.
"My primary goal is the full and effective implementation of our standards, because I am deeply convinced that this will make the world a better one," he said. "You'll be aware of the idea of 'the weakest link.' We must not allow regulatory arbitrage to be misused by criminals. I'm not naïve: We will not always be successful with all our standards in all countries. But I want to come as close as possible to worldwide implementation of our standards."
Proliferation financing and the risk-based approach
Pleyer provided some insight into the decision to adjust the FATF's 40 Recommendations to enhance efforts to fight proliferation financing, explaining how the consensus decision had been reached following "extensive discussion."
"In 2012 we moved to a risk-based approach for money laundering and terrorist financing, but we remained with a tick-box approach when it came to targeted financial sanctions related to UN resolutions," he explained. "We extended the risk-based approach to tackling proliferation financing. This means that countries and financial institutions are now required to identify, assess, and mitigate the risk of proliferation financing, and they must also enhance their coordination and cooperation with each other. Iran and North Korea have got smarter at evading sanctions, and we need to be smarter, too. These amendments mean that governments and banks must do more than just a checklist approach to sanctions screening. They must understand the risk they face and potentially take further action."
The FATF, he said, will continue to develop guidance in this area, which will also be complemented by its ongoing work on transparency of beneficial ownership.
An ongoing mission
Finally, Pleyer emphasized the importance of training and development as a key component in the ongoing fight against financial crime. With the FATF now operating a training center in South Korea, as well as undertaking engagement projects and initiatives with regulators, he was quick to assert that "training is an investment in our future." However, he also highlighted areas in which we need to improve AML training. "We must ensure that training is targeted and scoped for the particular audience's training needs," he stressed. "It must be responsive to the needs of the people involved in this business."
He concluded with a rallying call to the AML community—a reminder of the importance of the work being undertaken by industry practitioners, regulators, supervisors, law enforcement, and standard-setters alike.
"Money laundering fuels organized crime and terrorist groups," Pleyer said. "Stopping financial crime is about stopping the financial flows that enable drug trafficking, terrorist financing, and environmental crime. It saves lives. That's what I am deeply convinced of."
The International Compliance Association is a sister company to Compliance Week. Both organizations are under the umbrella of Wilmington plc.