TRACE International on Thursday published its 2020 Bribery Risk Matrix, providing chief compliance officers with key insight on each country's areas of business-related bribery risk. Some notable data points this year: The United States fell, while China improved.
TRACE first launched its Bribery Risk Matrix in 2014 with chief compliance officers in mind to meet a need in the business community for more reliable information about commercial bribery risk worldwide. To arrive at each country's score, the matrix analyzes four specific domains:
Domain 1: Business interactions with government;
Domain 2: Anti-bribery deterrence and enforcement;
Domain 3: Government and civil service transparency; and
Domain 4: Capacity for civil society oversight.
"One of the things we've always hoped for with the Matrix is that it provides a bit of a roadmap," TRACE President Alexandra Wrage told Compliance Week. "We always say freedom of the press, a robust civil society, and less red tape will improve your score."
Among the 194 jurisdictions ranked in the 2020 TRACE Bribery Risk Matrix, the top five countries that pose the highest commercial bribery risk overall are North Korea, with a risk score of 93; Turkmenistan (86); South Sudan (85); Venezuela (82); and Eritrea (81). The countries that present the lowest risk of commercial bribery overall are Denmark (1); Norway (5); Finland (7); Sweden (8); and New Zealand (8).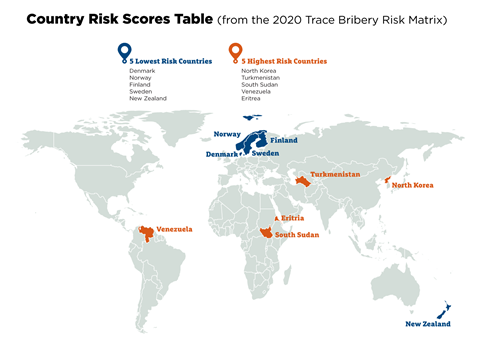 An especially notable datapoint this year is the stunning drop in the ranking of the United States, which fell out of the top 20—from 15th to 23rd. While some of the changes in this year's Matrix may be a result of a change in datapoints, "there is definitely more going on than that for the United States to have had such a substantial drop," Wrage says.
It's important to keep in mind the data in the Matrix is free of bias or judgment; it's merely collated, organized, and weighted. Thus, it's very telling how U.S. events have impacted the data. "If you ask people intuitively whether this administration has been more or less committed to transparency, I think there would be a general sense that this administration has been substantially less committed to transparency," Wrage says. "So, it's an interesting bearing out of that to see that in the rankings."
Part and parcel with less transparency has been less civil society engagement, which has been diminishing since 2016. This is important because a lot of bribery cases come to light through media. In fact, as referenced in the Organisation for Economic Co-operation and Development's Phase 4 monitoring report on the United States, 15 percent of the Department of Justice's Foreign Corrupt Practices Act (FCPA) cases come from media reports. "So, less engagement is definitely going to translate to a drop in the ratings," Wrage says.
President Donald Trump has not made secret his disdain for the FCPA, which is in direct contrast to the 2020 Democratic Party platform, which explicitly calls out the FCPA by name: "We will combat bribery abroad by expanding on the Foreign Corrupt Practices Act."
For chief compliance officers, the message is this: "Hold the course," Wrage says. It would be a mistake for any company to reduce compliance budget and headcount, because it will be very difficult to gain back lost ground.
Other countries' risk scores
Because the Matrix assesses multiple factors that contribute to commercial bribery risk, the findings don't always follow predictable patterns: "Countries that share borders can differ markedly in terms of commercial bribery risk trends, with dramatic variation in the underlying factors," Wrage says. "Russia's ranking, for example, fell 17 places since 2019, while Ukraine's improved significantly this year."
In addition to Russia, many other countries worsened across the board since 2019, according to the TRACE Matrix. The biggest drops in rankings were Bahrain; Azerbaijan; Qatar; Oman; and Zambia, while the biggest drop in scores were Bahrain; Azerbaijan; Oman; North Korea; and Mauritania.
On the flip side, other countries have notably improved since last year's rankings—some, like China, surprisingly so. China ranked 126th with an overall risk score of 54, a marked improvement from its ranking of 134 and risk score of 59 last year.
China might have improved its position by reducing opportunities for public official bribe demands by continuing to streamline its bureaucracy and reducing its red tape. One way in which China has done this is by moving toward more e-government. "Less red tape almost always correlates with more transparency, fewer bribes," Wrage says.
Risk scores by domain
Domain 1. The 2020 TRACE Matrix found among all countries Denmark posed the lowest risk of bribery in Domain 1 concerning interactions with government, with an overall risk score of 1. Other countries with the lowest bribery risk scores in the domain include Singapore (2); New Zealand (5); and Norway (7).
Those that pose a high risk of bribery in Domain 1, indicating many government touchpoints, include Turkmenistan (100); North Korea (98); Venezuela (87); and Cambodia (87).
Domain 2. Denmark also showed the lowest level of commercial bribery risk concerning the quality of its anti-bribery deterrence and enforcement. Other countries that scored well in this domain include Norway, Finland, and Belgium.
On the flip side, North Korea (with a risk score of 100) showed the highest level of risk. Other countries with high risk scores were South Sudan and Syria (90 each) and Equatorial Guinea and Eritrea (89 each).
Domain 3. Among the countries with the lowest risk scores and, thus, demonstrated the highest level of government transparency and civil service include Denmark, Sweden, Finland, and Norway. Those that scored most poorly were Yemen, South Sudan, Somalia, and Eritrea.
Domain 4. Countries that boast the highest capacity for civil society oversight are Denmark, Norway, Finland, Sweden, Switzerland, and Germany. Among the countries that showed the highest risk scores were North Korea, Eritrea, and Turkmenistan.
"While we see some countries worsening across the board, we typically see more nuanced developments—countries improving in some categories but worsening in others," Wrage says. "Keeping this in mind, it's most useful for compliance teams to examine each underlying factor and make decisions based on the specific risks they might encounter."

Jaclyn Jaeger is a freelance contributor to Compliance Week after working for the company for 15 years. She writes on a wide variety of topics, including ethics and compliance, risk management, legal, enforcement, technology, and more.
View full Profile