Daniel Kahn, acting chief of the Department of Justice's Fraud Section, had a wealth of information to share with compliance officers during a panel discussion at Compliance Week's "Financial Crimes Risks, Trends, and Proven Practices" virtual conference Tuesday.
To kick off the discussion, a question was posed to Kahn as to whether companies can expect a return of industry sweeps, which have waned in recent years. Unlike a typical government investigation, an industry sweep is an inquiry that develops out of alleged violations by one company that enforcement agencies suspect may reflect an industry-wide pattern of wrongdoing.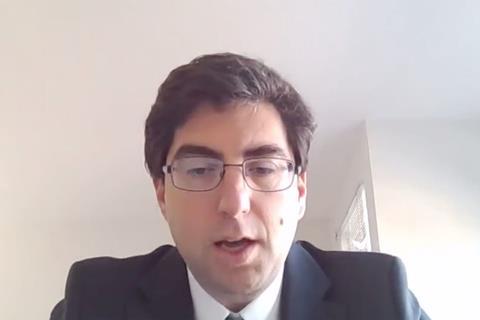 Kahn said that is never the intent of a Justice Department investigation. Often what happens is an investigation "starts small and grows in concentric circles and gets bigger and bigger, not because we're focusing on one industry," he said.
There is always the possibility of finding more than one company engaging in corrupt acts during an investigation. "We are prosecutors. We are enforcers, so we follow the evidence," Kahn said. "Oftentimes when you follow the evidence in one direction, it leads to a number of other companies as well."
Anti-bribery vs. accounting provisions
Kahn also discussed the anti-bribery and books-and-records provisions of the Foreign Corrupt Practices Act (FCPA) and how the agency evaluates the two. Traditionally, anti-bribery has been a key focus of the FCPA, but it also includes accounting provisions requiring U.S. issuers to maintain accurate books and records.
Some critics have claimed the Justice Department has taken a strict liability approach, that prosecutors will use any books-and-records violation or deficiency to leverage a criminal resolution. In response, Kahn said, "We don't resolve with companies unless we can prove they're guilty beyond a reasonable doubt. Period. We're certainly not looking to extort companies. We either have the evidence or we don't."
Regarding the FCPA accounting provisions, more generally, Kahn said what's important to understand is "the DOJ has to prove a 'knowing and willful' violation of the books-and-records provisions or internal accounting provisions. What that means is that we need to prove that the company was acting knowing it was unlawful."
Another point worth mentioning, Kahn said, is the word "accounting" in the internal accounting controls provisions has gotten a little bit lost over time. While internal controls and compliance overlap in many ways, one doesn't necessarily relate to the other. So, you can have a deficient compliance program and still not necessarily have a violation of internal accounting provisions, Kahn said.
"We certainly look at companies' compliance programs for a whole variety of reasons," Kahn added. "We have certainly tried very hard over a number of years now to really focus on that nuanced difference."
"Is there a COVID pass for misconduct? The answer is no."

Daniel Kahn, Acting Chief, Fraud Section, Department of Justice
Evaluating compliance programs
Another topic of discussion is what the Justice Department is doing to doing to invest in, and retain, its compliance expertise. "The importance of compliance obviously can't be overstated," Kahn said.
The Justice Department evaluates compliance for several reasons—including in determining whether there should be a resolution in the first place and what that resolution should look like; in determining a fine; and whether to impose a monitor, for example. "Compliance also plays an important part in our investigation in determining whether there was misconduct, because, frankly, the compliance program often gives a road map and footprint into what the crime actually was," Kahn said.
He also said the Justice Department is "always looking for ways to better understand compliance and better incentivize compliance," including hiring individuals with compliance expertise. As part of that effort, the agency's Evaluation of Corporate Compliance Program guidance has been revised over time in response to feedback from the compliance community. "We're always trying to grow in this area, and hopefully that shows," Kahn said.
A look ahead
As far as what to anticipate moving forward from the Justice Department's perspective, continued trends will include increased cooperation across foreign authorities, increased multi-jurisdictional resolutions, and a strong focus on individuals. As far as a more recent trend companies should expect to see in the coming years, Kahn cited "the use of data both to detect and investigate cases."
A final important point Kahn made is not to expect the Justice Department to be lenient on companies that engage in misconduct just because of the pandemic. "Is there a COVID pass for misconduct? The answer is no," he said.
What the Justice Department does not want to see is budget cuts to compliance because it is seen as a cost center. The decision should be risk-based. "If that means not cutting compliance at all or cutting it in a way that is thoughtful and smart, those are the things we're going to be evaluating when looking at a company's compliance program," Kahn said. "It's hard to imagine a scenario where we would say, 'Because there was a pandemic, we're going to consider that to be a mitigating circumstance for the crime itself.'"

Jaclyn Jaeger is a freelance contributor to Compliance Week after working for the company for 15 years. She writes on a wide variety of topics, including ethics and compliance, risk management, legal, enforcement, technology, and more.
View full Profile