The Financial Action Task Force (FATF) on Friday added four new jurisdictions to its "grey list" focused on areas subject to increased monitoring for deficiencies in fighting financial crime.
Haiti, Malta, the Philippines, and South Sudan were each included as part of an update acknowledging jurisdictions working with the FATF to improve the countering of money laundering, terrorist financing, and proliferation financing.
"The FATF does not call for the application of enhanced due diligence measures to be applied to these jurisdictions, but encourages its members and all jurisdictions to take into account the information presented … in their risk analysis," the intergovernmental organization stated.
The FATF simultaneously announced the removal of Ghana from its list following a progress review conducted since February.
"Ghana has strengthened the effectiveness of its AML/CFT (anti-money laundering/combating the financing of terrorism) regime and addressed related technical deficiencies to meet the commitments in its action plan regarding the strategic deficiencies that the FATF identified in October 2018," the organization stated.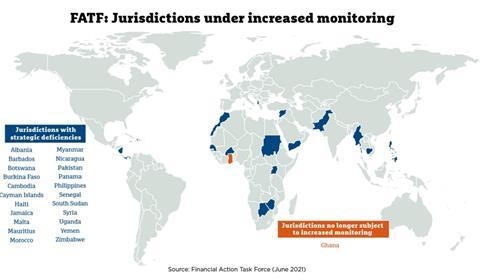 Each of the four new jurisdictions added this month have been tasked with improving their AML/CFT controls. Goals for each country run the gamut, including addressing technical deficiencies that impede the implementation of AML/CFT preventative measures (Haiti), continuing to demonstrate that beneficial ownership information is accurate (Malta), demonstrating that supervisors are using AML/CFT controls to mitigate risks associated with casino junkets (the Philippines), and designating an authority/authorities in charge of coordinating national ML/TF risk assessments (South Sudan).
Overall, 22 jurisdictions currently comprise the FATF's list. Among its updates, the organization noted Pakistan has made "significant progress," completing 26 of its 27 items assigned as part of its 2018 action plan.

Kyle Brasseur is Editor in Chief of Compliance Week. His background includes expertise in user personalization with ESPN.com.
View full Profile