The era of shareholder activism extends into year 2020, forecasts a new study on shareholder voting by the Conference Board, a corporate think tank. The agency released the study, "Proxy Voting Analytics (2016-2019) and 2020 Season Preview," in collaboration with the Rutgers Center for Corporate Law and Governance, leadership advisory firm Russell Reynolds Associates, and data analytics firm ESGAUGE.
The study, which reviewed proxy voting data of corporations registered with the Securities and Exchange Commission that held their annual shareholder meetings between January and June 2019 and are on the Russell 3000 Index, also finds investors are showing an increased interest in board composition—particularly diversity—and in overall pay between men and women at publicly traded companies. In addition, notes the report, shareholder proposals regarding disclosure on corporate political activity are likely to spike in the upcoming election year.
The "proxy ballet" between corporations and investors "has finally reached maturity," said Matteo Gatti, a professor at Rutgers Law School, at the time the report was announced. More focused proposals by shareholders, the social media campaigns they conduct, and a broader focus on social and environmental issues "point to a better use of the shareholder proposal device and a more sophisticated dialogue between stakeholders," Gatti said.
More learned shareholders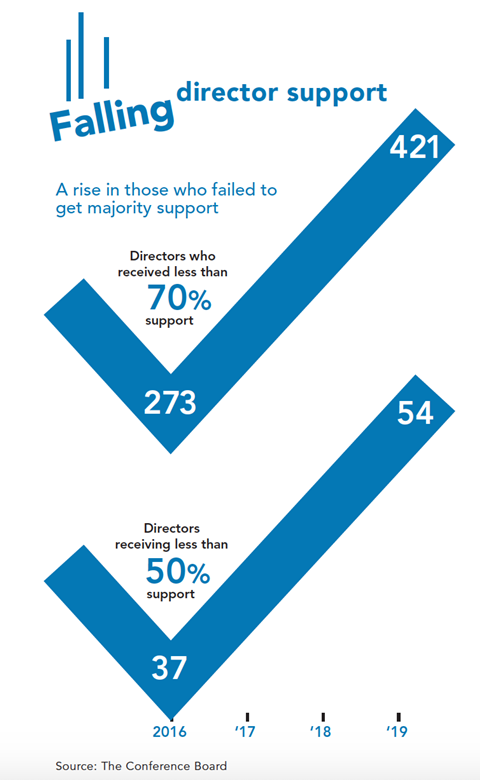 Interestingly, the volume of shareholder proposals is down 30 percent from 2010, the study finds. While shareholders do still use proposals to pursue social and environmental policy goals, they have also found other means to foster change such as through "just vote no" campaigns in which shareholders urge others to vote against management proposals or to withhold votes at a director election.
The number of shareholder proposals from nonfinancial organizations like People for the Ethical Treatment of Animals and the National Center for Public Policy Research increased in 2019—rising to 89 proposals this year, up from 59 proposals in 2018.
The number of hedge fund proposals decreased in 2019, dropping to 8 from 18 in 2018 and 39 back in 2014. The most common hedge fund-sponsored proposals involved a request that a board "break up the company or divest it of specific noncore assets, engage a financial adviser to evaluate a business combination, or use dividends," according to the report.
Forget rubberstamp approval
Shareholders are paying closer attention to the composition of corporate boards. The number of directors receiving less than 50 percent of votes rose from 37 in 2016 to 54 in 2019.
These numbers, while small overall, nevertheless are "part of a new upward trend" that "reflects some large institutions intensifying their scrutiny of board composition," said Matteo Tonello, managing director of ESG Research at The Conference Board and the author of the report, in a press release announcing its publication.
For example, the California Public Employees' Retirement System, the largest public pension fund in the United States by volume of managed assets, identified concerns about diversity and about directors serving on multiple boards as factors impacting its decisions to vote against some incumbents, the study noted. In addition, the New York City Comptroller in the fall of 2019 called for companies to incorporate diversity into their searches for new board members, the report noted.
"The analysis points to ever-growing scrutiny over board composition," said Justus O'Brien, co-lead of the Russell Reynolds board, at the time the report was announced. The study's results suggest "the need to periodically evaluate director skill sets and adopt refreshment strategies as needed," he continued.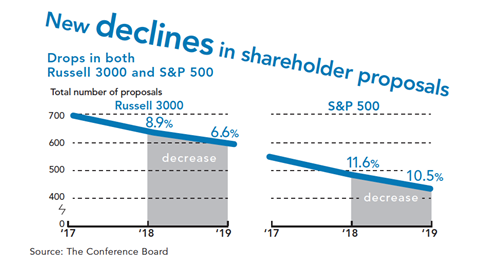 The boards of smaller publicly traded companies have not escaped investor interest, the study also found.
About that pay gap between men and women
This year, Amazon, American Express, Intel, and Facebook all faced shareholder resolutions on gender pay equity, the study found. Although none of the resolutions passed, some organizations such as Citibank opted to disclose pay gaps. According to the study, female employees at Citibank earn 71 percent of the salary earned by male colleagues.
Whether companies opt to "publicize their findings or not," they should "consider gathering accurate internal data on this issue and what steps to take in light of the findings," the report recommends.
From opioids to presidential candidates
Also on investors' radar are social and environmental issues ranging from climate change policy to human rights concerns in the supply chain to political contributions and disclosure of business risks stemming from the opioid addiction crisis, notes the study. As the United States enters a presidential election year, political contributions may garner an extra dose of scrutiny.
"In the months preceding the next presidential election, companies may witness a record number of shareholder proposals and engagement efforts on the disclosure of political activities, including monetary contributions to campaigns and lobbying," maintained Matthew Goforth, vice president of corporate solutions at ESGAUGE, in a press release.
Lori Tripoli is a writer based in the greater New York City area who focuses on legal and regulatory issues.
Websites
We are not responsible for the content of external sites