While managing the coronavirus outbreak on Diamond Princess in Asia, Carnival received more bad news: The virus had infected Grand Princess off the West Coast of the United States.
Grand Princess set sail on a round-trip itinerary to Mexico on Feb. 11 and to Hawaii on Feb. 21, with many of the same crew and 68 of the same passengers aboard both voyages. On March 4, California health officials reported the COVID-19-related death of a passenger from the former voyage. Princess confirmed an outbreak aboard the subsequent trip 48 hours later. The ship remained about 50 miles off the coast of San Francisco for three days, and disembarkation began in the port of Oakland on March 9.
In the span of two weeks from Compliance Week's visit to Carnival headquarters, the number of COVID-19 cases outside of China had increased 13-fold. The number of infected countries had tripled.
On March 11, the World Health Organization (WHO) declared a pandemic.
The cruise industry changed quickly after that.
First, Carnival's Princess brand announced a 60-day pause of its global ship operations on March 12. The next day, the industry trade group Cruise Lines International Association made an announcement: All affiliated ocean-going cruise lines would voluntarily suspend cruise ship operations from U.S. ports for 30 days—which included all of Carnival's nine brands. Then, on March 14, U.S. Centers for Disease Control and Prevention Director Dr. Robert Redfield issued a No Sail Order specifically applying to cruise lines or ships that did not voluntarily suspend operations the prior day.
Within a mere 72 hours after the pandemic had been declared, the cruise line industry was officially in layup, meaning guest operations were on pause. Still, it would be weeks before every cruise ship at sea returned to port. For Carnival, that day arrived April 21 with the docking of Costa Deliziosa, a vessel on a round-the-world voyage that began Jan. 5.
Carnival's role in the virus's spread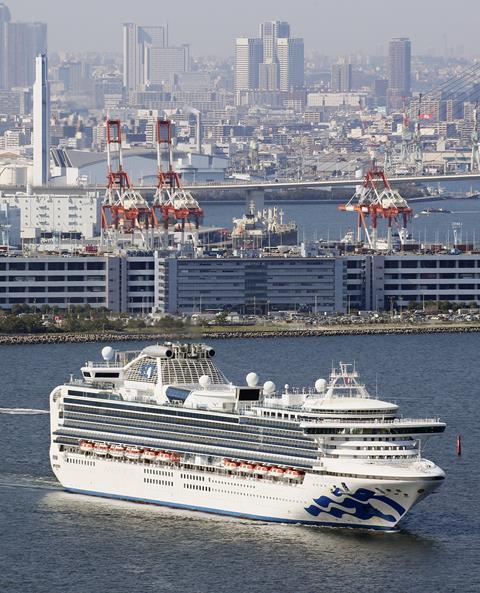 Seven weeks had transpired between when the first known passenger tested positive for coronavirus aboard Diamond Princess and when Carnival voluntarily suspended all cruise ship operations. The interlude was more than enough time for the virus to worm its way into Carnival's fleet. Damage had been done, and it was vast.
Allegations about Carnival's culpability in spreading the virus across the globe were widely played out in the media. The Wall Street Journal went as far as alleging Carnival "had ample evidence to believe their fleet of luxury liners were incubators for the new coronavirus" and yet "largely continued full steam ahead." The investigation called out seven vessels in Carnival's fleet that completed voyages in the early months of 2020, particularly in late February and early March, when emerging knowledge of the virus swirled feverishly:
Diamond Princess (Jan. 20-Feb. 3)
Grand Princess (Feb. 11-March 7)
Costa Luminosa (Feb. 24-March 19)
Carnival Imagination (March 5-8)
Crown Princess (March 6-16)
Zaandam (March 7-Apr. 2)
Ruby Princess (March 8-19)
In addition, the CDC lists several other Carnival vessels affected by COVID-19 in the same timeframe:
Carnival Vista (Feb. 15-March 7)
Carnival Valor (Feb. 29-March 14)
Coral Princess (March 5-April 4)
Carnival Freedom (March 8-15)
As late as March 7, WHO was referring to COVID-19 as an epidemic. The word pandemic reared its head 48 hours later, when the Global Preparedness Monitoring Board, an independent high-level body established by WHO and the World Bank, referred to it as an increasingly probable reality.
Although Carnival suspended cruise ship operations four days later, any cruise that set sail in the days and hours leading up to March 13 carried on. That sliver of time appears increasingly problematic in hindsight, especially when implementation of added health and safety measures, such as rigorous screening protocols and enhanced sanitation measures, took a few weeks to get rolled out.
So why did Carnival wait until March 13 to pause operations? Why not sooner?
The cruise industry has been widely criticized, but the crises faced by these various ships have been compounded by governmental failures to allow cruise ships to berth and to provide or allow immediate and proper screening and medical care for passengers and crews.

Court-Appointed Monitor report from March
Carnival Chief Ethics and Compliance Officer Peter Anderson provided context in hindsight. "It's important to note that the World Health Organization had not issued any travel advisory at the time, and the CDC travel advisory, according to public comments by the Coronavirus Taskforce, Vice President [Mike] Pence, and Dr. [Anthony] Fauci, was focused on 'individuals with underlying conditions,'" explained Anderson.
Just like the government and medical authorities, Carnival was responding in real time to uncertain and rapidly changing information.
"At the time, the U.S. and much of the world were largely operating in a normal fashion with the exception of China. The general view in the U.S. was that COVID-19 was largely being confined to China and parts of Asia, but it had not infiltrated the U.S.," Anderson said.
Carnival began canceling cruises in China and throughout Asia as early as Jan. 25, when widespread knowledge of the virus was still scant. Then the company proceeded with what at the time felt like sufficient caution: Carnival purchased hand-held equipment to perform temperature checks and searched extensively to begin populating its ships with COVID-19 tests and N-95 masks, according to Anderson. Plus, the company already had medical facilities on its ships with doctors and medical staff.
Matters moved quickly, but Carnival reacted thoughtfully. Then, when the government and medical authorities sounded the full alarm, Carnival responded accordingly.
"We voluntarily paused our cruise operations for the first time in history, well before airlines and theme parks, as well as before most other social gathering venues in the U.S. like sporting events, casinos, bars, restaurants, and schools that were ultimately forced to close by the government days later," added Anderson.
Focus remains on compliance amid pandemic
One month into stopping its operations, Carnival CEO Arnold Donald addressed the press about the company's commitment to honoring its "highest responsibilities and top priorities." Donald listed them as "compliance; environmental protection; and the health, safety, and wellbeing of guests, the people in the places we go to, and, of course, our crew," in an April 14 interview on CNBC.
Donald's rhetoric about the importance of compliance is certainly on point with the mission of the company's Ethics and Compliance department, especially in light of the five-year probation agreement and the environmental compliance plan (ECP). In fact, Carnival's court-appointed monitor (CAM) discussed the cruise line's response to COVID-19 in a March 2020 quarterly report. Notably, the report discloses that by March 9, the CAM team and third-party auditor began conducting all meetings and interviews with shoreside personnel via telephone and videoconference.
"These decisions were based on a belief—shared by the CAM, the Court, and the Company—that safety and health are the most important priorities ahead of all others," the CAM's report states.
Thus, the company was concerned enough for the safety and health of its shoreside personnel to discontinue face-to-face meetings by March 9, yet the pause on cruise ship operations didn't arrive for another four days.
Still, Carnival's management of coronavirus was ancillary to the CAM's report; its true purpose was to offer observations and updates on Carnival's capabilities to meet the objectives of the environmental compliance plan. The coronavirus had quickly formed into an almighty storm for the company, but the ECP had been a tempest for years.
The CAM's report appeared to offer some leniency to Carnival in light of the second storm by highlighting how the company's probation obligations had been impacted by the coronavirus beyond their control. The report states:
In the first part of March, it seemed as though cruise ships had become the symbol of the coronavirus. Day after day, in all forms of media, stories about the coronavirus were attached to pictures of cruise ships, particularly ships operated by Princess Cruise Lines. … The cruise industry has been widely criticized, but the crises faced by these various ships have been compounded by governmental failures to allow cruise ships to berth and to provide or allow immediate and proper screening and medical care for passengers and crews.
The CAM's report conceded that the coronavirus undermined the company's ability to operate in compliance with health, safety, and environmental protection requirements. When someone onboard a Carnival vessel was confirmed to have COVID-19, and the ship was forced to remain at sea or quarantined in port, the ship's ability to operate safely and compliantly was jeopardized. The report states:
Being away from port places enhanced operational demands on a ship, and makes it more difficult to access medical personnel, treatment, and supplies (including medication, test kits, cleaning/sanitizing supplies, and personal protective equipment); food; fuel; waste vendors for the offload of wastes generated onboard, including medical and hazardous wastes; and other provisions necessary for the safe and compliant operation of the ship.
Thus, the CAM acknowledged in March 2020 that Carnival's humanitarian efforts aboard COVID-19-infected ships were consistent with obligations to maintain safe and compliant operations subject to the court's oversight. The report also quotes a message Donald sent out to the company on March 12. The CEO directed brand leaders "to reduce or eliminate non-critical cash expenditures, but of course never cutting anything that would impact compliant, environmentally sound and safe operations."

Aly McDevitt is Data & Research Journalist at Compliance Week. She has a background in education and college consulting. Prior to teaching, she was an editor/author at Thomson Reuters.
Compliance Week presents: 'A Tale of Two Storms'
1

2

3

Currently reading

Chapter 2: Carnival put to the test as early COVID-19 hotspot

4

5

6

7