Putting people at the center of the Dieselgate monitorship was baked into Volkswagen's vision for the project management office (PMO), also known as the central coordination/monitor liaison office. Dr. Thomas Meiers, Volkswagen's chief coordinator, headed up the PMO through the duration of the monitorship.
Board Member Hiltrud Werner and Meiers decided early on that a neutral office was needed to coordinate and steer all the different departments through the monitorship. The sheer amount of paper passing between the two sides over three years was vast: There were more than a million pages delivered and discussed with the monitor team and more than 8,000 meetings.
"If you have quite a number of meetings running in parallel, it sounds small, but at the end of the day, it's really big. So, there was a lot of purely administrative stuff that needed to be done. You need to have people who love to organize that, because that's not always easy," Meiers said.
That said, the PMO was much more than a central post office. The genius of the PMO was the caliber of talent it drew together from the far reaches of the organization. The majority of the staff came from inside the company. They were all senior managers who moved to Wolfsburg from different brands and locations all over the world and put their own careers on hold in the interest of the company, according to Werner.
"These were people who were really selfless," Werner said of the PMO team. "They were people who had been managing departments before … and now they were sitting in the PMO all more or less equal, just getting things done, working through the agenda without ranks."
Werner and Meiers gathered a cross-functional team of 80 people from first, second, and third lines of defense areas: engineering, environmental management, procurement, sales, and finance (first line); risk, compliance, quality management, and human resources (second); and internal audit (third). It wasn't about projecting a certain strength in numbers. It was about providing the monitor team with all the resources they could ever need. In particular, Volkswagen wanted to connect the monitor team with people who had the relevant information "at their fingertips," explained Werner.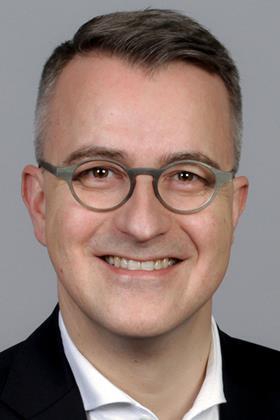 "With a monitorship, you're always working with one resource that is limited, which is time," explained Meiers. "It was not only limited to the company but also to the monitor, because there were milestones the monitor wanted to reach in his respective [monitor/auditor] reports."
The organizational structure of the PMO mirrored the monitor team's work streams. If Larry Thompson introduced 10 topics he wanted to work on, on any given day, Meiers delegated his team members according to those 10 topics. Each monitor team member had a counterpart, called a "coordination peer." This was another way Volkswagen strove to strengthen lines of communication with the monitor team: Everyone always knew who to contact.
It was quite effective, Scott Marrah, former deputy monitor for anti-fraud, ethics, and compliance, said. "They found really experienced, knowledgeable people on the PMO team to support us. They knew the company. They knew how to get things figured out," Marrah reflected.
The former deputy monitor also praised the work of his own coordination peer, Martin Turinsky. "My peer was from Audi, and my co-deputy monitor's peer was from Volkswagen. They all worked together, so there was a lot of collaboration across the brands and across the company to make sure we got what we needed," Marrah said.
Given the leveling of authority and the diverse makeup of the PMO team, there was bound to be friction—at least at the start.
Meiers admitted the PMO staff felt the "clash of subcultures" when they initially started working together. However, there were elements that helped them gel. For one, they were always "running," as Meiers put it. They had daily morning calls where 50-60 people dialed in to discuss hot topics for the day, the week, the next week, and beyond. There was a lot of fast-paced interaction and a lot of successive deadlines and milestones. Discord was simply not something they had time to indulge.
The PMO staff also shared an interest in experiencing the monitorship—welcoming it rather than cowering from it. That dynamism united them, too.
"The different departments today are working much closer than they did before. This doesn't mean everybody was working in silos before. … Today, the cross-departmental cooperation is much higher, I would say. People meet more often. They have more calls together. They share more experiences together," Meiers said.
The code of conduct
One of the earliest milestones of the Volkswagen monitorship was its revamped code of conduct (CoC). For the first time in company history, Volkswagen had one CoC for all employees across all 12 brands and all companies. It was the automaker's first stable anchor for its culture.
"The Diesel misconduct is part of our history. We cannot deny it. We don't want to deny it."

Torben Oeder, Chief Operating Officer at Integrity and Legal Affairs, Volkswagen
Under the consent decrees, the Volkswagen defendants were required to ensure their respective corporate CoCs included provisions regarding environmental protection and responsibility for compliance by Oct. 10, 2017. The company also had to require all new employees to attend training regarding the CoC by that date, according to the U.S. Department of Justice. Volkswagen took this opportunity to create a CoC with uniform content across all brands, working closely with the Works Council (akin to workers' union) in the process. It was developed incredibly quickly—in four months—and distributed in hard copy form to all 640,000 employees in fall 2017.
Was the turnaround time too short in retrospect?
"If we had to do it again, of course I would prefer 6 to 8 months. Not for the development [of the CoC], but for a worldwide roadshow—to help people understand the draft and give a final say. … I think it is a pretty good document. I still live by it. I still like it. I still trust that we have done a good job. But the more buy-in you have for a CoC from your workforce, the easier the rollout is later on," Werner reflected.
The head of integrity and legal affairs also believes it's important for a CoC to include case studies: examples of what something means and how employees should act in certain situations.
"That has given our CoC a great deal of credit, because we have examples for each and every element," Werner said.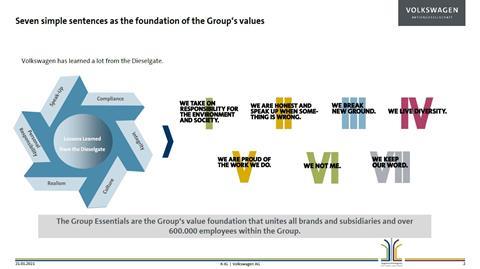 In the third annual auditor report, the independent compliance auditor (Thompson) mentioned the content of the CoC training was updated to include the topic of integrity and to highlight certain information within existing topics, including the addition of a "Dieselgate Lessons Learned" section to the "VW Group Essentials" chapter.
In the second year of the monitorship, Thompson urged Volkswagen to develop Group Essentials: simple sentences or sayings representing the foundation of the company's core values. This was considered a best practice at PepsiCo, where he served as general counsel for nearly a decade. Under his guidance, Volkswagen came up with seven (see above).
As part of the integrity campaign to redefine a common corporate culture, the company elevated everyday voices of Volkswagen employees to express their meanings behind the words in a Youtube video.
Chief of Staff and Chief Operating Officer at Integrity and Legal Affairs Torben Oeder described the six "Dieselgate Lessons Learned" section of the CoC training as such:
Compliance with statutory regulations and internal rules is a top priority. ("This is just the basis," Oeder said.)
Integrity. Volkswagen employees have the right to voice concerns about their superiors' decision making.
Culture. The company will not tolerate a culture of fear.
Realism. Tasks have to be realistic within the bounds of risks and challenges.
Personal responsibility. Employees are responsible for their own actions.
Speak up. Employees must speak up if they feel unable to meet their targets.
It's not only new employees who receive mandatory training on the CoC, Oeder clarified. Each and every employee of Volkswagen—and all the board members—received training on the Dieselgate lessons.
"The Diesel misconduct is part of our history. We cannot deny it. We don't want to deny it," Oeder said.
Together4Integrity
When asked whether the monitorship was good for instilling best practices for integrity, Werner pointed to Volkswagen's integrity campaign, Together4Integrity (T4I), as a shining example. The T4I program began officially in 2018 under Werner's guidance (though the first integrity activities date back to 2016 in the wake of the Dieselgate scandal) and will continue through 2025—five years after the monitorship wrapped.
In a sense, T4I is the direct result of a former, failed Volkswagen campaign: "Strategy 2018."
"We're such a huge corporation. On the topics of corporate culture, integrity, and compliance, I believe it only works when you are present—when people see you, touch you, talk with you, and interact with you."

Hiltrud Werner, Head of Integrity and Legal Affairs, Volkswagen
Former Chairman of the Supervisory Board Dr. Ferdinand Piëch and former Chairman of the Board of Management (CEO) Martin Winterkorn co-developed Strategy 2018 as early as 2008. Its aim was to make Volkswagen "the most successful and fascinating automaker in the world by 2018," according to a 2011 company management report.
During this timeframe where corporate governance was aggressively focused on growing Volkswagen's market share, "the pressure to increase sales became unbearable," according to Bertel Schmitt, a former Volkswagen advertising executive interviewed in Netflix's "Dirty Money" documentary. The Alex Gibney-directed episode, "Hard NOx," proposes the Dieselgate scandal, which dates back to (as early as) 2008 and came to a head in 2015, stemmed from the tunnel vision of Strategy 2018.
"Under pressure and when people feel fear, they might do things you don't actually want them to do," said Walter Groth in the episode. Groth was a consultant on corporate culture who worked for 24 years as an executive for Volkswagen.
The T4I program rose from the ashes of Strategy 2018. The new program took integrity out of the backseat, where it had been relegated in the former era, and placed it in the driver's seat. The major corporate objective became "act[ing] as a model of integrity … throughout the Group across all brands," VW's Website states. A strong tone from the top had to be set and upheld in earnest if the objective was to take hold with employees accustomed to hearing a song of a different tune. Thus, strengthening corporate governance on integrity and compliance became imperative.
"We have set ourselves the objective of the key performance indicators of integrity and compliance having the same strategic and operational priority as, for example, sales revenue, profit, product quality or employer attractiveness," the T4I Website reads.
Since its inception, T4I has systematically brought compliance and integrity to the fore in the Volkswagen workforce of 670,000 employees.
The program was built on two main pillars:
Designing processes and influencing them positively; and
Promoting inspiration and motivation of employees to do the right thing out of conviction.
Part of the reason T4I has a seven-year runway is because it is a massive undertaking. The program is to be rolled out to nearly 900 business units across the organization. The core content of T4I is more than 100 packages of measures relating to 11 key initiatives, such as environmental compliance, the whistleblower system, anti-corruption, and more. Integrity is its own initiative as well.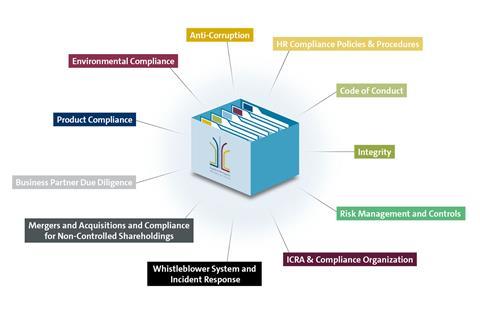 "This is intended to create consistently robust systems and processes for avoiding compliance and integrity risks in all areas of activity—and should thus also eliminate the causes that fostered serious misconduct in the past," the T4I Website continues.
Chief Integrity Officer Tobias Heine leads the T4I program's efforts and reports directly to Werner, who oversees the program's strategic goals. Heine's job (with the support of his staff) is to operationalize these goals.
One of Heine's primary responsibilities is to roll out the integrity and compliance management system throughout the Volkswagen group. That is one of the strategic, bird's eye goals (and also the first pillar). Heine has to identify practical approaches operationally for making this new system applicable to an enterprise-wide organization and also to smaller-sized organizations, since Volkswagen has many small entities under its umbrella.
"We don't believe one size fits all," Heine asserted, pointing to multiple layers of brand identity. "We have influence on Volkswagen Group [and] very strong brands with their own identities. Below the brands, we have subsidiaries that have their own identities, plus the identity of the brand, while also being a part of Volkswagen Group. I really believe that [T4I] is not going to work when we have just another central program rolled out like a lawn mower."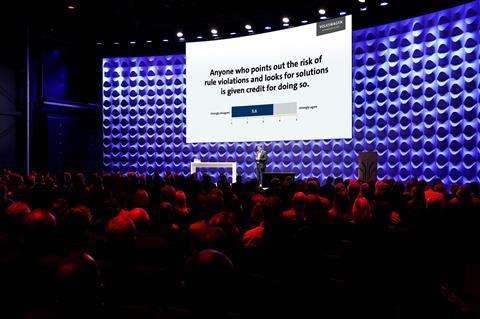 Heine approached customization in two ways. The first step was to conduct expert interviews with Volkswagen's second-line leaders such as Group Chief Compliance Officer Kurt Michels in general compliance, as well as others in specific compliance areas such as HR, product, and environmental, to gain an understanding of what has already been implemented at each entity in those respective functions. Based on those conversations, Heine's team created individual project plans that would close any gaps in compliance processes.
Heine's second step was to frame T4I as a local program, where on-site management drove the Group's central initiatives but were empowered to add "local flavor," as Heine put it. This was crucial in order to resonate with the culture on the ground and maximize buy-in.
"I don't know whether an entity in Mexico or Argentina would know my name," Heine pointed out. "Of course, they know [CEO Dr. Herbert Diess], but in their working life reality, it's local management whom they know to be responsible."
Ramp-up sessions were held on-site to inform local management what T4I was, why it was important, and how they—local managers—were empowered to bring it to life. The rollout was half centralized, half decentralized by design. As an example, Heine's team proposed an array of 13-14 different integrity activities to be carried out by local management. From there, local managers could choose the option they liked best and execute it with their group.
Some of the options were:
Book my Boss: A day where the manager is "hired" to do an employee's work for the day.
Breakfast. A manager can offer a breakfast banquet to his employees. During the meal, the manager engages employees in a discussion on prescribed integrity topics.
Happy Meeting/Wall. A manager can choose to elevate positivity in the office by encouraging employees to share something that makes them happy: their child, their cat, etc. This activity can be couched in a "Happy Meeting" format or mounted on a literal "Happy Wall."
In all cases, the activities were intended to "reduce the distance of power [between managers and staff], get into an exchange, … and gain a better understanding of the other one's island," Heine said.
Still, soft skills are not something that necessarily comes easily to a lot of Volkswagen employees, according to Volkswagen Group of America Chief Ethics and Compliance Officer (CECO) Stephanie Davis.
"I work for a company that's basically an engineering company, right? It's a car company—it's engineering. Soft skills … they've never ever considered them. And they are much more necessary to their day-to-day jobs now," Davis said at Compliance Week's National Conference in 2019, when Volkswagen was over halfway into the monitorship.
Now, in 2021, Heine seemed to echo Davis's remark: "Volkswagen is a very rational organization. We are engineers and computer scientists, and the lines that we are using are always regular, straight." As such, some "out of the box" bonding activities were hits; others were misses. "Some people like [them], some people don't. It's always like this," Heine said.
Nonetheless, the importance of creating an atmosphere of open exchange, one that is conducive to authentic discussion and reception, cannot be understated—particularly when the topic is, in and of itself, about speaking up in the workplace.
"The matter of the speak-up culture is one topic within our program that we are trying to systematically bring into the organization," Heine said.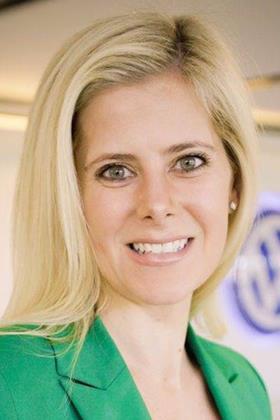 Davis was responsible for organizing annual integrity workshops at Volkswagen Group of America (GOA) in Herndon, Va. The CECO spoke fondly of it in 2019: "This year, we took a look at our organization. It's beaten up. It's got a lot of different stuff going on. So, we said, 'OK, we're going to do a game night. We're going to do pub games, and we're going to feed you beer, and we're also going to talk about myths about the whistleblower system and how to create that speak up culture,'" Davis explained at the time. "It's going phenomenally well."
Of course, in 2020, the integrity workshops pivoted to a virtual format due to the pandemic. Davis described Volkswagen GOA's integrity workshop last year: "We asked whistleblower- and integrity-related questions and also questions about the company. … Again, just trying to make it a bit more fun. It's a really serious topic, but if it's scary, then people aren't going to engage. Demystifying it is the work."
The second pillar of T4I—inspiring Volkswagen employees to do the right thing for the right reasons—gets at Davis's point. Another strategic goal of the program is reaching people—raising awareness and motivating them. To this end, T4I holds live events at every business unit where the integrity and compliance management system is being implemented (which, ultimately, will be everywhere in Volkswagen Group).
Werner spoke to the importance of this strategic goal for T4I. "We're such a huge corporation. On the topics of corporate culture, integrity, and compliance, I believe it only works when you are present—when people see you, touch you, talk with you, and interact with you," Werner said.
Since 2017, Werner and Heine have engaged in dialogue formats with more than 55,000 Volkswagen employees. So far, the T4I program has reached more than 550,000 of Volkswagen's 670,000 employees across the 150 countries in which the company operates, providing the central momentum for local takeoff.
"You have these kinds of dynamics that develop from there, where people start with their own initiatives and get ready to show that they have understood," Werner explained. "In Brazil, it looks a little different than in China, Russia, or Czech Republic, but the tone and the emphasis and the message behind it are always the same."

Aly McDevitt is Data & Research Journalist at Compliance Week. She has a background in education and college consulting. Prior to teaching, she was an editor/author at Thomson Reuters.
CW presents: 'Coming Clean: Volkswagen's Dieselgate scandal and compliance monitorship'
1

2

3

4

Currently reading

Chapter 3: Operationalizing the Dieselgate monitorship

5

6