As the severity of COVID-19 came into focus worldwide, the novel coronavirus cast a pall over cruise ships everywhere. Much like other social gathering venues, the cruise industry came to an unceremonious halt.
But that doesn't mean Carnival placed 105 ships in dry dock (a dock that can be kept dry for use during the construction and reparation of ships). The vast majority of Carnival's fleet will remain in layup for many months. Unlike a ship in dry dock, a vessel in layup sails daily.
"People think that layup is the equivalent of having a dingy and putting it on the rack and you're done," Carnival Chief Ethics and Compliance Officer Peter Anderson mused. "These ships are meant to be constantly sailing, and you constantly have to maintain them."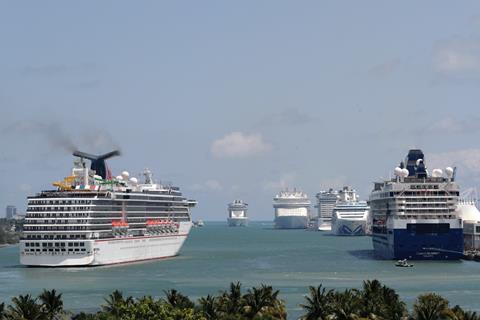 In the cruise industry, the term layup can be broken into two broad categories: hot and cold. In hot layup, a ship's machinery remains in operation; her system is maintained so when the time comes for the market to reopen and for normal travel to resume, she is guest-ready within two weeks. A ship in cold layup is truly out of commission; she is put in storage in a harbor, her systems are turned off, and staffing has been reduced to bare bones. It will be months before she's back in service.
Most of Carnival's fleet is in hot layup. Why? Because it's more economical than cold layup. Sure, the cost of personnel plummets when a ship is in cold layup, but the price of recommission is far steeper and the windup takes much longer than a ship in hot layup, whose system has been steadily maintained.
"It's not good for the systems not to be running in a normal resonance. All the fuel lines can get clogged. Your air quality, your HVAC systems [are impacted]. You need to maintain the technology, the engine room. There's a misconception that when you're not sailing, you don't need to do much," said Anderson.
Cold layup is a suitable option when a ship operator wants to take a vessel out of service for a longer duration of time, such as more than a year. Carnival's outlook is more cautiously optimistic than that.
In March, the company voluntarily suspended operations for six months. However, until a COVID-19 vaccine becomes available—and experts are currently looking at mid-2021—businesses built on social gathering, like the cruise industry, will suffer. For Carnival, prior to taking significant cash preservation measures, the overall expense of maintaining 105 vessels reaches a staggering $900 million per month, according to Anderson. With little revenue coming in, the company is facing a grim financial shortfall.
COVID-19 crisis management: Four priorities
When the pandemic hit, businesses around the world felt the need for speed when it came to crisis management. The shuttered cruise industry felt that urgency almost immediately. At Carnival, the executive leadership team identified a number of priorities, according to Anderson:
Conserving cash;
Securing new financing;
Getting shipboard personnel home safely; and
Reinforcing the importance of systemic compliance.
The company set an aggressive goal of cutting down expenses by 60 percent: from $900 million to $350 million per month.
"Like every major corporation, we had layoffs and we had furloughs. We had to look at what was not essential over the next indeterminate amount of time," said Anderson. The Ethics and Compliance (E&C) department lost eight people, equivalent to 28 percent of the team. Anderson said most other departments lost 50 percent or higher on average. Still, E&C gave up four investigators from the Incident Analysis Group.
The company also sought additional financing.
"As with any compliance-related issues, you don't have to be absolutely certain about any concern before you speak up. The real test is whether something bothers you, or whether you think we are doing something wrong. If that is the case, we want you to let us know."

E&C message to entire Carnival fleet
"We weren't bailed out by the feds like the airlines. Our CFO (David Bernstein) and his team were amazing at getting the funding needed to get a long enough runway to make us viable on the back end," said Anderson.
As previously noted, from an ethics and culture standpoint, another top priority was getting the individuals aboard Carnival's ships home safely—around 92,000 crew members.
"Thanks to the hard work of the brands, and the extraordinary leadership and coordination of our chief maritime officer (Admiral Bill Burke), we successfully repatriated more than 77,000 of our crew members to their respective home countries on our ships, largely without incident. This required our crew members to travel together on our ships for months at a time, which included proof via a negative COVID-19 test before ever being permitted to enter a country," said Anderson.
The company currently requires about 12,500 crew members for continued hot layup, or about 100 crew members per ship in minimum staffing. Now Carnival is at the tail end of its repatriation efforts, with only 1,000 left to repatriate, as of August 2020.
The final priority—the big one for E&C specifically—was reinforcing CEO Arnold Donald's message that nothing, not even a pandemic, should undercut the company's commitment to compliant, environmentally sound, and safe operations.
This was accomplished when Anderson and the health, environmental, safety, and security leaders sent out a message from E&C to the entire fleet:
"Anyone directly involved in the cash preservation planning, as well as anyone it impacts, has an obligation and a duty to speak up if you believe that decisions are being made that threaten or jeopardize our safety, environmental, and compliance commitments. For example, this might include our decisions relating to maintenance, waste management, or the purchasing of spare parts for pollution prevention or safety equipment."
The last thing E&C wanted was a repeat of the situation aboard Caribbean Princess in 2013. The chief engineer, "Broccino Corto," as he was referred to by employees, made environmentally unsound decisions for the sake of frugality, and no one below him—save whistleblower Chris Kaeys—said anything. Now, with the company right-sizing its capital and operating expenses in light of COVID-19's devastation, the pressures of frugality could sway shipboard employees again to resort to covert practices. E&C wanted to nip that possibility in the bud.
"As with any compliance-related issues, you don't have to be absolutely certain about any concern before you speak up. The real test is whether something bothers you, or whether you think we are doing something wrong. If that is the case, we want you to let us know," the E&C message states.
Carnival's 'Pause Priorities Plan'
On April 24, when Carnival had its quarterly status conference regarding progress made on the environmental compliance plan (ECP), everybody was in shock, according to Anderson. The cruise industry had been on pause for a month, and now all other nonessential businesses were suspending operations, too. Restaurants and bars were closed. Universities sent students home, away from their campuses. Children were home; parents were home. By then, the death toll in the United States from the coronavirus had passed 50,000, accounting for about a quarter of worldwide deaths, according to John Hopkins data. The year's turn of events had given everyone whiplash.
The court hearing was held virtually, and the court was accommodating and compassionate, said Anderson. There weren't a lot of sparks or drama, but U.S. District Judge Patricia Seitz did ask a pointed question:
What was the company, E&C in particular, planning to do during the pause to come back stronger when ships returned to service?
Judge Seitz's question prompted Anderson and his colleagues to create a Pause Priorities Plan (PPP)—an interim strategic plan for the E&C program. The 22-page PPP laid out granular short-term goals in the areas of environmental, investigations, culture, and training to maintain momentum and show continued commitment to achieving systemic compliance.
"During this pause in operations, our ships continue to be bound by the Environmental Compliance Plan, terms and conditions of probation, and international, national, and local environmental regulations, including the Marine Environmental Protection Requirements," the PPP states. "Although we are facing new challenges … we will continue to monitor our compliance with all environmental requirements throughout the pause period and make best efforts to find ways to remain in compliance where operationally feasible."
Earlier in April, environmental compliance lead Chris Donald sent a memo providing notice on how the COVID-19 pandemic was impacting the company's ability to comply with certain ECP requirements. Donald drew attention to challenges in training, engineering, and audit and investigation, but he also presented alternative solutions to show the court that the company "wasn't going to sit on its hands and do nothing," as Anderson put it.
Some examples are worth noting. The ECP requires in-person training of both environmental officers and shipboard personnel, so E&C developed virtual training options while social distancing remained necessary. The ECP also requires the company to employ the oil content monitor manufacturer to perform annual testing, but since outside visitors are not presently allowed onboard Carnival's ships, the company is exploring other ways to maintain equipment reliability. The ECP requires court-appointed monitor visits, third-party audits, and ship visits from E&C's leadership team. Since those conditions are another impossibility at this time, E&C is testing remote audit and investigation options.
One might wonder how audits of equipment reliability can be carried out at all when ships aren't cruising at capacity. Will there even be sufficient volume of bilge water to perform the tests while ships aren't cruising as normal?
For a small number of ships in the fleet, there isn't sufficient volume. But because most Carnival ships still cruise daily in hot layup, it's still possible to perform the tests, albeit in an amended mode.
"All the guest-facing or hotel stuff on the ship is like a ghost town, but the crews on the 'deck and tech' (engine room) are still busy. While the various wastes that are generated during a typical cruise are significantly lower, there are still wastes that need to be treated and discharged," Anderson explained.
In the space of a quarter, Carnival secured $6.4 billion in financing and scared up its PPP, but during a July 29 court hearing, Judge Seitz appeared underwhelmed by the company's progress with the ECP.
"I wish we were farther along," she said. "I am concerned with the consistent type of problems that we have that reflect systemic issues rather than just individual issues. How are we ensuring that the company has in place a robust, functioning system so that it can succeed without the training wheels of the court watching everything?"
The prosecutor argued to the court, and Judge Seitz agreed, that Carnival's internal investigations arm had "been a consistent problem long before COVID-19," according to the July 29 court transcript. "It's particularly important when the company's been diagnosed with having a blame culture is [sic] to have meaningful internal investigations," the prosecutor argued.
Sandy Rowlett headed up the Incident Analysis Group for about a year before she left the company in spring 2020. Her replacement, Peter Hutchison, was announced Sept. 16.
"We recognize that the reports themselves, the quality of the reports, have been lacking and we're making measures during the pause to improve those reports," Ellis told the court on July 29.
Anderson promised more concrete deliverables and deadlines.
"I recognize that this is like an aircraft carrier. It's not a motorcycle. It doesn't turn on a dime," Judge Seitz conceded. "But … this is an essential component to achieve the goal that you've set of being the best in the industry, because without it, you have nothing internally to give you reliable information as to what is working and what is not working."
How E&C's pre-pandemic ramp-up helped when COVID-19 hit
When asked whether he would have left his law practice had he known what was in store for Carnival (and the world) in 2020, Anderson's first reaction was to chuckle.
"I wanted to be in the arena, not just on the sidelines as a consultant," he said. "I wanted a front-row seat in crisis management and leadership. At the station of life I'm in now, I will be able to draw on what I learned in these past 10 months. It's been turbo-charged in terms of practical experience."
Carnival's E&C department, in its current incarnation with Anderson at the helm, was born in summer 2019. The novel coronavirus was discovered by December 2019. Those first five months of work reconstructing ethics and compliance at Carnival, building rapport with the court-appointed monitor, digging into the root-cause analyses of shipboard incidents, and trying to faithfully follow the terms of the environmental compliance plan, laid critical groundwork for Carnival's response to the COVID-19 crisis once it rolled in.
"Are there new risks from reduced manning? Are there new environmental threats while we're in port that we didn't anticipate because we've never been in layup like this?' Despite fewer resources, we're still identifying how to make progress."

Peter Anderson, CECO
The pillars and policies put in place in E&C manifested themselves plainly in Carnival's company-wide response to the coronavirus:
Pre-coronavirus, Carnival developed a new corporate vision statement declaring the company's top priorities were safety and health; environmental protection; and compliance.
Amid coronavirus, Carnival maintained an unwavering commitment to its vision statement, illustrated by CEO Arnold Donald's resounding message to personnel, the court, and the public in the spring. Donald continued to emphasize that, in the midst of real financial pressures, the company would not sacrifice those top three priorities. Indeed, in the July 29 court hearing, Judge Seitz commended Donald's supportive tone at the top and his understanding of the importance of continuing to make progress with environmental compliance even as the company confronted unprecedented challenges.
"Fortunately, because of the leadership commitment and the strong messaging behind, 'We're not faltering on these priorities,' we haven't had to change our goals," Anderson echoed.
Pre-coronavirus, Carnival pledged to provide substantial financial resources to support the E&C program, even doubling the number of personnel and the financial plan.
Amid coronavirus, despite the massive cash conservation to save the company, Carnival maintained its financial commitment to E&C. Where other departments shrunk by half, E&C downsized by just over a quarter. And rather than stopping all progress and simply trying to survive, E&C developed its Pause Priorities Plan, which included a pledge to continue purchasing millions of dollars in new bio-digesters and environmental equipment.
Pre-coronavirus, the company created a new compliance risk team within E&C to help develop a risk-based program.
Amid coronavirus, the new compliance risk team is working with other leaders throughout the company to review and assess new and unexpected compliance risks that may arise in this new paradigm and develop controls and mitigation strategies.
"Are there new risks from reduced manning? Are there new environmental threats while we're in port that we didn't anticipate because we've never been in layup like this?' Despite fewer resources, we're still identifying how to make progress," Anderson said.
Pre-coronavirus, the company's compliance training leader, Bridget Potts, was tasked with evaluating the company's existing compliance training programs and to make the necessary improvements.
Amid coronavirus, the team has continued to create online or computer-based courses in lieu of traditional methods of live training courses while CSMART (the Center for Simulator Maritime Training) remains temporarily closed.
Pre-coronavirus, E&C prioritized the need to strengthen the company's corporate culture by demonstrating trust, openness, and care.
Amid coronavirus, the company used its own resources to repatriate crew members, helping to strengthen morale in the midst of the global crisis.
"In the midst of extreme financial pressures, which threatened the very continued existence of the company, the leaders of Carnival Corporation stepped up and committed hundreds of millions of dollars, thousands of person hours, and roughly 50 of our ships to transport our crew back to their home countries and their families," Anderson said.
Indeed, Steve Solow, Carnival's court-appointed monitor, applauded Carnival's herculean feat at the April 24 status conference, telling Judge Seitz that Carnival "showed a tremendous commitment to their employees' well-being and to supporting them at tremendous cost, which they did not in any way hesitate to make, to bear."

Aly McDevitt is Data & Research Journalist at Compliance Week. She has a background in education and college consulting. Prior to teaching, she was an editor/author at Thomson Reuters.
Compliance Week presents: 'A Tale of Two Storms'
1

2

3

4

5

6

Currently reading

Chapter 5: The storms merge

7