Volkswagen Group of America Chief Ethics and Compliance Officer Stephanie Davis said halfway through the monitorship, "We are aware of the fear in our culture right now. That is something we are tackling, but it's not something that fixes overnight."
Now the monitorship is finished. How does one measure whether fear exists in a workplace culture in continuing recovery?
Board Member Hiltrud Werner believes one measure of fear (or lack thereof) can be gleaned from the usage of the company's whistleblower system. "Our whistleblower system is a good way for people to speak out, and because they can also make anonymous tip-offs, no one is left alone. Even if people are under fear to say their name … they can always speak out," Werner said.
Group Chief Compliance Officer Kurt Michels asserted there is a decreased level of fear in the company, as evidenced by the increasing number of whistleblower tips that have included identifying factors. According to Michels, the company received 2,800 whistleblower tips in 2020, and 90 percent of them were non-anonymous.
Werner confirmed this high percentage. "We have done a benchmark with other publicly listed companies, and this number is extremely high at Volkswagen—that we have so few anonymous tip-offs, and that's why I would say this culture of fear no longer remains in our organization," she said.
What about winning back the trust of American consumers? There was no question the Volkswagen brand was tarnished in the United States after the Dieselgate scandal. The company blatantly lied to consumers in its clean diesel commercials, posted on YouTube.
"Volkswagen turned over half a million American drivers into unwitting accomplices in an unprecedented assault on our country's environment," former Deputy Attorney General Sally Yates asserted in 2015.
Director Alex Gibney, who owned a Volkswagen diesel car at the time the scandal broke, summed up the American consumer's perspective on his episode of Netflix documentary "Dirty Money": "VW had lied to me. They had pitched me a vision of my dream car but sold me my worst nightmare."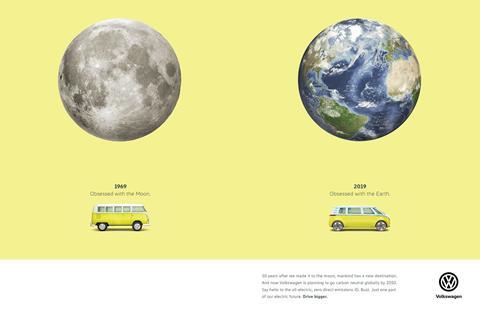 Notwithstanding, Davis suggested the American consumer outlook has improved. "Our metrics are actually pretty close, trust-wise, to where we were before the scandal," Davis said. Still, the company is rebranding and rebuilding its image by investing in something bigger than itself. In 2019, Volkswagen launched the Drive Bigger campaign, which pledged to sell approximately 22 million electric vehicles through 2028 and become 100 percent carbon neutral across the fleet, production, and administration globally by 2050. Further, as part of the U.S. settlement, Volkswagen was required to invest in Electrify America. The automaker has spent $2 billion on a network of charging stations across the United States, according to Werner.
When asked how Volkswagen has won back the trust and favor of American consumers, Werner paused, then said: "The question is: 'Have we already?' I think this is a long process. We still have open legal cases, and each and every time some of these open cases come up in the newspapers, it has an impact on our reputation and on the trust of our customers. … But what we have done in terms of growing our credibility in the light of society, and also in the light of our customers, is our strong strategy and our shift towards electric cars. I think that is very important, because it shows that we have understood."

Aly McDevitt is Data & Research Journalist at Compliance Week. She has a background in education and college consulting. Prior to teaching, she was an editor/author at Thomson Reuters.
CW presents: 'Coming Clean: Volkswagen's Dieselgate scandal and compliance monitorship'
1

2

3

4

5

6

Currently reading

Chapter 5: Winning back trust