Cindy Moehring joined Walmart in 1999 as associate general counsel for corporate governance in Walmart's legal department, before moving on to become its senior director of U.S. ethics, and later senior vice president and chief ethics officer for Walmart, Inc. In this capacity, Moehring developed and implemented a company-wide, global ethics program leading a values-based culture of integrity for Walmart's two million associates worldwide.
Moehring is an inspiration across Walmart, collaborating with business leaders to show them the endless value of a proactive ethics and compliance partnership. She is an influencer, educator, and listener determined to create a culture where ethics and compliance is everyone's business.
At Walmart, Moehring is also a catalyst for change and putting ideas into action. She encourages every associate in her division to think beyond the boundaries of their comfort zone, to reach far and wide to create a culture that fosters high performance and makes ethics and compliance the way they work. "Be change and stay relevant" is the mantra she encourages her team to live by each day.
Under her fearless leadership, Moehring has inspired remarkable technological advancements across the company—among them, bots, machine learning, and blockchain technology to help reduce supply chain risk—advancements that are enabling Walmart to be a leader of change and to progress forward as one of the most innovative retail companies in the world.
About Cindy Moehring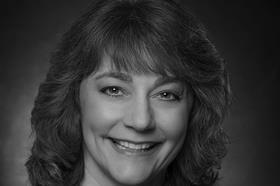 Title: Senior Vice President, Chief Ethics & Compliance Officer – U.S., Walmart
About Walmart: Global retail company with 11,695 stores in 28 countries and e-commerce websites in 11 countries; fiscal year 2017 revenue of $485.9 billion; and approximately 2.3 million associates worldwide.
Location: Bentonville, Ark.
Years of experience: 20+
Areas of expertise: Ethics and compliance, anti-corruption, anti-money laundering, anti-trust, environmental compliance, food safety, health and safety, labor and employment, privacy, product safety, responsible sourcing, trade compliance
Quote: "Acting with integrity is one of our four core values. So, one of the ways we maintain a culture of integrity is through our business leaders championing integrity as a behavioral value—the foundation upon which Walmart was built."
How did you land in the ethics and compliance profession?
Compliance, for me, was an offshoot of my legal career at Walmart. In the early 2000s, I was doing corporate and governance legal work when Sarbanes-Oxley was passed. After that, our company was very focused on establishing departments for both compliance and ethics within Walmart, and so I helped get both of those built and launched. Later, I had the opportunity to join and then lead the ethics department.
Before you were named chief ethics and compliance officer for Walmart U.S. and Sam's Club, were the ethics and compliance functions separate?
Yes. They started as separate departments in the United States so that both departments could mature quickly. By having them separate at the beginning, we were able to devote equal time and attention to the people, processes, and systems required to operate both an ethics department and a compliance department.
After a period of years, and as we grew our international operations, we reexamined the way we were operating our ethics and compliance groups and determined that we could be more effective by putting the two together.
Your scale of responsibility at Walmart is enormous, leading a team of more than 400 full-time ethics and compliance professionals. Can you tell us more about that?
Our compliance and ethics organization in the United States is quite vast. We service all of the Walmart and Sam's Club facilities in the United States, including distribution centers, and approximately 6,000 trucks in our fleet. So, for Walmart Inc., that's about 5,300 retail locations, and 1.5 million associates, serving 260 million customers each week. Of course, with an operation this large, it takes a sizeable ethics and compliance team. In the United States, we have over 400 full-time ethics and compliance professionals across a number of different subject matters, including food safety, environmental, health and safety, labor and employment, product safety, anti-money laundering, and health and wellness (to support our pharmacies). So, it's a very broad array of ethics and compliance responsibilities because of the breadth of our business model.
You mentioned that Walmart has 1.5 million associates in the United States. With operations that large, how does Walmart foster a culture of ethics and compliance?
Acting with integrity is one of our four core values. So, one of the ways we maintain a culture of integrity is through our business leaders championing integrity as a behavioral value—the foundation upon which Walmart was built. We also have a global framework for our ethics and compliance program to support the cultural value of acting with integrity. We have defined processes, procedures, controls, and systems for our ethics and compliance program, and we monitor the business's execution of the program. At Walmart, we have a seat at the table with our business leaders—and compliance is a part of their overall responsibilities.
That sounds like a monumental task. How do you keep on top of it?
I have a team of subject matter experts for each of the subject matters we cover. They conduct regular risk assessments and design their programs with appropriate processes, procedures, and controls. They also design the training for their programs to make sure compliance is embedded into everyday operations. We then use our monitoring team to verify that the designed programs are being executed correctly in the stores, clubs, and distribution centers.
Systems and technology are also key to advancing our program, keeping us relevant, and allowing us to operate from a risk-based perspective. For example, we want our store and club managers to spend as much time as possible on the sales floor serving customers. With that in mind, we designed a mobile compliance dashboard that allows our store and club managers to see how they are doing on compliance without having to sit at a computer in the back room or look at a paper report. The mobile dashboard also allows us to see trends and quickly respond to mitigate risks.
What is your feeling on how innovative technologies are advancing the future of ethics and compliance?
As I mentioned, technology is key to advancing the future of ethics and compliance. Machine learning and artificial intelligence are two exciting ways that we can all advance our programs faster and make them better. At Walmart, we are working on a number of different projects in these areas; some are already in use and others will be soon. We are finding that we can use bots to review, categorize, and analyze data and information faster, better, and more reliably than when done manually. This will save us time and make us more efficient and effective in areas such as product safety, health and safety, and food safety. Rather than focusing on gathering and categorizing data and information and then analyzing it, we can move quickly to acting on the data to mitigate risk and enhance our programs based on what the data and information is telling us.
I also understand that Walmart is using blockchain technology to enhance its supply chain. How is that coming along?
We are piloting blockchain with IBM and some of our suppliers in the food safety area now, and it is going well. We think it could have some real benefit in this space. Blockchain is a transparent, safe, reliable system that can be used to quickly trace each step in the movement of products, such as tracing food from farm to fork.
For example, tracing the actual source of produce quickly in the event of a recall is important. It allows affected produce to be pulled from the shelves with precision and dealt with while leaving unaffected produce on the shelves.
One recent blockchain pilot we did was with mangoes. We used IBM's Blockchain to trace a mango from a store all the way back to the farm it came from to see how much time we could save in tracing it back. In our test we found that it took about seven days to manually trace the mango back to its original source. With blockchain technology, that process took approximately two seconds.
Aside from taking advantage of technological innovations, how important is it to maintain connections with industry peers and foster those human connections?
It's incredibly important. We're all trying to make our companies as compliant and as ethical as possible. Collaboration among industry peers is important because it allows us to benchmark, share best practices, gain new ideas, and learn about new challenges. It's one way we gain insight into what each of us might do to make our programs even stronger. Networking ensures that we are all aware of best-in-class practices. Of course, those practices must be refined and customized for each individual company because no one company is the same.
What final thoughts would you like to leave fellow ethics and compliance professionals with?
First, as an ethics and compliance professional, focus on being proactive, driving change, and showing the value compliance adds to the business. Second, be risk-based in your approach. Third, take the time to really understand the business. That will allow you to not only add perspective, but also find solutions that will work, that are relevant, and that the business will embrace. If you approach it that way, ethics and compliance can be a very rewarding career choice.
From an individual perspective, I think there are certain characteristics that are really important for folks in ethics and compliance to have. You must be personable and relatable. If your business partners are afraid to approach you, you will have a hard time overcoming the idea that compliance is scary or synonymous with "no." Also, you must be a trustworthy partner who inspires and empowers your business leaders to be champions of ethics and compliance.
Finally, the most important individual trait that an ethics and compliance professional must have is courage. Our companies are counting on us for that—to raise the issues that need to be raised. You can't shrink away from that. You must be courageous.

Jaclyn Jaeger is a freelance contributor to Compliance Week after working for the company for 15 years. She writes on a wide variety of topics, including ethics and compliance, risk management, legal, enforcement, technology, and more.
View full Profile