With its announcement, FedEx joined a small but growing group of companies that have made similar pledges. The Net Zero Tracker is a collaboration between four organizations that collects information on targets for net zero emissions pledged by countries, cities, regions, and companies. The tracker has identified 699 companies worldwide, as of May 9, that have made pledges to be carbon neutral, net zero, or produce zero emissions by a certain future date.
Companies making carbon-neutral/net-zero pledges similar to FedEx, according to the tracker, include titans of the global business community like Walmart, Royal Dutch Shell, Saudi Aramco, Amazon, BP, Apple, CVS Health, ExxonMobil, Daimler, AT&T, Alphabet (Google), Ford Motor Co., Cigna, Mitsubishi, JPMorgan Chase, Honda Motor Co., Chevron, and Verizon.
"Our philosophy with respect to sustainability and corporate social responsibility is what we call practical sustainability—that being strategic and transformational stewardship adds value to all the stakeholders in our efforts to be more responsible. The building blocks of that are performance, transparency, innovation, and leadership."

Mitch Jackson, Staff Vice President, Environmental Affairs and Chief Sustainability Officer, FedEx
How did FedEx develop its carbon-neutral pledge? How will it track its progress and hold itself accountable to intermediate goals?
Mitch Jackson, FedEx's staff vice president, environmental affairs and chief sustainability officer, said environmental, social, and governance (ESG) goals start at sustainability impact teams within each of FedEx's operating companies. Those teams feed ESG initiatives, ideas, and proposals to FedEx's Enterprise Sustainability Council, which Jackson chairs. The council ultimately reports the chosen ESG initiatives to the Governance, Safety, and Public Policy Committee of FedEx's board of directors.
"Our philosophy with respect to sustainability and corporate social responsibility is what we call practical sustainability—that being strategic and transformational stewardship adds value to all the stakeholders in our efforts to be more responsible," Jackson said. "The building blocks of that are performance, transparency, innovation, and leadership."
In FedEx's corporate structure, Jackson and Chief Compliance Officer Justin Ross are involved in advancing its ESG initiatives. Both men are part of the company's legal department.
Jackson said the goal of achieving carbon-neutral operations by 2040 is an extension of a core ESG desire FedEx has pursued for some time: "becoming carbon neutral everywhere we can in our operation."
The carbon-neutral pledge, like any corporate goal, also had to be aligned with FedEx's governance principles relating to ethics, integrity, and reputation. FedEx's compliance team must ensure meeting the goal is done in a way that complies with all applicable international, federal, state, and regional rules and laws. And the pledge must also fit within the FedEx code of conduct, which "provides guidance and helps team members understand how to adhere to relevant laws, ethical standards, and FedEx values," according to the company's 2021 ESG Report.
Doing the right thing—achieving carbon-neutral operations—cannot be done the wrong way.
Ross said board oversight of any sustainability goal lies with the Governance, Safety, and Public Policy Committee. Executive management and the board "are involved in developing these goals, and their involvement helps ensure our ESG-related goals align with our corporate culture, values, and principles," he said.
Collecting, vetting, and reporting GHG emissions data is crucial for tracking the success of the company's carbon-neutral pledge. In 2021, FedEx used CVenture, an external verifier, to audit its GHG emissions. Of note, the U.S. Securities and Exchange Commission in March proposed a rule that would mandate climate-related disclosures for public companies and that certain emissions metrics be verified by an independent consultant.
To help reach its goal, FedEx pledged to invest $2 billion in three key areas: vehicle electrification; sustainable energy; and carbon sequestration, a process by which carbon dioxide is removed from the atmosphere and held in solid or liquid form. The first two areas are natural extensions of what FedEx has already been doing with its ESG strategy, Jackson said; funding carbon sequestration research represents a major new investment.
The company's fleet of alternative fuel vehicles has steadily been growing, from 606 in fiscal year 2013 to 4,156 in FY2021. While that represents impressive increases each year, it's just a drop in the overall bucket. FedEx lists on its website it currently has more than 200,000 motorized vehicles, combining those operated by its FedEx Express, FedEx Ground, and FedEx Freight divisions. And that does not even count the vehicles operated by independent third-party delivery companies.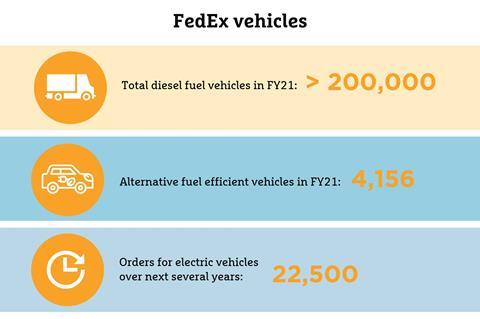 FedEx's 2022 ESG Report listed one of FedEx Express's goals is to have 50 percent of new vehicle purchases in its pickup and delivery fleet be zero-emission vehicles by 2025. In late 2021, the company received a handful of the first of 500 Zevo 600 electric delivery trucks manufactured by BrightDrop, the electric delivery and logistics business from General Motors. Subject to further negotiations and execution of a definitive purchase agreement, FedEx plans to order 22,000 more, according to its 2022 report, but delivery of those vehicles might be delayed because of the combined issues of demand, supply chain problems, and too little manufacturing capacity in the electric vehicle industry, as noted in a recent report from the New York Times.
Meanwhile, the company has focused on the fuel efficiency of its existing fleet of trucks, which has improved by more than 40 percent companywide since 2008 due to several initiatives, Jackson said. This includes using hybrid and higher gas mileage vehicles, using biofuel blends in diesel fuel to reduce emissions, and rearranging routes to be more efficient. Pursuing more than one strategy to reach an ESG goal is crucial, he said.
Another area of focus to achieve carbon-neutral operations by 2040 is fuel usage, particularly within FedEx's aviation fleet of 680 jets. As part of its ongoing ESG strategy, the company has reduced its aircraft emissions intensity through fuel-saving projects; replaced planes with more efficient models; and increased the use of sustainable aviation fuels, like low-carbon renewable jet fuel converted from wood waste from the logging industry.
Facilities and energy are also areas of potentially successful carbon-neutral strategies. According to its 2022 ESG Report, FedEx had 39 Leadership in Energy and Environmental Design (LEED)-certified buildings in FY2021, with 26 on-site solar energy systems companywide. The goal is to make more of the company's 5,000 facilities around the world more efficient and produce more of their own energy.
Lastly, the third pillar of the company's carbon-neutral strategy is carbon sequestration. FedEx has pledged to donate $100 million to help establish the Yale Center for Natural Carbon Capture. The center is exploring ways to capture carbon through forests, geological sequestration, and "synthetic processes to convert carbon dioxide into fuels or materials."
Pursuing new carbon sequestration methods is a key difference between FedEx's carbon-neutral pledge and other companies building their plans through existing carbon offsets in the market. Carbon offsets, or carbon credits, is the process of "buying carbon credits from certified activities that support community development, protect ecosystems, or install efficient technology to reduce or remove emissions from the atmosphere," as explained by South Pole, an emissions reduction consultant.
All these carbon reduction ideas stem from ESG work FedEx has been implementing, tracking, and monitoring over many years, Jackson said.
"As a company that helps move global commerce, (we wanted) to be able to provide some of the answers and some of the solutions, rather than to continue doing the same old thing we and others have been doing in the past," he said.
Jackson said FedEx will use carbon offsets to supplement its other carbon reduction strategies.
"We're still nearly two decades from the goal here," Jackson said. "We have to remember this is a marathon, not a sprint."
Editor's note: This report is published in partnership with the International Compliance Association, a sister company to Compliance Week under the umbrella of Wilmington plc. The ICA has released a "Demystifying ESG" training course to accompany the rollout.

Aaron Nicodemus covers regulatory policy and compliance trends for Compliance Week. He previously worked as a reporter for Bloomberg Law and as business editor at the Telegram & Gazette in Worcester, Mass.
View full Profile
Desire for transparency launches FedEx on ESG journey
1

2

Currently reading

'A marathon, not a sprint': FedEx carbon-neutral pledge tests longtime ESG efforts

3

4