The Securities and Exchange Commission (SEC) has not yet approved its climate-related disclosure rule, despite indications the vote would occur this fall. Implementation of the rule, parts of which are expected to apply fiscal year 2023 for large accelerated filers, might be delayed by litigation.
The proposed rule is a sweeping potential mandate that would force all public companies to quantify, measure, and disclose their effect on the environment. It would order public companies to include disclosures about how climate-related risks affect their strategy, business model, and outlook; how the company's board and management oversee climate-related issues; and any plans for transition to a lower carbon footprint.
Respondents to Compliance Week's "Inside the Mind of the CCO" survey said they were experiencing numerous "pain points" to complying with the rule, ranging from a lack of resources, difficulties with finding and collecting required data, and obstacles created by senior managers or other departments.
Some respondents even indicated issues understanding the rule as proposed.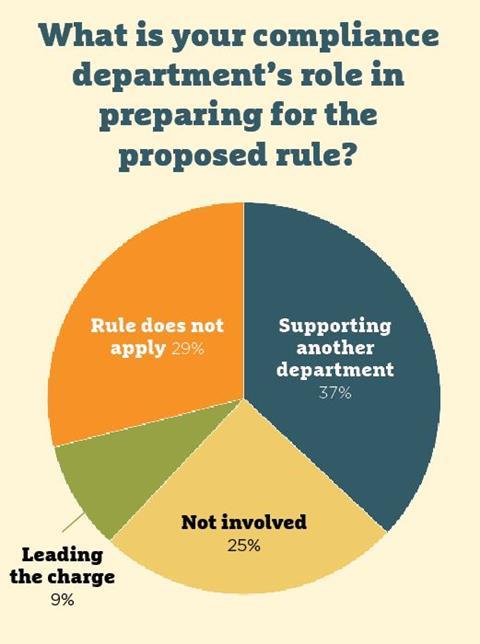 "They (the SEC) were clueless before the proposed rule, they will continue to be clueless," said a respondent from the banking industry.
Gathering the data necessary to comply with the rule was a frequently mentioned pain point. A chief ethics and compliance officer in manufacturing reported their employer was "reviewing/revising existing sustainability data-gathering efforts to be aligned with the new disclosure requirements."
Heather Childress, senior vice president, deputy general counsel at contract manufacturer Flex, told Compliance Week she was not surprised to hear about many of the pain points described by respondents to the survey.
"Certainly, compliance with the SEC's rules will require significant resources, including personnel time and costs associated with meeting the SEC's external auditing requirements," she said. "This is a very dynamic area with added complexity because other global climate-related requirements will vary from the SEC's final rules."
In comments to the SEC, companies and industry advocates criticized the rule's standard of materiality as too broad. Those criticisms were mirrored in responses to the survey as well.
Difficulty getting buy-in from other departments was a common complaint.
"[Senior management] doesn't support the effort and views it, along with compliance in general, as optional," said a director of compliance from the securities space.
"Compliance has not been involved or consulted," another director of compliance, from manufacturing, said.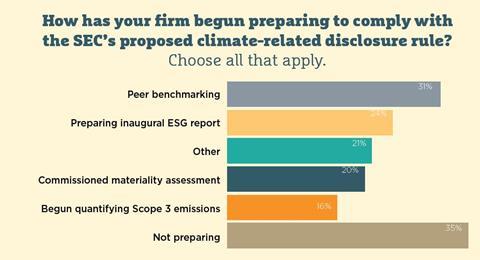 "(It's a) time suck," said a securities chief compliance officer, reflecting the common struggles companies face regarding staffing, expertise, and funding.
Measuring Scope 3 emissions—emissions of a firm's supply chain and vendors—was mentioned multiple times as a stumbling block to compliance with the rule.
For Flex, the availability of Scope 3 data will be a "major hurdle," Childress said.
"As a result, we believe disclosure of Scope 3 data should be voluntary or, alternatively, there should be stronger safe harbors and longer implementation dates for companies to furnish Scope 3 data," she said.
Asked to indicate all the ways their firm has begun preparing to comply with the proposed rule, respondents most stated they were benchmarking against industry peers (31 percent). Second was preparing an inaugural environmental, social, and governance (ESG) report (24 percent), followed by commissioning a materiality assessment (20 percent) and quantifying Scope 3 emissions (16 percent)
"We believe disclosure of Scope 3 data should be voluntary or, alternatively, there should be stronger safe harbors and longer implementation dates for companies to furnish Scope 3 data."

Heather Childress, Senior Vice President, Deputy General Counsel, Flex
The survey asked how involved compliance was in the process of meeting the requirements of the rule. Over a third (37 percent) of respondents said compliance was supporting another department. One in four (25 percent) said compliance was not involved, while only 9 percent said it was leading the charge. The remainder (29 percent) said the rule did not apply to their firm.
Of survey respondents not preparing to comply with the rule (at least 35 percent), reasons were varied. Many answers came from individuals at nonprofit organizations, private companies, or businesses based outside the United States. Other respondents said their firm outsourced compliance with the rule, or that preparations were being handled elsewhere within the company.

Aaron Nicodemus covers regulatory policy and compliance trends for Compliance Week. He previously worked as a reporter for Bloomberg Law and as business editor at the Telegram & Gazette in Worcester, Mass.
Inside the Mind of the CCO, Year 4
1

2

3

4

5

6

Currently reading

Data gathering, management buy-in among SEC climate rule pain points

7