Behind its white trucks and the orange and purple of its iconic logo, FedEx Corp. has built its enterprise on an absolute commitment to ethics, integrity, and reliability. This principle is the bedrock of its long-term success in environmental, social, and governance (ESG) performance. Long ago, the company pledged to conduct its business in a manner that protected the planet and its people.
It's one thing to talk about being a sustainable company, to conduct business in a sustainable way. It is another thing entirely to set sustainability goals, track the progress of those goals, and be transparent about decisions being made.
FedEx has pledged to walk the walk.
The multinational shipping giant was thinking about its carbon footprint long before most American companies were, said Mitch Jackson, FedEx's staff vice president, environmental affairs and chief sustainability officer. It was among the first 245 companies from around the world to disclose its greenhouse gas (GHG) emissions to the Carbon Disclosure Project (CDP) in 2003.
Last year, more than 13,000 companies around the world made CDP disclosures.
In the transportation industry, FedEx was joined by its main competitor, United Parcel Service (UPS), as companies reporting GHG emissions to the CDP in 2003. UPS has been publishing annual sustainability reports since 2002. By comparison, another competitor, German-based Deutsche Post DHL, only published its first ESG report in 2021, although the company has issued annual corporate governance reports, as required by German law, since 2009.
Jackson said ESG was not as ingrained in public companies then as it is today.
FedEx has produced detailed reports on its ESG initiatives since 2008, which until 2021 were called "Global Citizenship Reports." In those reports, the company tracked and measured key ESG metrics and initiatives, including GHG emissions; emphasis on hiring and promoting people of color and women; and how its corporate governance is structured to identify and wring out fraud, corruption, and waste.
ESG trailblazer
ESG initiatives are having their moment. There is growing pressure from investors, regulators, employees, and consumers for companies to pursue goals that incorporate concerns about impact on the environment and the communities they serve.
"It's important to realize that they (ESG goals) have to be connected to the mission of the organization itself. They're not and shouldn't be bolt-on initiatives that don't help the organization achieve the objectives it set for itself and its stakeholders."

Mitch Jackson, Staff Vice President, Environmental Affairs and Chief Sustainability Officer, FedEx
But where does a company start in determining its ESG initiatives? How would it develop and measure goals? And how would it adjust when roadblocks inevitably surface?
This four-part report will examine the ESG journey of FedEx. The business, headquartered in Memphis, Tenn., employs more than 570,000 workers in 220 countries. The company has annual revenue of $92 billion and recently promoted Raj Subramaniam, born in India and a 31-year FedEx veteran, to be its second-ever president and CEO. Fred Smith, chairman and CEO who founded the company, will transition to the role of executive chairman.
FedEx has been a trailblazer in the ESG space for decades. Its corporate culture has long been open and receptive to some of the core tenets of ESG, according to Jackson.
"It was built into the DNA of the company from the very early days," Jackson said.
The company's first ESG initiative revolved around improving the fuel efficiency of its fleet of vehicles and airplanes, he said.
Jackson remembers in 2006 or 2007, before the company published its first Global Citizenship Report, there was some pushback externally that it was perhaps too focused on lowering its GHG emissions and managing its fleet's fuel efficiency.
"We said, 'This is in the interest of the company because if we're focusing on greenhouse gases the right way, we're also focusing on fuel management, which positively impacts our bottom line with respect to fuel prices, fuel cost, etc.,'" he said.
Making the case for focusing on these issues "went back to our philosophical approach that it needs to be applicable and germane to the organization itself in our efforts to be more responsible," Jackson said. Using less fuel and being more efficient wasn't just good for the environment—it was good for the company, he said.
Even then, ESG initiatives, which were then called corporate social responsibility (CSR) goals, were developed within the company's existing corporate culture. The success or failure of ESG initiatives depends in large part on their acceptance internally, Jackson said.
"It's important to realize that they (ESG goals) have to be connected to the mission of the organization itself. They're not and shouldn't be bolt-on initiatives that don't help the organization achieve the objectives it set for itself and its stakeholders," he said.
For decades, FedEx has nurtured a corporate philosophy of people-service-profit (P-S-P).
"Take care of your people. They in turn provide outstanding service, which provides profit to the organization. And then it goes. It's a continuous virtuous cycle," Jackson said.
Jackson said the impetus for the company publishing its first Global Citizenship Report was driven by a desire to be transparent.
"The building blocks of that (first report) and our approach in general were performance, transparency, innovation, and leadership," Jackson said. "So, given the fact transparency was one of the building blocks of our philosophy around sustainability, it made sense to put out a report that talked about the initiatives that we had underway in corporate social responsibility, and then to explain why we were undertaking those initiatives and document and communicate how we were progressing in that."
Materiality
To codify ESG initiatives, they must be material from a CSR perspective—that is, important for the business, stakeholder, and society.
To determine what ESG issues are material to FedEx, the company completed a CSR materiality assessment in 2014. The assessment sought input from internal and external stakeholders and was not aided by any existing ESG framework.
With the help of a consulting firm, FedEx held "a series of discussions with key external stakeholders representing nongovernmental organizations, academics, and media, as well as our customers and business partners, who were asked both prompted and unprompted questions about their views of environmental, social, and ethical issues that represent the greatest risks and opportunities for FedEx," according to the company's 2014 Global Citizenship Report. There were also discussions with executives, workshops at each operating company, an employee survey, and a final enterprise-level workshop to refine and confirm the results.
The result was a materiality matrix that showed importance to stakeholders on the X-axis and influence on business success on the Y-axis. The assessment found ESG issues highly material to both stakeholders and business success were proper handling of ethics, bribery, corruption, and workplace safety.
Issues considered highly material to stakeholders included:
GHG emissions associated with transportation fleet;
Business preparedness, resiliency, and disaster response; and
Data security and privacy.
Issues considered highly material to business success included:
Team member relations;
Social and environmental impacts on communities;
Diversity and inclusion; and
Product and service innovation.
FedEx pledged to perform ESG materiality assessments every five years or so, Jackson said.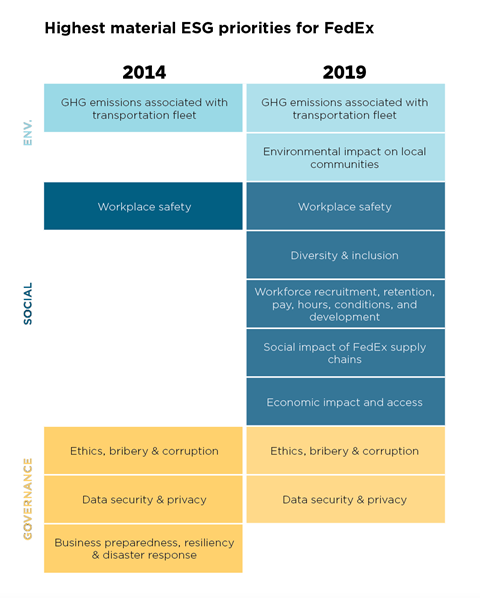 The 2019 materiality matrix, contained in the 2020 Global Citizenship Report, was pegged to the framework set by the Global Reporting Initiative, Jackson said. While it had some common threads, it contained new elements.
Governance still emphasized ethics, integrity, bribery, corruption, data security, and privacy. For environment, the top priorities were GHG emissions associated with transportation fleets and environmental impacts on local communities. And for social, workplace safety was joined by diversity and inclusion and workforce recruitment, retention, pay, hours, conditions, and development.
Two new global priority topics were added regarding social impact of FedEx supply chains and economic impact and access.
Issues like business resiliency, emergency response, and product and service innovation moved down in importance but were still considered "commercially critical."
The biggest difference between the 2014 and 2019 materiality matrices, Jackson said, was the "significance of the economic, environment, and/or social impact of that issue … gauging what the importance of that particular topic was in the realm or lens of ESG for the world.
"In many ways, it's (ESG) a reflection of the times with respect to other social issues. Over the last decade, social issues have risen in importance across the board in all organizations, not just companies, whether it be diversity, equity, inclusion, or other aspects as well."
Editor's note: This report is published in partnership with the International Compliance Association, a sister company to Compliance Week under the umbrella of Wilmington plc. The ICA has released a "Demystifying ESG" training course to accompany the rollout.

Aaron Nicodemus covers regulatory policy and compliance trends for Compliance Week. He previously worked as a reporter for Bloomberg Law and as business editor at the Telegram & Gazette in Worcester, Mass.
Desire for transparency launches FedEx on ESG journey
1

Currently reading

Desire for transparency launches FedEx on ESG journey

2

3

4